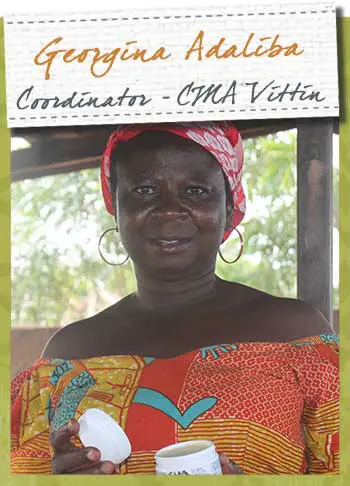 CMA Shea Butter Cooperative, Shea Producer (Tamale, Ghana)
To produce our Global Beauty Butter we partner with the Christian Mother's Association (CMA) in Vittin located in the Northern Region of Ghana. Through its partnership with Global Mamas, the women of the CMA have not only had their wages doubled, but a portion of the sales of Global Beauty Butter will go towards the Shea Helps Empower (SHE) Fund. The SHE Fund supports specific, group-driven projects to improve the CMA Shea Butter Cooperative's production facilities and local community.
Georgina Adaliba, the Coordinator of the CMA Vittin, has been actively involved with the shea processing center since its inception in 1991. She works hard to make sure that the 25 craftswomen have raw materials for work and monitors day to day production so that they are producing consistently high quality shea butter.