NORTH AMERICAN CUSTOMERS
Our retail partners are a significant factor in providing sustainable orders for the Mamas each month. We appreciate your interest in our work and we'd love to collaborate with you! If you still have questions about Global Mamas after reading through our site and would like to talk to a real person, feel free to call us at 612-781-0455 (Minneapolis office). If you're ready to order you may do so by:
BACKORDERS
While we try to maintain an inventory of all products in our North American office, we do run out of items from time to time. Each time you place an order we give you the option of placing out-of-stock items on backorder, or to hold your order until we can ship complete. We receive shipments from Ghana monthly which means if an item is out of stock, we should still be able to get it to you within six weeks. We call to confirm backorders before shipping.
SHIPPING TIMES
Most orders ship out within 3 business days of receipt. If products are out of stock, please allow up to 6-8 weeks for delivery. You can check the expected ship date on your order or backorder by logging into your Global Mamas account under "My Account" > "My Orders".
PAYMENT TERMS
We receive payment by credit card for initial orders. Once a business relationship has been established, NET 30 terms are available with credit approval. NET 30 payments must be made by check.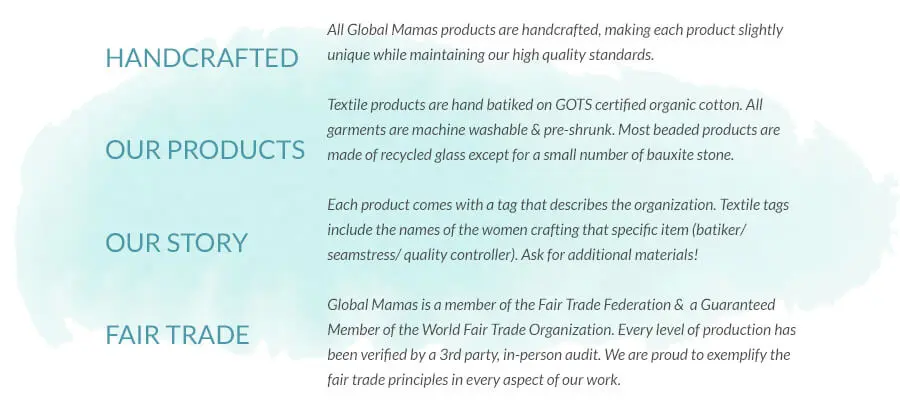 ---
CUSTOMERS OUTSIDE NORTH AMERICA
We're pleased to partner with retailers from around the globe. Depending on your geographic location, your order may ship directly from Ghana, North America, or through one of our terrific distribution partners in Australia and Europe. If you'd like to clarify this with a real person feel free to call us at +001-612-781-0455, or place your order and we will follow-up with details on how to proceed.
Get started by registering as a wholesale customer on our website
If you'd prefer, you can also email your order to [email protected]
INTERNATIONAL SHIPPING TIMES
Since all orders are produced once an order is submitted, we request up to 10 weeks for delivery. We always strive to ship earlier.
INTERNATIONAL PAYMENT TERMS
$500 minimum order with 50% deposit via credit card required on each order. Prices include delivery of goods to your designated agent or post office in Ghana. If you do not have an agent, we can assign one and will charge $100 for processing. Final payment is due upon delivery, including the exact amount for shipping. (Please note this process is slightly different for those working with our distribution partners).