GENDER INEQUALITY – A GLOBAL PROBLEM
Defined as the unequal treatment or perception of an individual based on gender, gender inequality remains a challenge for women of all ages across the globe. Even in the United States, the International Labor Organization estimates that women encounter almost a 20% pay gap compared with the salaries of male counterparts. In countries on the path to development, gender inequality is manifested in other ways throughout a woman's life cycle as she seeks education, healthcare, work, political participation, and acquisition of assets.
The origins of gender inequality are multi-faceted and may vary from one environment to another; however, its roots are often found in cultural norms surrounding gender roles, laws governing inheritance and asset ownership, and disparities in access to education and wage labor. These dynamics have historically allowed men to enjoy greater access to positions of power with control over property, assets and incomes.

Gender inequality contributes to a cycle of discrimination in both the private and public sphere. Inside the home, women may lack voice in household decision-making and girls are often the first to be denied access to education and good nutrition if the household budget is insufficient to cover expenses. Outside the home, women experience diminished options for work, most often limited to low-paying, low-skill jobs with little opportunity for advancement. In fact, while women's work represents 66% of the world's working hours and produces half of the world's food, women earn only 10% of the world's income and own less than 1% of the world's property. Thus, women bear a disproportionate burden of the world's poverty, a phenomenon termed the "feminization of poverty". According to some estimates, females represent 70% of the world's poor.
WOMEN: A GREAT INVESTMENT
A promising solution to build prosperity and equalize the balance of power across gender relationships rests on greater economic independence for women. Investing in women yields profound returns not only for the women involved, but also for their families and for society-at-large. Research has shown that men are more likely to spend disposable income on consumables, while women tend to make investments for the longer-term well being of their family.
The World Bank found that extra income controlled by women correlates with increased probability that children go to school and maintain good health than if income had been controlled by fathers. Thus, financial resources put into the hands of women can be seen as an investment into the overall nutritional, health and educational status of the family unit. In line with the writings of economist Amartya Sen, greater economic power can also be linked to greater choice, capability and freedom to exercise human and political rights.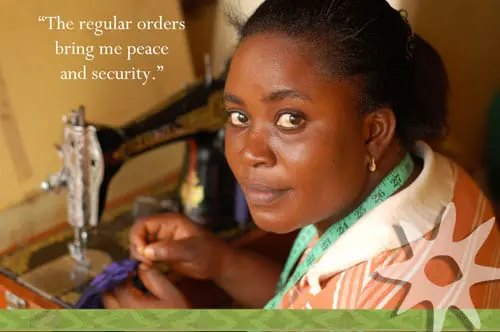 ACHIEVING PROSPERITY
Global Mamas believes that the most effective way for women to achieve prosperity is to gain economic independence through sustainable employment. Global Mamas provides steady work in addition to equitable opportunities for women entrepreneurs to obtain the education, technology and capital they need to meet their personal and professional goals. Empowering women through income generation and continuing education enhances both their self-esteem and their ability to participate in decisions that affect them within the home and community.
Over time, Global Mamas has had the privilege to witness positive incremental changes in the lives of the women within the Mamas network. With their steady, predictable income, women are able to send their children to school, provide nutritious meals for their families and seek healthcare when needed. Global Mamas is investing in women, and in doing so, investing in a prosperous future for all.