We are always excited to share our story and spread the word about fair trade. Our Fair Trade Tours give a first-hand, grassroots look at how fair trade at Global Mamas transforms trade to achieve social justice, equity, and sustainability for people and the planet.
MINI FAIR TRADE TOUR (ACCRA)
Get a behind-the-scenes look at an innovative approach to ethical and sustainable manufacturing.
How fair trade benefits the environment, producers, and consumers.
The process of handcrafting recycled glass beads and batik fabric.
Minimized environmental impact through "green" products and processing, going organic, and using renewable energies.

How living wages, together with training, give women the competence and confidence to become role models and have a voice at home, the workplace, and in their communities.
Where: Global Mamas Store in Osu, Accra [map]
Who: Groups of 3 or more people
When: Anytime Mon through Fri from 9AM to 8PM
Length: 15 min – 45 min (depending on group)
Cost: FREE

To Book a FREE Mini Fair Trade Tour:
Phone: +233(0)540-120-568
+233(0)556-615-809
Email: Global Mamas
FAIR TRADE EDUCATIONAL TOUR (CAPE COAST OR AKUSE)
This in-depth tour is for groups with a passion to see ethical and sustainable manufacturing in action at Global Mamas and learn more about the principles of fair trade! The tour covers topics such as:
History and philosophy of Global Mamas as a self-sustaining nonprofit organization (NGO).
Global Mamas different operating models, capacity building programs, and challenges of working in Ghana.
Case studies on organizational change efforts at Global Mamas and a look to the future.
Batiking and sewing demonstrations with a chance to interact with Global Mamas skilled craftswomen.
Deeper discussions are welcomed to further your group's learning objectives.
Where: Global Mamas Offices in Cape Coast or Akuse
Who: Groups of 5 or more people
When: Anytime Mon through Fri from 9AM to 3PM
Length: 1 – 2 hrs (depending on group)
Cost: $10/person (or GHS equivalent)




To Book a Fair Trade Educational Tour:
Phone: +233(0)556-615-809
+233(0)544-323-833
Email: Global Mamas
Join Us on a Transformative Journey
Join us as the Mamas walk you through the lifecycle of "the poison flower," transforming invasive water hyacinth into an inventive solution. Learn how we're harvesting this aggressive weed from the Volta River where it damages native aquatic life and use it as the raw material for our new line of natural fiber textile and paper products. This process – and these plants – are changing the lives of communities in Akuse.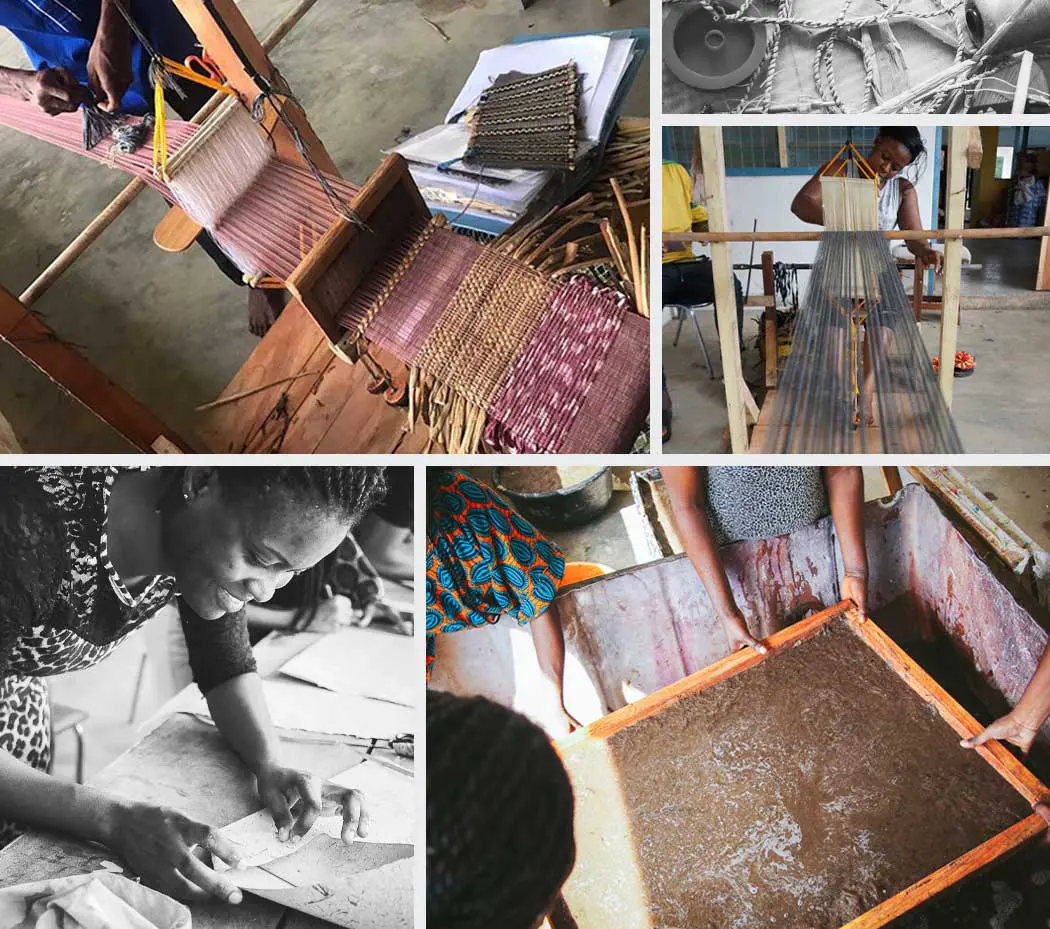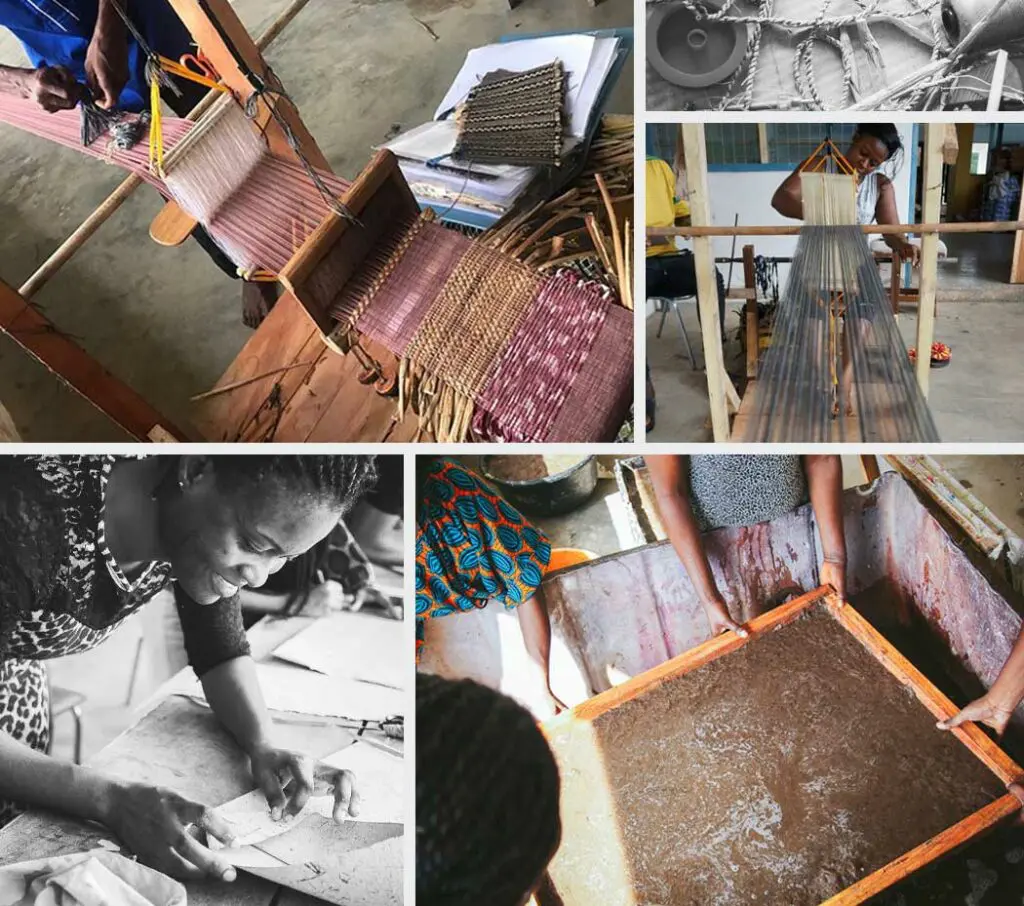 MAMAS TOUR: ECO + FAIR TRADE
Join the Global Mamas team to learn how invasive water hyacinth harvested from the Volta River is being used to protect biodiversity, while providing income generating opportunities for local members of the community. This tour will walk you step by step through our process: from the co-ops harvesting weeds from the river, to our team transforming these natural fibers into handcrafted goods ready for market. Learn more about the eco-innovation we've incorporated into every level of our process and how our fair trade model provides opportunity for women to gain financial independence and empower themselves.
WEAVING
Discover how we've developed our line using techniques and tools truly unique to Ghana! Witness how fair trade benefits the environment, producers, and consumers.
PAPERMAKING
Learn how the fibers from the invasive water hyacinth plant are harvested and sustainably used to make eco-friendly paper.
BATIKING + SEWING + MORE
Tour will focus primarily on our hyacinth line but also incorporates other techniques used by Global Mamas producers at our Akuse location.

DETAILS
Where: Global Mamas offices in Cape Coast and Akuse
Who: Groups of 5 or more
When: Monday – Friday / 9AM to 3PM
Length: 2 hours
Cost: $10 per person (or GHS equivalent)
Book: E-mail us or call +233 (0) 556 615 809