GLOBAL MAMAS- A FAIR TRADE ORGANIZATION
"Fair trade" means that an equitable partnership exists between producers of goods in developing countries and retailers in developed countries. The fair trade approach supports a variety of social business practices that advocate for higher standards in regards to producers' pay, work atmosphere and environmental protection, among others. Fair trade partnerships work to provide otherwise marginalized artisans and farmers with a living wage.
Global Mamas is proud to be a full member of the World Fair Trade Organization (WFTO), the global network and advocate of Fair Trade, and the Fair Trade Federation (FTF), the trade association that strengthens and promotes North American organizations committed to fair trade practices. Membership was granted to Global Mamas as a fair trade manufacturer and distributor after a thorough investigation of our business practices to ensure the African women who comprise the Global Mamas producer network are the primary beneficiaries of proceeds from product sales. We are happy to provide additional information about our verification upon inquiry.
EMBRACING FAIR TRADE PRINCIPLES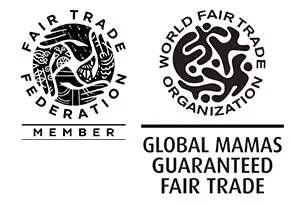 The WFTO has established 10 Principles of Fair Trade to guide the work of member organizations. Global Mamas embraces these concepts in all aspects of our work and aspires to be a role model for fair trade organizations around the world.
---
PRINCIPLE 1: Opportunities for Marginalized Producers
Traditionally women's skills and financial contributions are undervalued in Ghana. Global Mamas puts an emphasis on creating space for women to succeed as entrepreneurs and achieve financial independence.
PRINCIPLE 2: Transparency and Accountability
Global Mamas maintains an open-door policy and encourages producers to examine operations and ask questions about financial data. All payment rates are set through an open dialogue. The women are educated about the supply chain and understand how sale proceeds are used to cover the expenses of getting the product to the customer. The business owners keep their own books and share them openly with Global Mamas for consultation. Global Mamas also works to be transparent with our customers, including openness about who produces our products. In fact, customers of Global Mamas are able to contact the Mamas via e-mail through our website.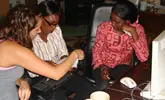 PRINCIPLE 3: Fair Trading Practices
Recognizing that producers may not have access to the materials and capital they require to work, Global Mamas producers are provided with the raw materials needed for production in advance, so they don't have to invest their own capital. This acts as a 50%+ advance payment. The payment for their time is paid shortly after items are delivered to Global Mamas, meaning that the women do not have to wait until their products are sold to be paid.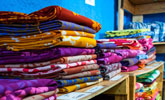 PRINCIPLE 4: Paying a Fair Living Wage
Global Mamas strives to pay fairly and promptly. All Global Mamas are paid a fair and living wage for their work. Payment levels vary based on the time and complexity in making the product as well as the level of quality the producer achieved. Steady and continuous orders ensure that their business is a sustainable source of income.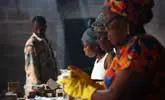 PRINCIPLE 5: Ensuring No Child or Forced Labor
Global Mamas protects the rights of children by not only guaranteeing that children are not involved in production, but also by providing their parents with the needed income to finance their school fees, uniforms and supplies.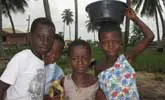 PRINCIPLE 6: Commitment to Non-Discrimination, Gender Equity, Women's Economic Empowerment & Freedom of Association
Global Mamas provides equal employment opportunities and opportunities for advancement. Many producers in the Global Mamas network take on apprentices and trainees and often provide them future employment opportunities. In fact, many apprentices have gone on to open their own businesses and now work directly with Global Mamas. Internally we also train our employees with the intention of promoting from within Global Mamas. The organization is also open to employing men, ensuring equal opportunity for employment.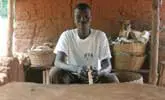 PRINCIPLE 7: Ensuring Good Working Conditions
Global Mamas supports a safe and empowering working environment for producers. As part of our local fair trade evaluation, each Global Mamas workplace is evaluated to ensure it is safe and comfortable. Standard criteria includes, but is not limited to, masks and gloves being used during the batiking process, access to drinking water and toilets as well as an on-site first aid kit.
Global Mamas convenes regular meetings with staff and producers to discuss and debate the important issues that impact the future of Global Mamas. The business owners who are a part of the Global Mamas network are independent business owners; they are encouraged to manage their businesses as they see fit and to seek clients outside of Global Mamas.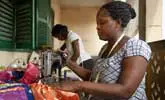 PRINCIPLE 8: Providing Capacity Building
Global Mamas helps business owners enhance their entrepreneurial skills by coordinating workshops in areas such as bookkeeping & financial management, marketing, computer literacy, merchandising, fair trade principles, and health management. We also conduct extensive training on new product development and quality control.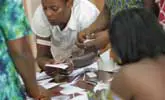 PRINCIPLE 9:

Promoting Fair Trade

Global Mamas implemented an internal fair trade evaluation program for our producers, which includes interviews, site visits, and educational sessions to ensure producers understand and embrace all aspects of fair trade within their own enterprises. Global Mamas is active in providing consumers with access to resources as well as participating in events that educate about fair trade.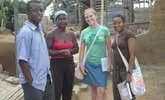 PRINCIPLE 10: Respect for the Environment
In the products we offer and processes we implement, Global Mamas is always looking for ways to cultivate environmental stewardship – this blog is a great overview. Many of our accessories are lined with upcycled flour sacks from local bakeries, our soaps are packaged in upcycled plastic, and all of our beads are made from recycled glass. In 2017 we made the change to using all GOTS certified Fair Trade cotton for all of our textile goods. We have an extensive range of patchwork products that help use up our batiked fabric scraps, a line of batiked flour sack products, and our new water hyacinth initiative promoting biodiversity in the Volta River Basin. Whenever possible Global Mamas uses local products such as the shea butter used in skin care products and the fabric used in batiking.