To reduce our environmental impact, Global Mamas made an active decision to incorporate eco-friendly practices into all aspects of production as we continue to positively impact the lives of hundreds of African women and their families. In fact, we've recently declared ourselves not only Global Mamas, but also Eco-Mamas. As Eco-Mamas we have pledged to also personally reduce, reuse, and recycle so that we can play our part in protecting the environment. By incorporating these practices into our lives, we uphold our commitment to putting people and planet first, minimizing waste, and conserving resources for future generations.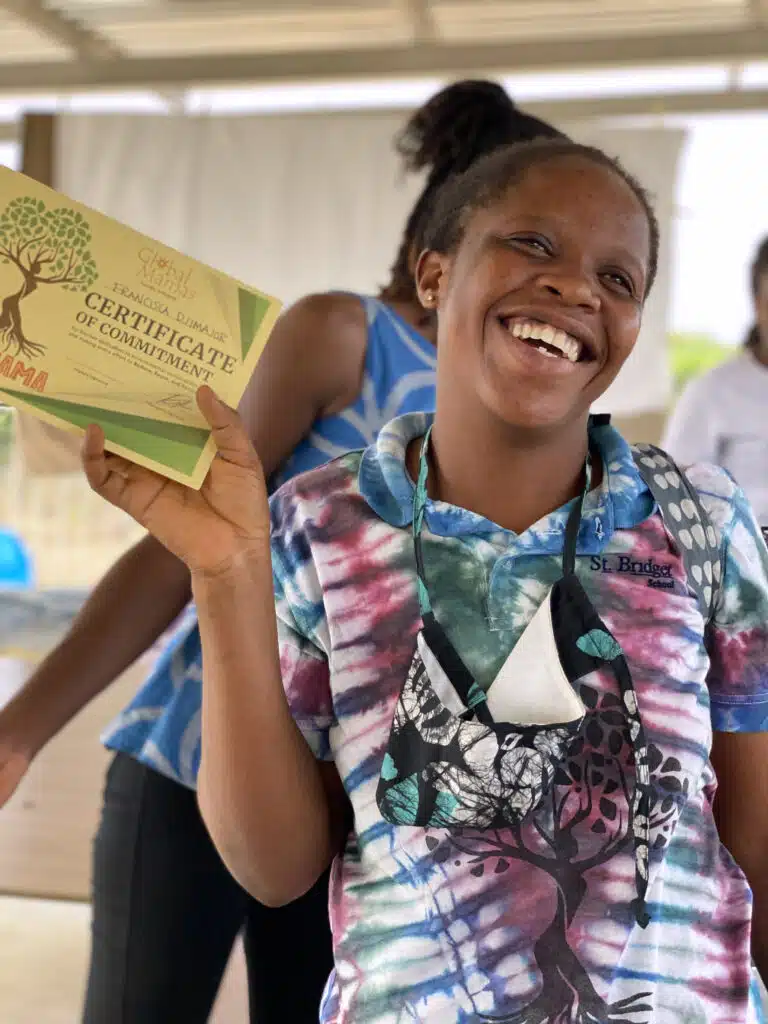 While eco-friendly practices have always been at the forefront of Global Mamas products and production practices, the Eco-Mama mindset flourished when we built the Fair Trade Zone (FTZ), Global Mamas' sustainability focused production facility. We wanted to encourage everyone to incorporate environmentally friendly practices into their daily routine. To set us on our journey to becoming Eco-Mamas, Global Mamas staff participated in a training session to better understand how the accumulation of plastic waste and climate change is impacting our world. We held in-depth discussions on how Global Mamas works to minimize our environmental impact and brainstormed ways we can do better as an organization. We also learned how we personally can do our part to save energy, reduce consumption, and eliminate single use plastic from our lives. As part of the training, we received re-usable shopper totes to use at the market, a lunchbox, and refillable water bottles to replace the single-use plastic water sachets currently used for drinking water. At the end we all committed to living sustainable lifestyles, while empowering others to do the same locally and globally. We signed an oath to reduce, re-use, and recycle and received Eco-Mama certificates.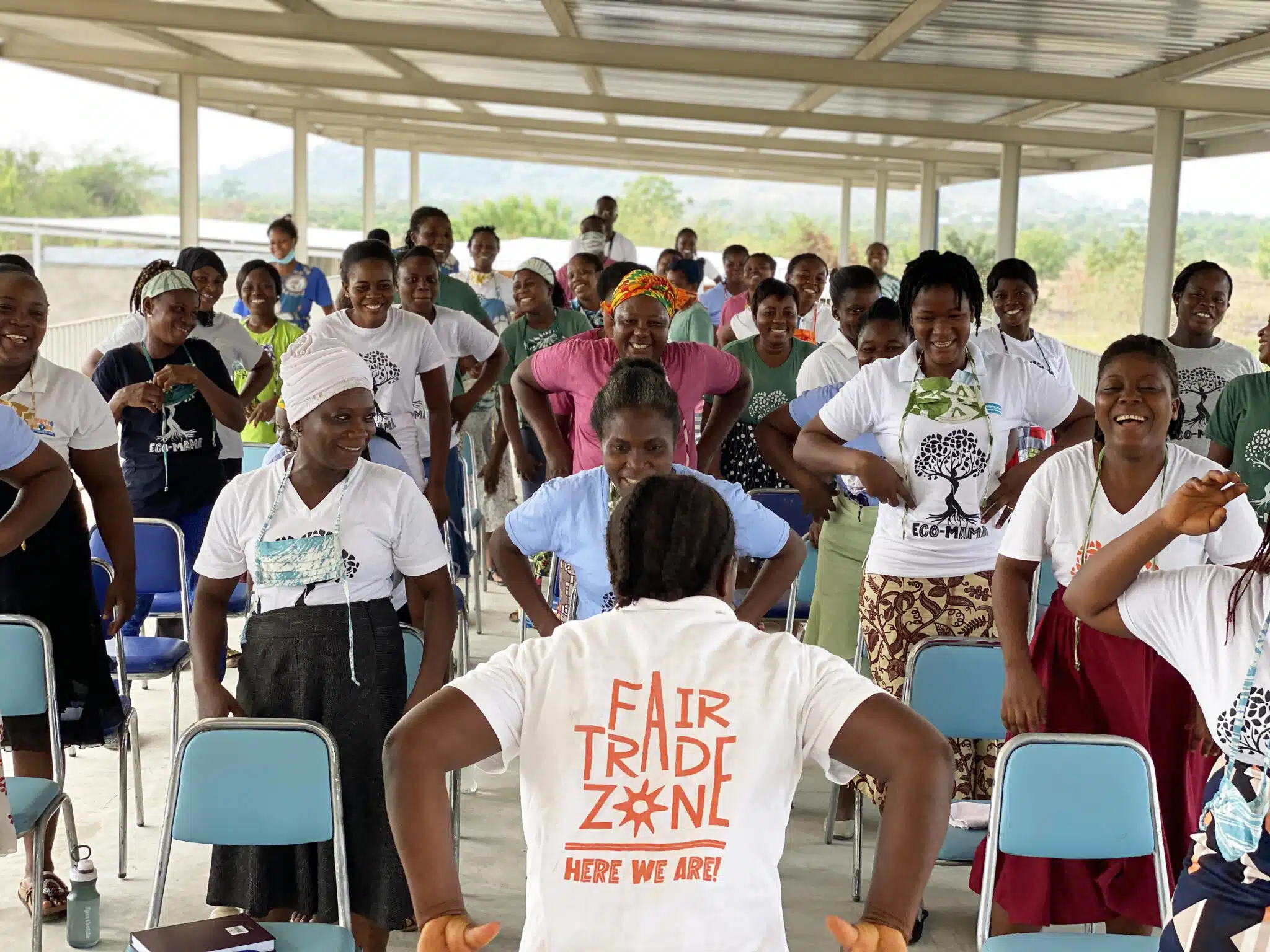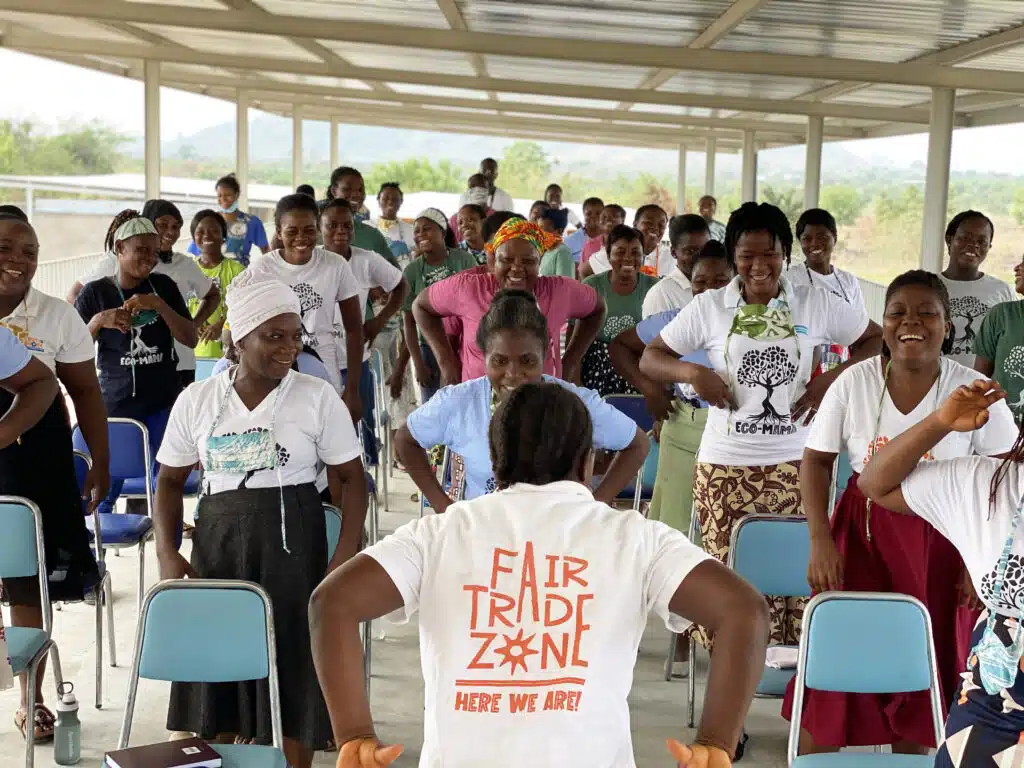 You won't only find Eco Mama practices at the FTZ. If you happen to visit our store in Accra, you'll notice that we have eliminated the use of single-use plastic bags at checkout. We now provide customers with reusable bags made from renewable water hyacinth. In our Cape Coast location, Eco Mama and Technical Designer Barbara stated, "I try to make sure every Mama who drops off an order brings it in a reusable bag."
The Mamas also encourage other members of our community to use reusable bags for their everyday shopping needs. Many of them have stopped taking polythene bags from the market women and instead bring their own reusable bags for shopping and food containers when purchasing meals. They encourage and educate the market women to reduce the use of polythene bags and also advise their customers to bring their own reusable bags. 
At Global Mamas we believe that everyone can play a role in creating a more sustainable world and ensuring that future generations have access to the resources they need. We encourage everyone to become an Eco-Mama or Papa and practice sustainability in their everyday lives. Together we can make a difference!