Welcome to our annual Global Mama of the Year Celebration! Since 2008, we have recognized the hard work of the Mamas and staff with Awards of Excellence. This is also a time when we recognize those in our community who exemplify our mission and values. This year we're also celebrating 20 YEARS of providing sustainable livelihoods for women in Ghana. Join us as we celebrate these amazing women (and some men!) who have all helped make this possible.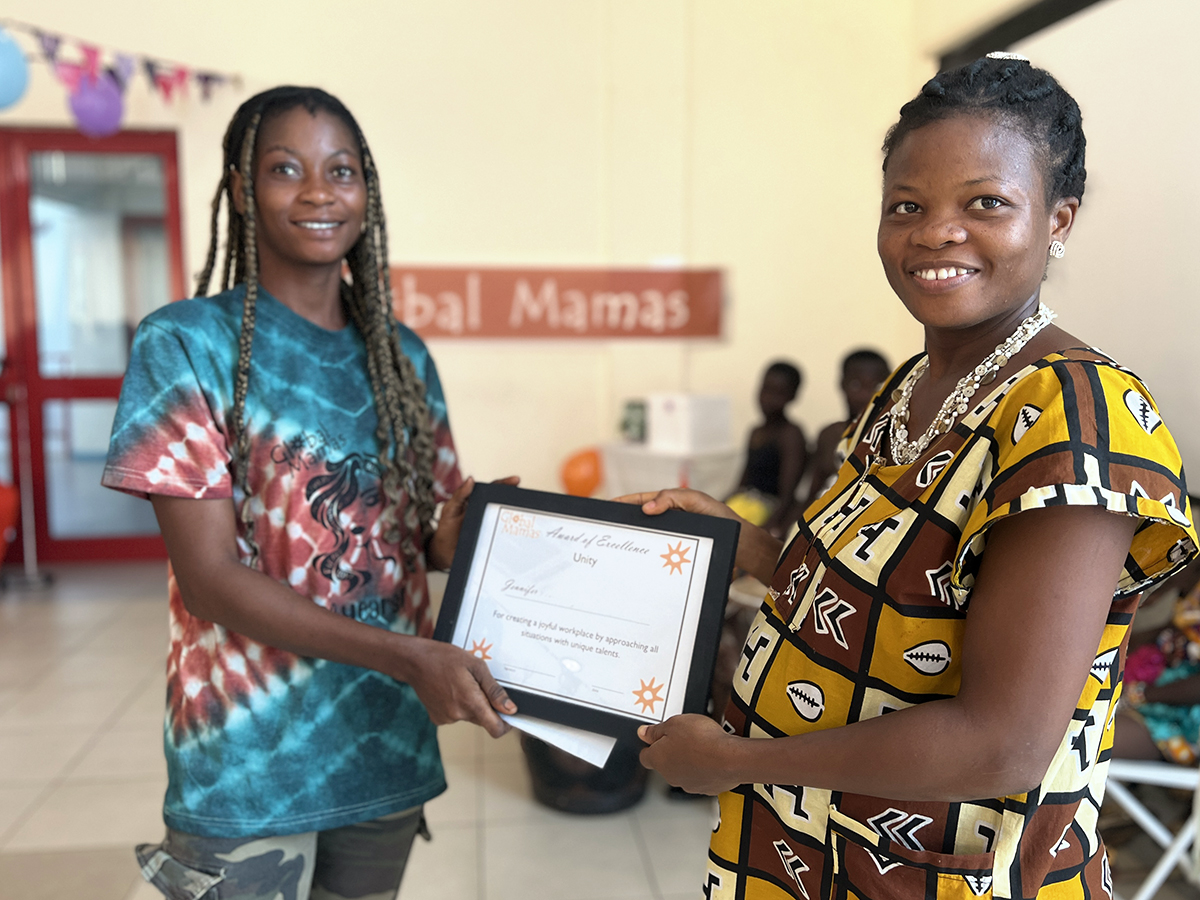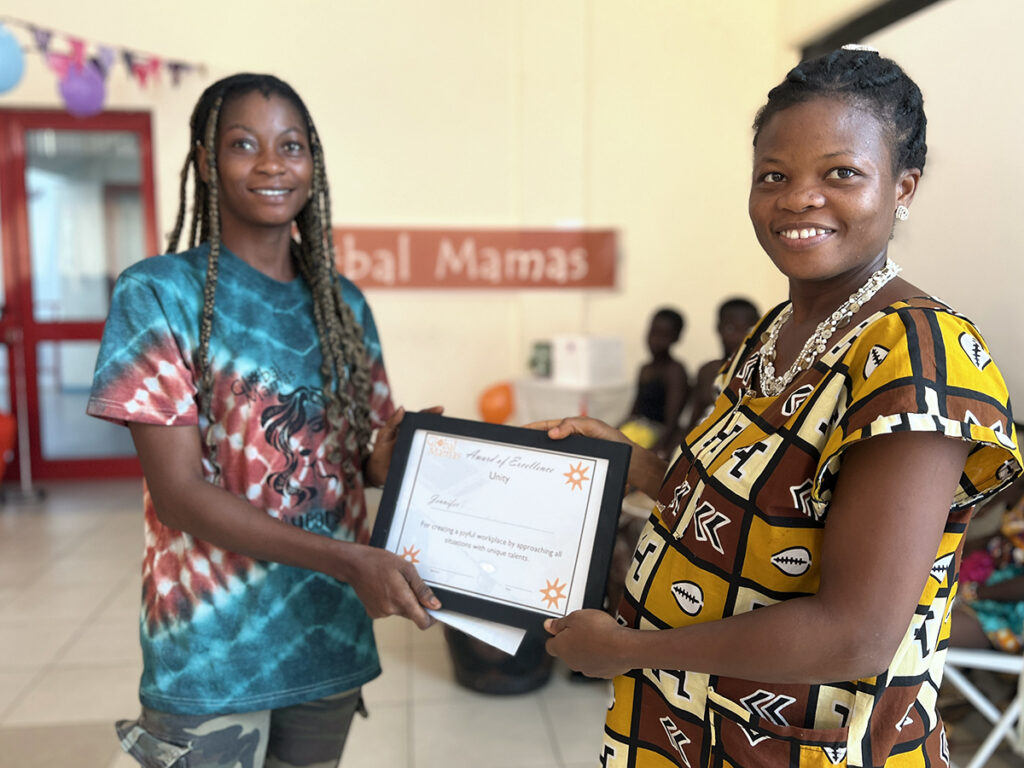 Jennifer, Award of Excellence: Unity
"Jennifer (left) is hard working and a great team player. She always makes sure the right thing is done in her team, and when there's a mistake she's happy to correct it." Award presented by Benedicta, Operations Manager.
Edith, Award of Excellence: Growth
"Edith began working with Global Mamas in the Weaving department and has recently moved into the Bath and Body department. Working in the Bath and Body department, Edith has taken on a lot of responsibility and leadership; she can produce every product and has been excellent in helping to fulfill orders for both export and local markets. Edith still helps the weaving department by receiving hyacinth from the community harvesters every month since moving to the Fair Trade Zone, which has led to a smooth transition for everybody involved."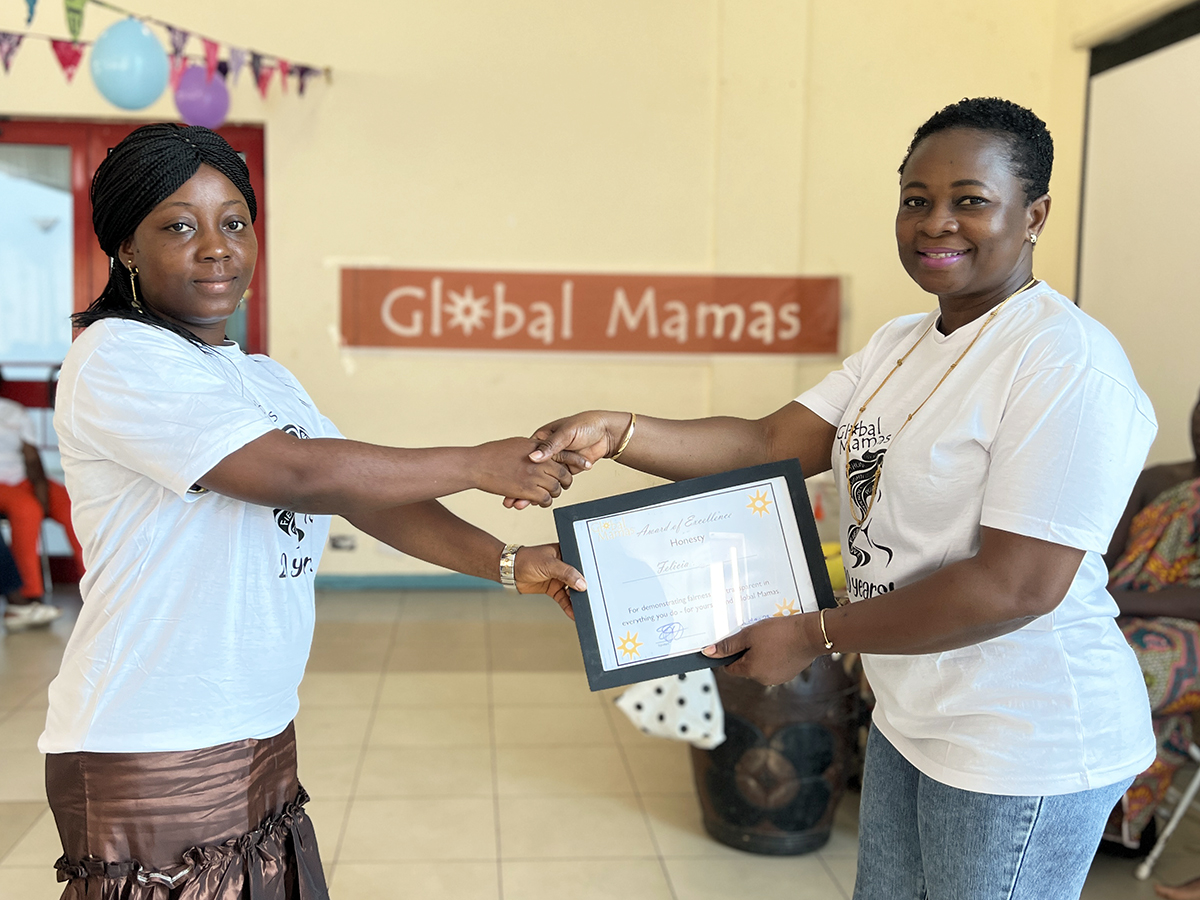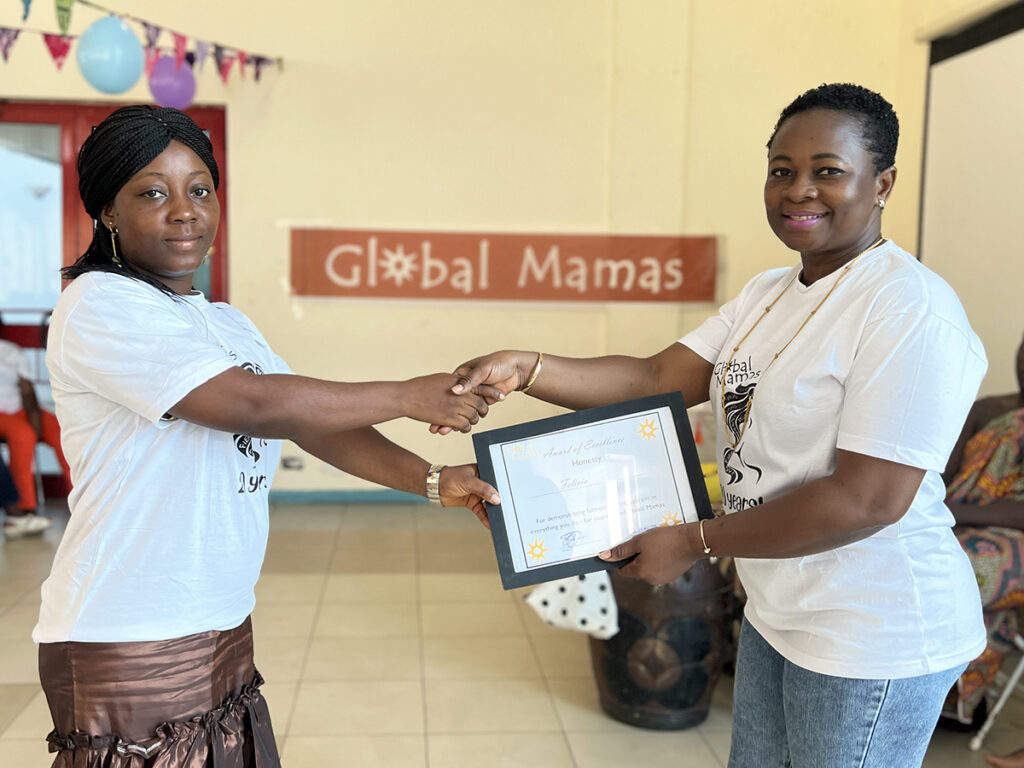 Felicia, Award of Excellence: Honesty
"Felicia (left) is hard-working and resilient. She was able to step in and lead the bead assemblers to fulfill orders when we needed her to on short notice. Felicia learns quickly, asks questions, and is able to express her concerns when they arise. She is a great team player." Award presented by Dorcas, Accra Store Manager.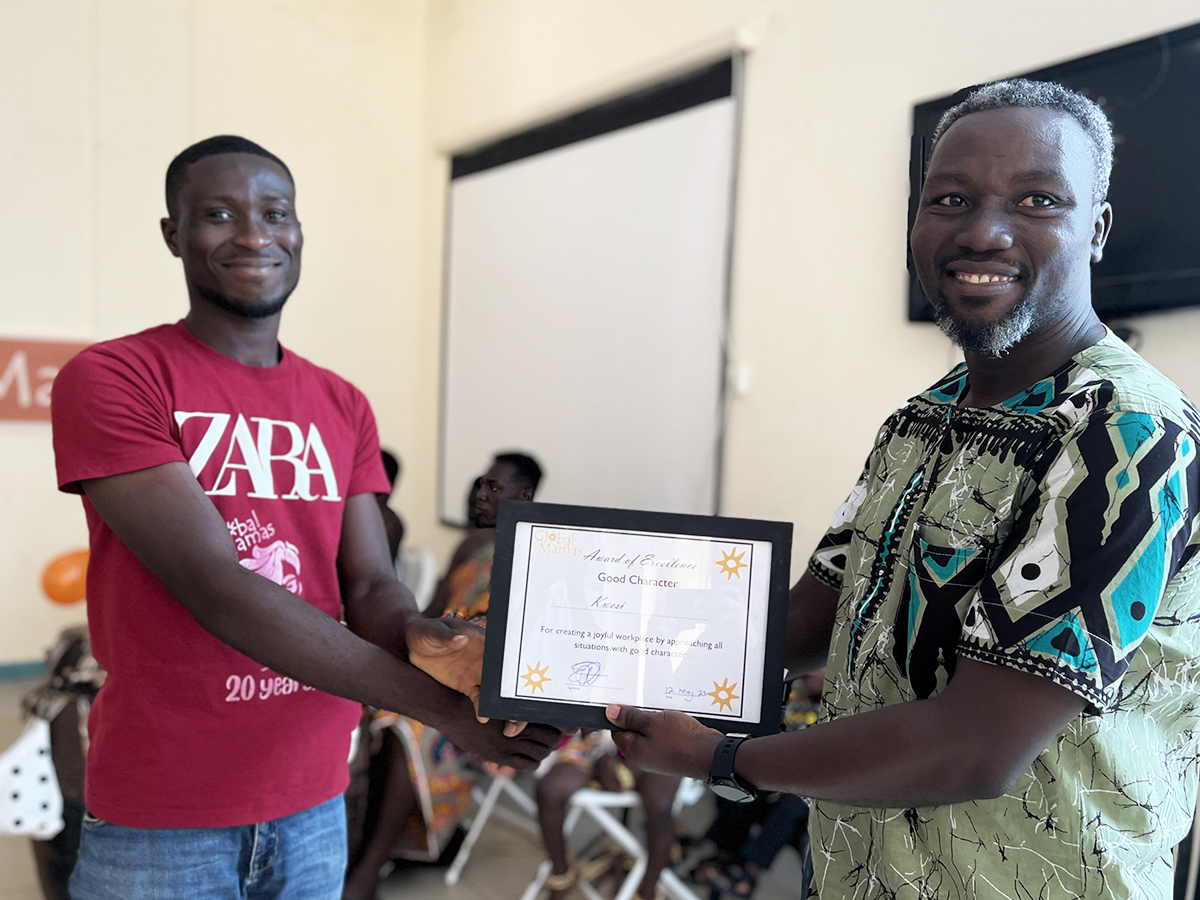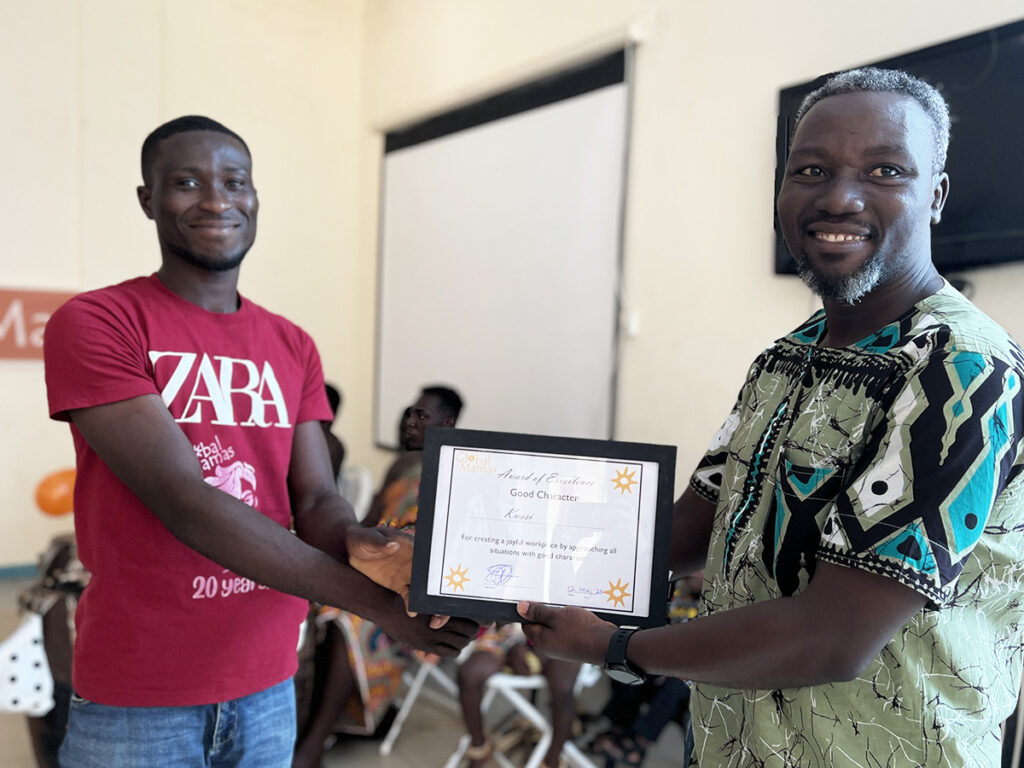 Kwesi, Award of Excellence: Good Character
"Kwesi (left) is very respectful and hard-working. He is always willing to learn and lend a helping hand, and he does this with smiles." Award presented by Amos, Fair Trade Zone Production Manager.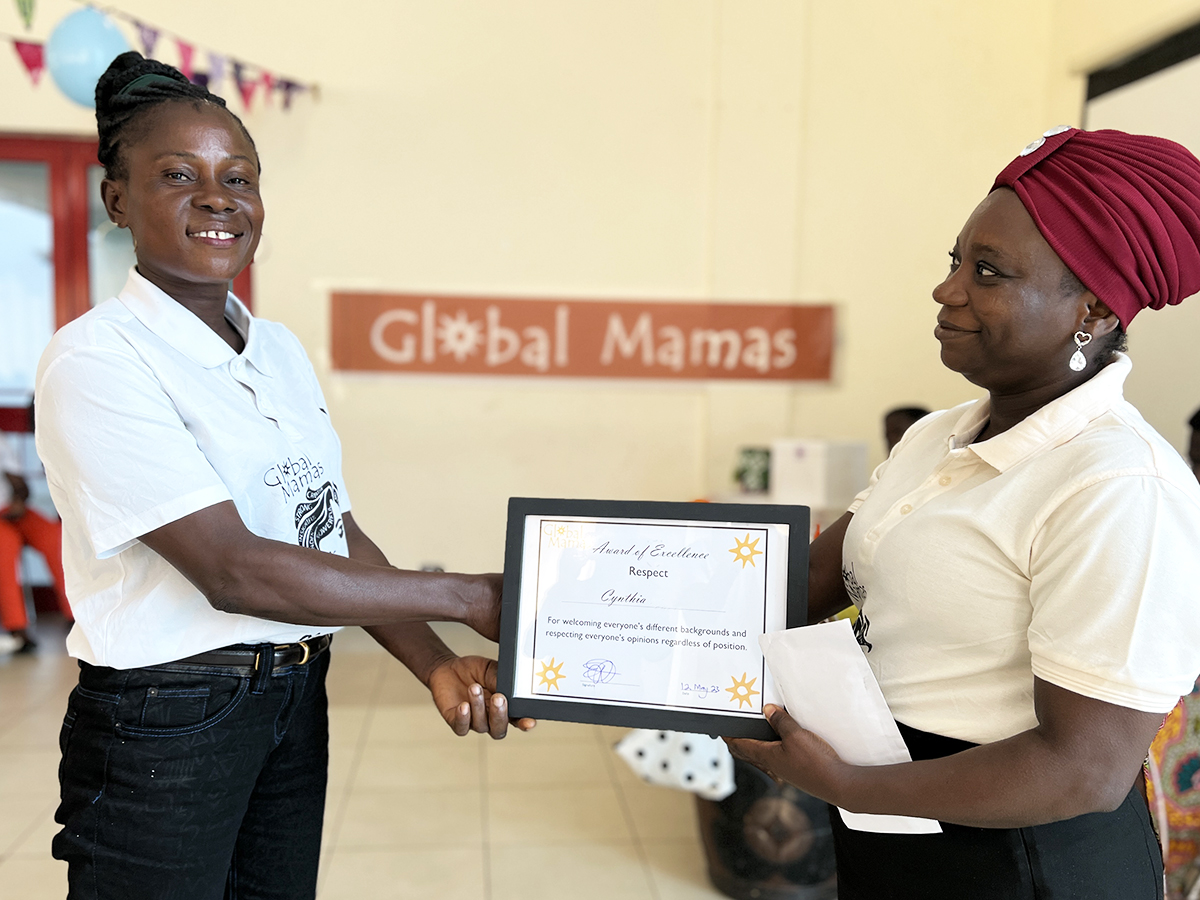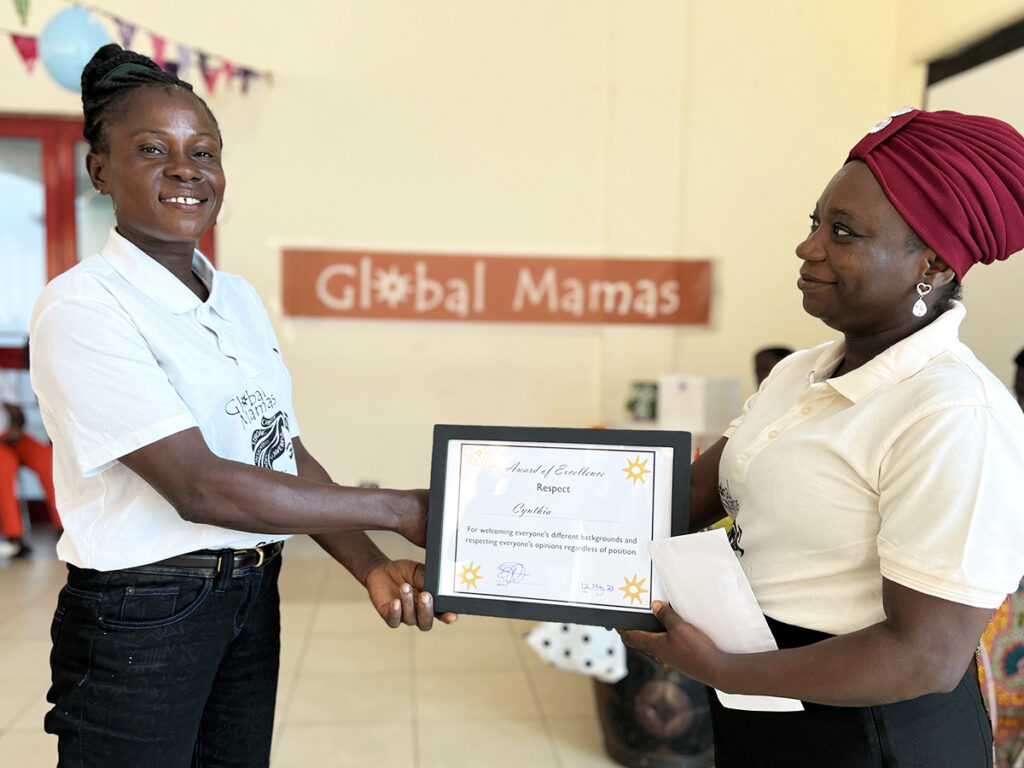 Cynthia, Award of Excellence: Respect
"Cynthia (left) is down to earth and shows respect for everyone. She is very patient and hardworking." Award presented by Gladys, Bead and Jewelry Production Manager.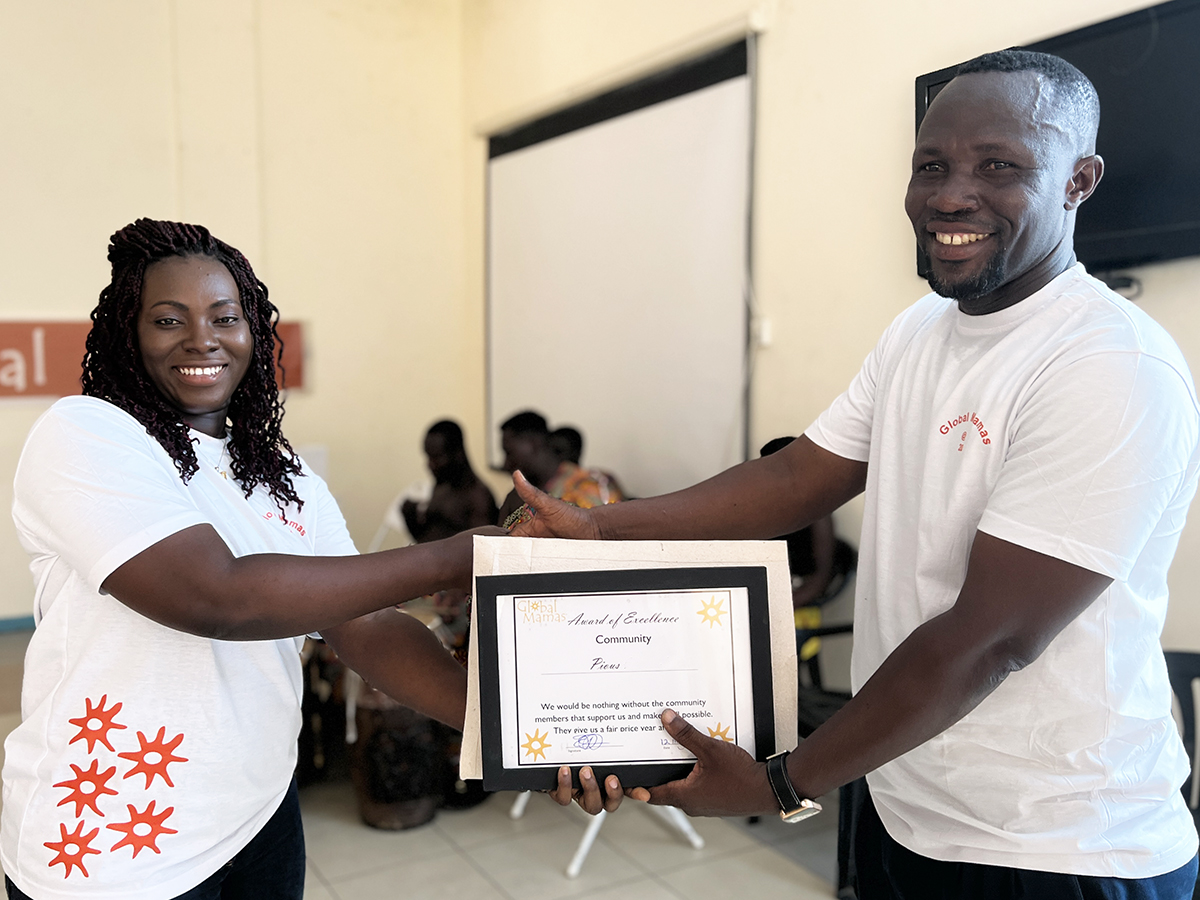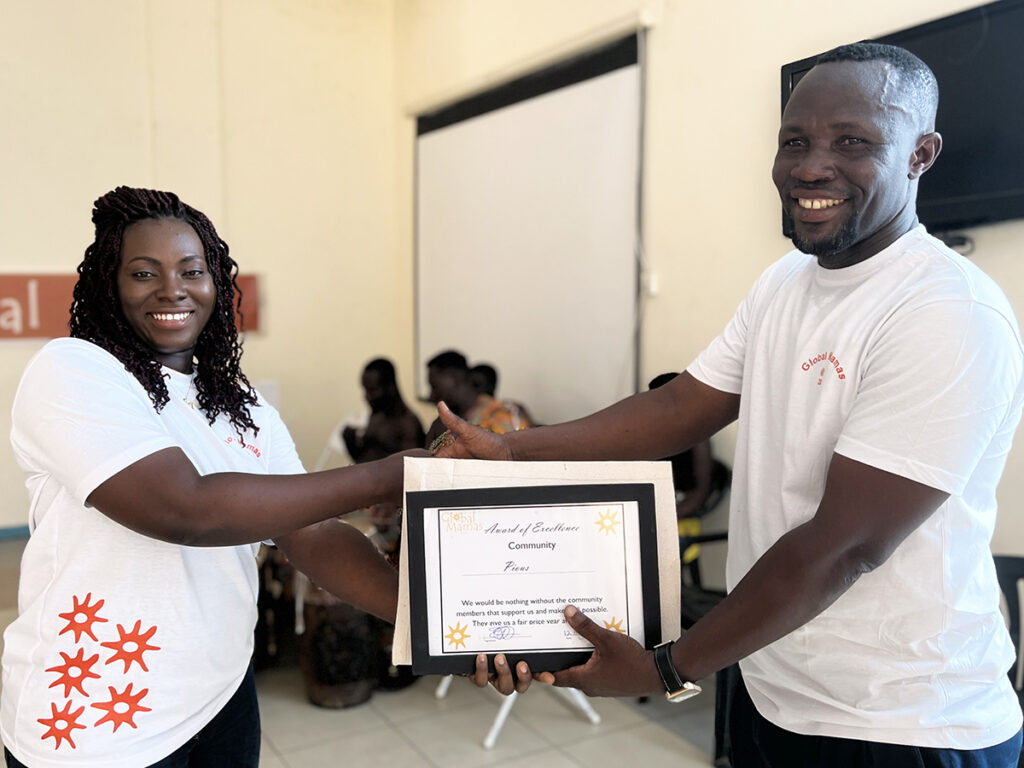 Pious, Award of Excellence: Community
"Global Mamas would be nothing without the support of our community members that play a key role in our activities. Pious (right) provides transportation for all of our export shipments, among other things. He is reliable, trustworthy, and a great asset to our team at large." Award presented by Lizzy, Cape Coast Production Manager.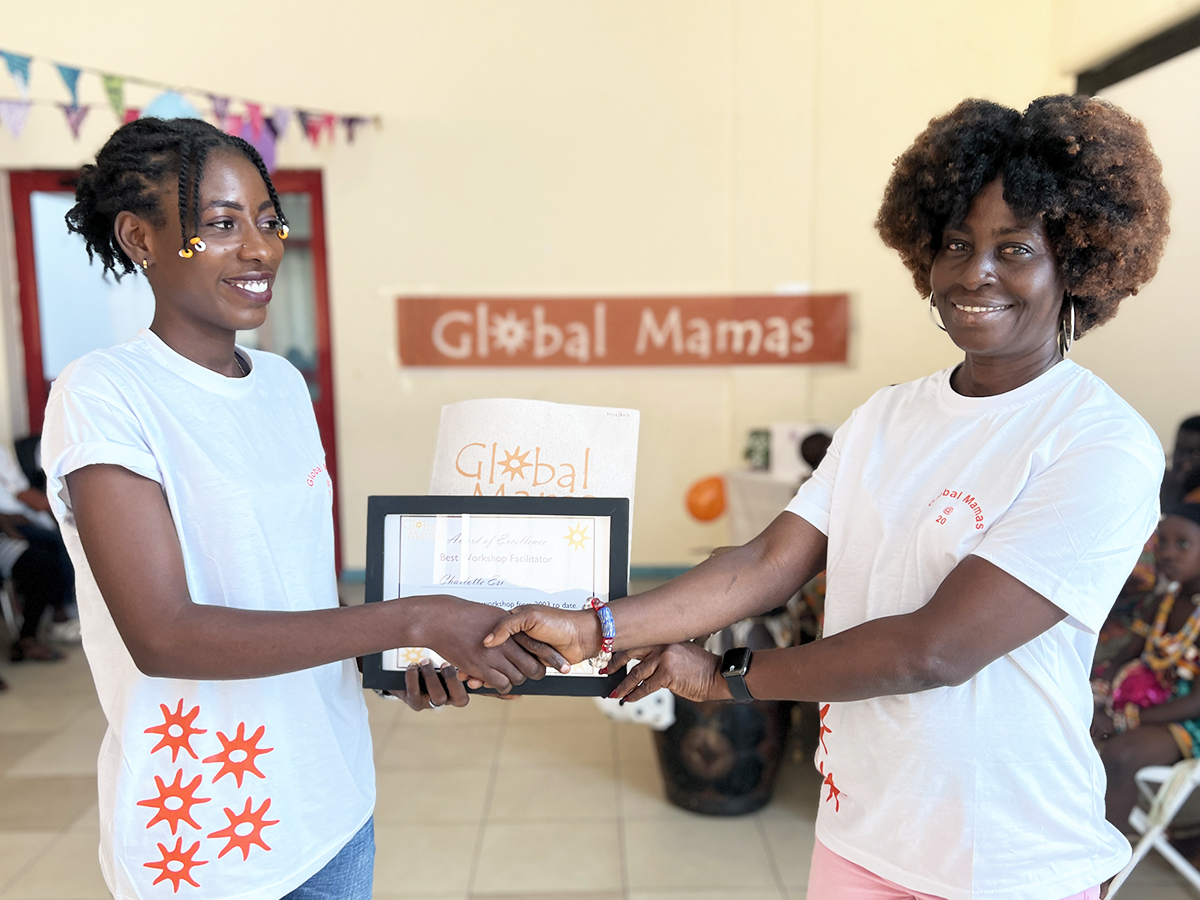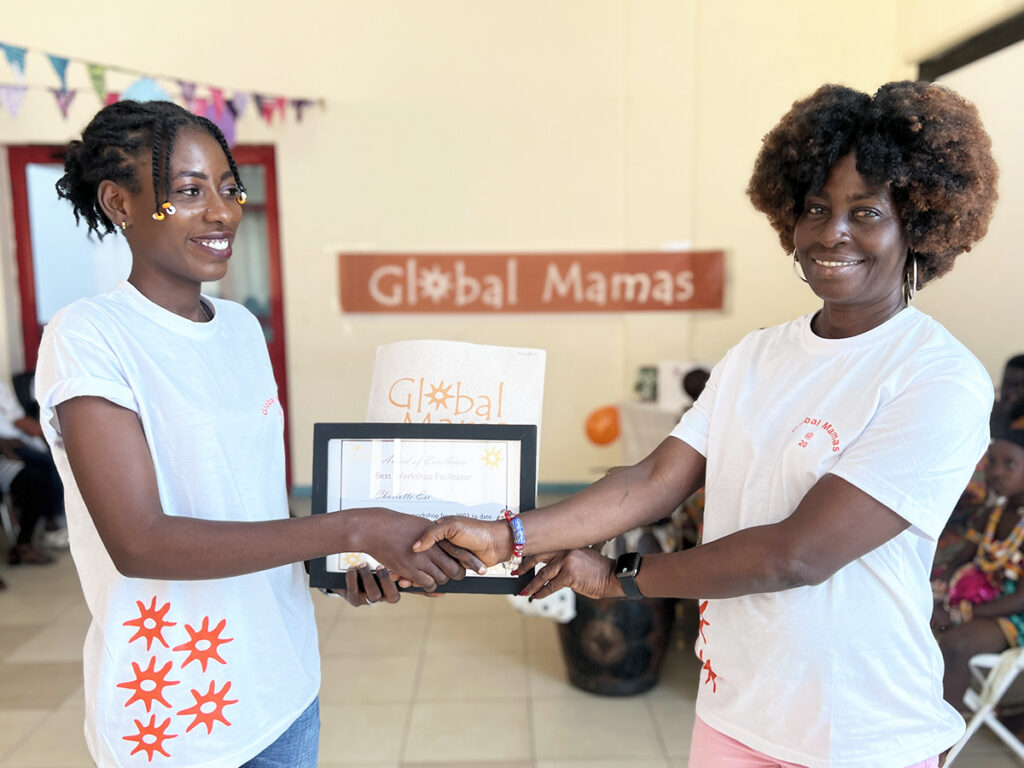 Charlotte (Esi), Facilitator of the Year
"Esi (right) has lead our cooking workshops since 2003. She is an excellent cook and teacher of Ghanaian cuisine to Global Mamas volunteers and visitors. Esi is hard-working, committed to her work, and promotes Fair Trade through what she does." Award presented by Alice, Cape Coast Store Manager.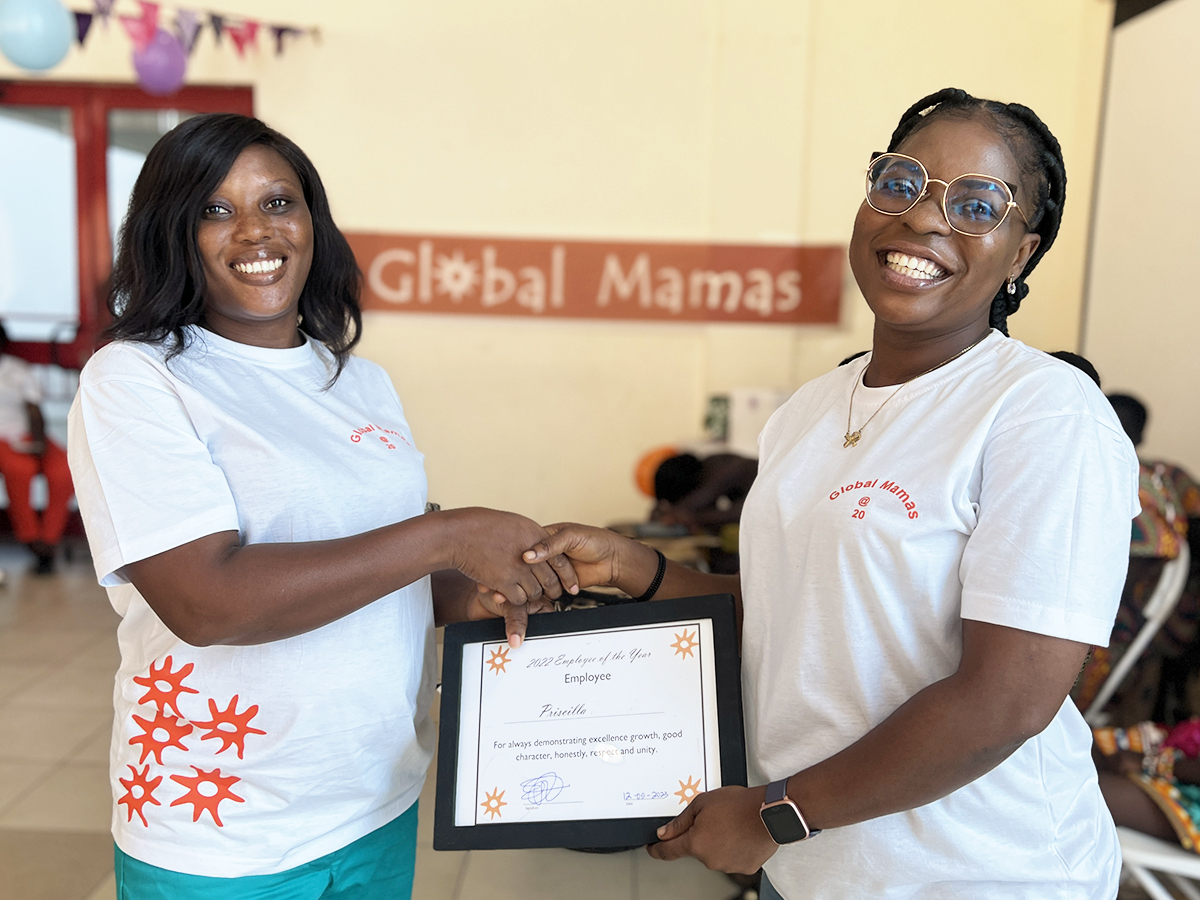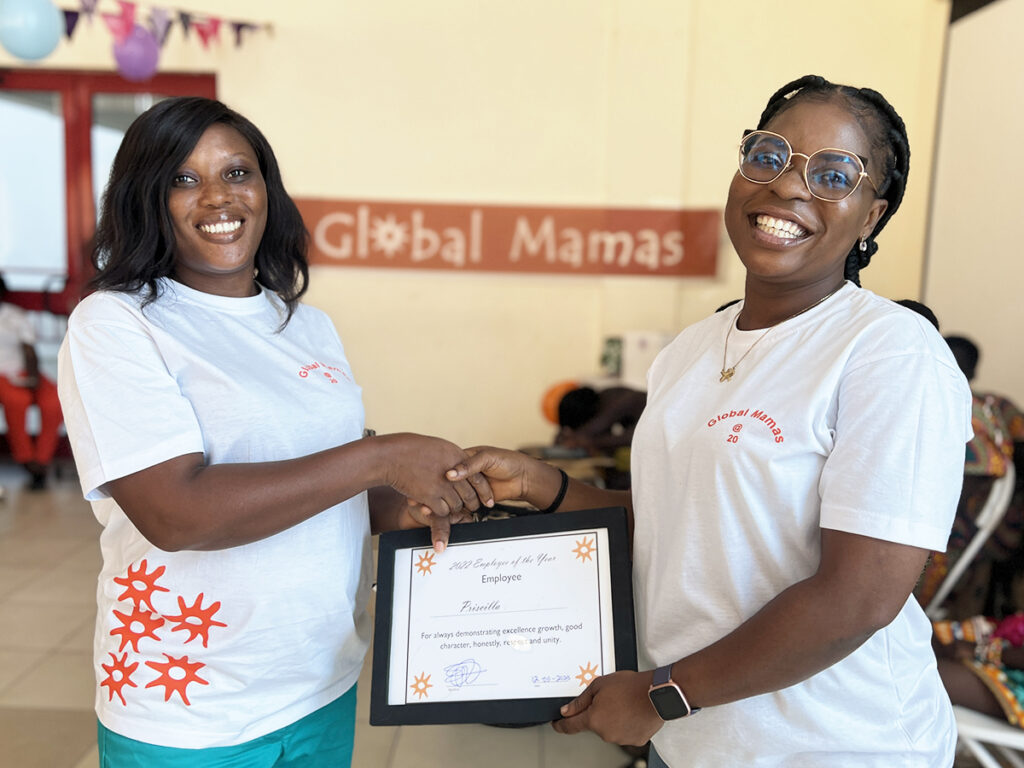 Priscilla, Staff of the Year
"Priscilla (right) is hard working and relates well with other staff, mamas and volunteers. She is an expert in quality control and a pleasure to work with. Priscilla keeps us all laughing with her great sense of humor." Award presented by Christiane, Cape Coast Quality Control Manager.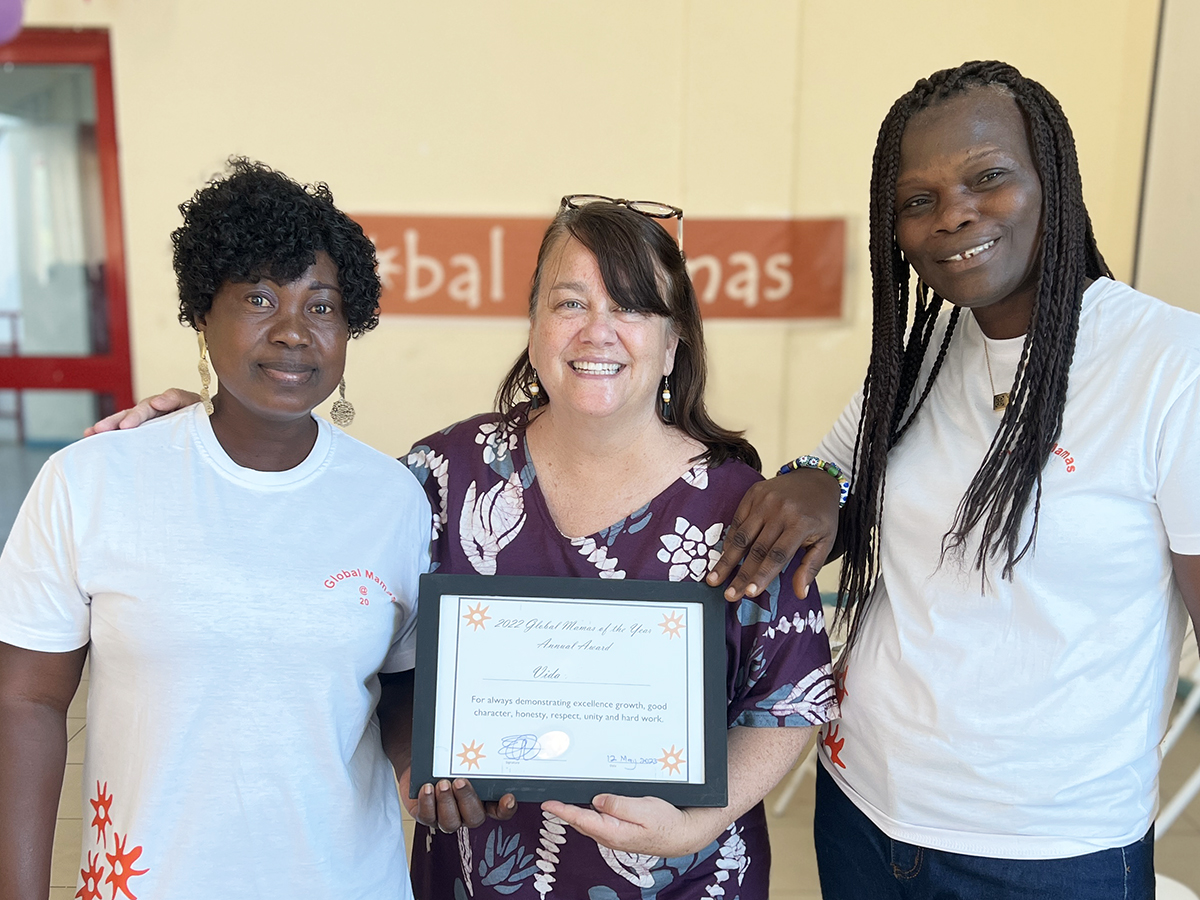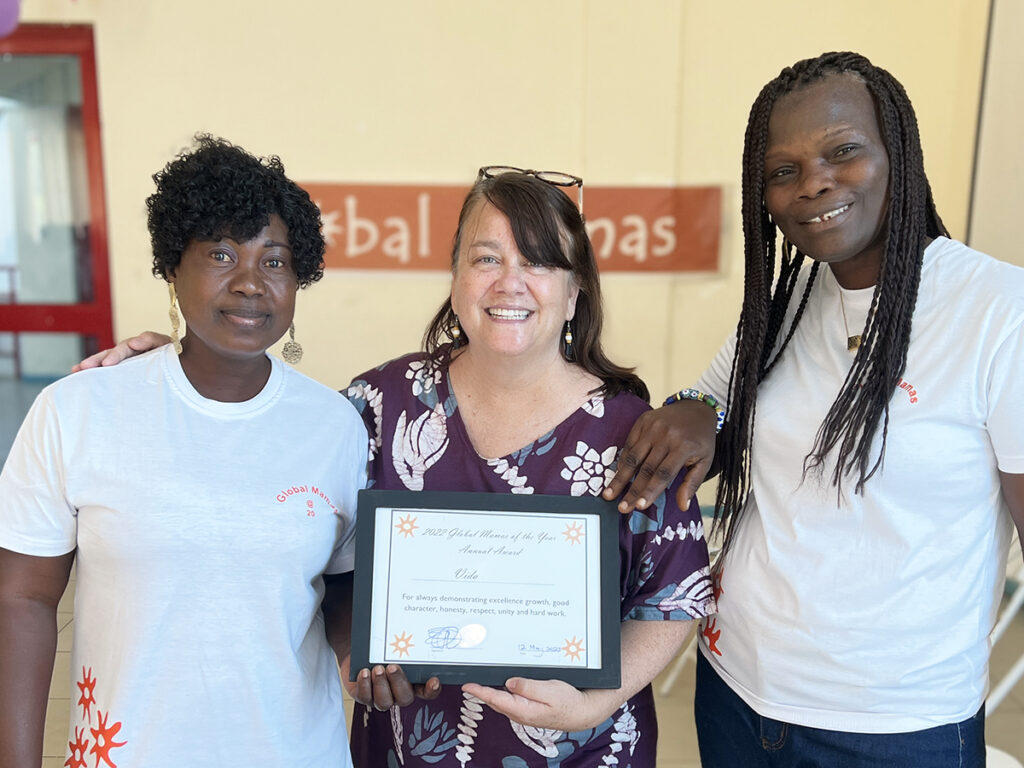 Vida, Global Mama of the Year
"Vida (left) is respectful, punctual and communicates production issues effectively with her quality control champion. Even though she stays afar, she always attends to our calls for new orders at the office and takes emergency orders when she can. Vida is very reliable and passionate about her work." Award presented by Kristin (center), Co-Founder, and Patience (right), Human Resources Director.
Congratulations to EVERYONE being honored at the 2023 Global Mama of the Year celebration! Take a look at more moments from our celebration.