This month for Giving Tuesday (November 27th) our attention remains focused on the Fair Trade Zone (FTZ), a campus-style facility we are creating in Ghana's Eastern Region to provide sustainable income opportunities for 200 craftswomen. Our vision is to create a model environment for ethical production following the principles of fair trade which incorporates eco-friendly construction, a preschool facility for the Mamas' children, in addition to many more educational and capacity-building features.
Buying Land in Ghana is Complicated
If you've been following us for more than a minute, you'll know the FTZ dream has been in progress for many years. We originally started looking for land near our current Ashaiman office back in 2011, and actually had a group of Ghanaian and international architecture students dive right into the initial design– never dreaming of the complications that would arise from "simply" acquiring land, a work still in progress nine years later.
Over the years, we've become familiar with many of the pitfalls of buying land in Ghana as we persist in reaching our goal. A major complication is due to land being passed down between tribes and families, meaning ownership is not always clear. Multiple families may be claiming the same area, and in places where a plot hasn't been registered, or ownership is vague, it's hard to re-register it in a new name. This vagary ends up leaving gaps for corruption to sneak in, with individuals trying to sell land that may not be theirs to sell.
A Final Home for the Fair Trade Zone
At the request of the Mamas in our Krobo office, we shifted our land search from the very expensive Ashaiman/Tema area to the more affordable area of Krobo. In that area, we have had three very promising plots of land that we thought were viable, but all ended in complications due to a lack of clarity around who actually owned the land. Although we didn't put any money down on these attempts, we've sacrificed a great deal of time and resources in the lengthy investigation process.
Finally, we are mere steps away from buying five acres of land in Krobo from the rightful owners. After years of court battles, the Aklomuase Family won a Supreme Court case that awarded their family hundreds of acres of land around the Krobo Mountain area. The Aklomuase Family supports the mission of Global Mamas and is looking forward to new job opportunities for women in the area.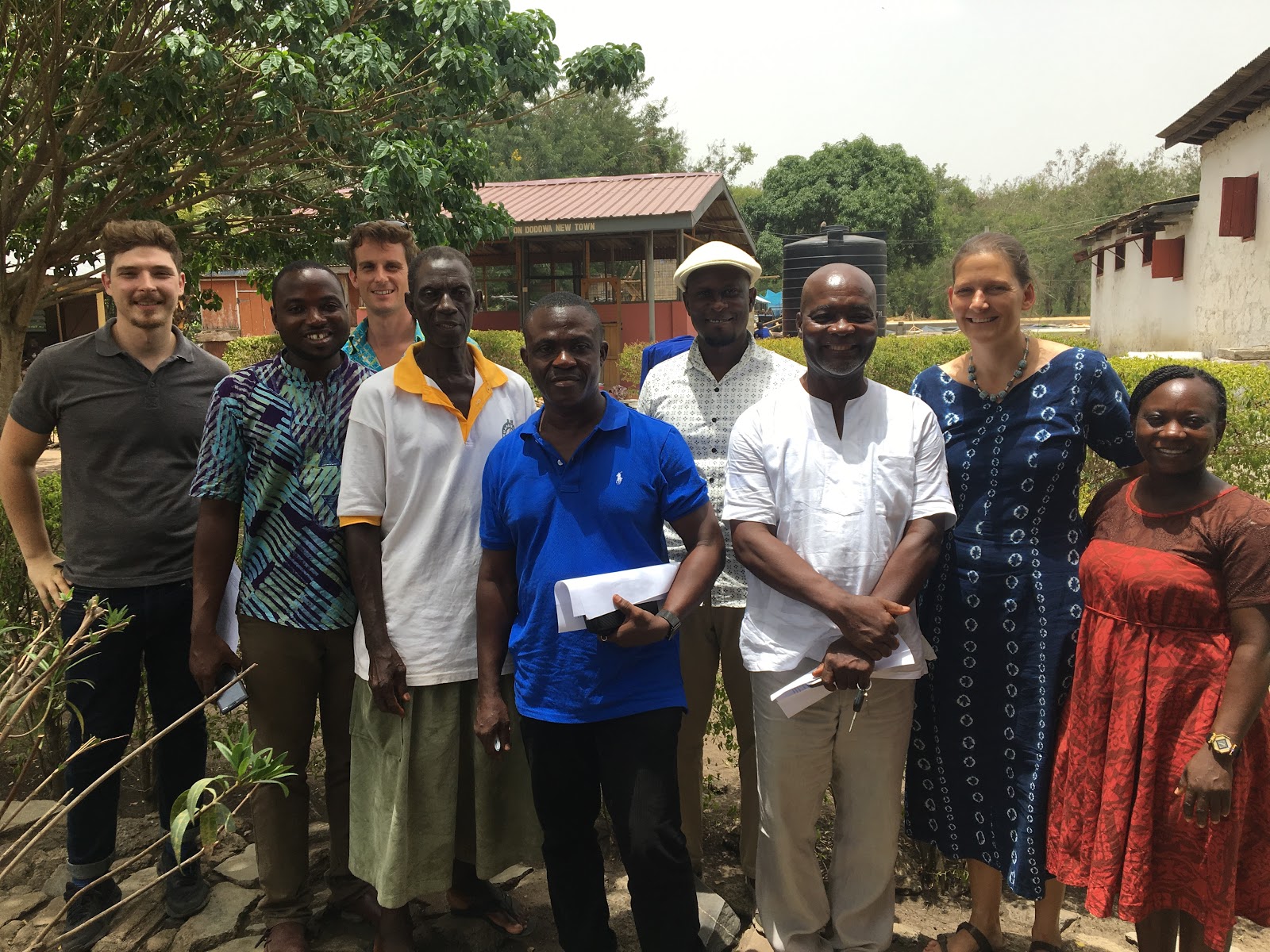 We agreed on the price and location (Site Plan) and signed a Contract for Sale. The Family encouraged us to move some stones to the land (to look as if we were starting to build something) and put up a huge signboard to let everyone in the area know that Global Mamas intended to secure the land. The idea was to see if anyone would come forward claiming to own the land, and up until now, no one has made such claims. According to our lawyer, that is a VERY good sign. We have now paid a 50% deposit on the land.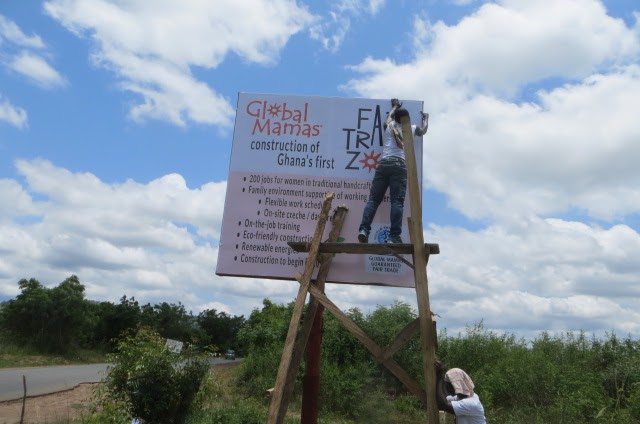 Next up is getting the Indenture (deed) and Site Plan signed and approved and submitted to the Lands Commission to register the land in the name of Global Mamas. Once registration is complete, we will make the final payment and the deal is done! We expect this all to happen before the end of the year (YES, THIS YEAR!)
Funding Next Steps with Giving Tuesday
Once we have the land, we face the next adventure – building on it! We are close to acquiring funds from a local organization for an initial basic structure, a three-room building with a covered, open-air space for batiking. But, we will still need to make this building a home. For that, we need your help. We have to get connected to the local water system (for batiking), and to the power grid (for sewing), and we need to get the space organized for a staff of 60. This means sewing stations, batiking stations, quality control tables, storage, bio-gas toilets, and more.
If you are interested in helping toward this endeavor, keep an eye out for our Giving Tuesday campaign at the end of November. You can donate directly to the fundraiser, or start your own to get your friends and family to help out too.