By Sofia Kim (Volunteer, United States) and Katie Modley (Intern, United States)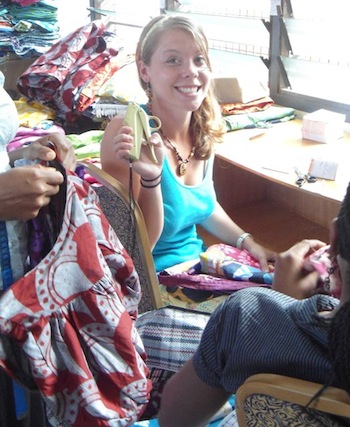 Many people would not typically think about who made a product or where it came from upon purchasing an item. Nor would they trace the product to its source. A volunteer, Katie Modley, had the unique opportunity to meet the Global Mamas that made the products that she wears and sells.
She first encountered Global Mamas products at a store called Latitudes Fair Trade Store, in Old Towne Warrenton (Virginia). Katie was a volunteer at this store and was tasked with taking inventory of incoming shipments. She noticed that all of the Global Mamas products were labeled with names – the names of the Mamas that carefully handmade the product.
Katie never thought she would end up interning in Ghana where the Global Mamas reside. She was based out of the Cape Coast location and spent her time with the Quality Control employees. Her main task was writing the names of the batikers and seamstresses on the tags, the same names she encountered at the Latitudes Fair Trade Store. One day, one of the seamstresses, Julie walked into the office, the same name Katie wrote on products. Julie was no longer just a name but the woman behind many products sold in Ghana and in the United States.
After a whirlwind of meeting several Global Mamas, attending a batik workshop and seeing the rigorous standards of quality control; the concept of Fair Trade has become personal for Katie. Fair Trade is not just supporting women entrepreneurs or buying unique products with a distinctly Ghanaian flair; it now has a face or many faces. Interning for Global Mamas has allowed Katie to realize that Latitudes is more than just retail store; it is part of a global community.
___________________________