By Rebecca Ritticello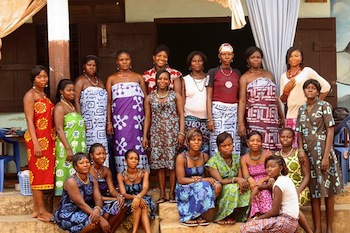 Global Mamas has been operating in the Krobo area for more than five years. As with all new ventures, the bead operation started off relatively small while we learned the market and ensured that the products we exported met the high-quality standards our customers expect from Global Mamas. In 2010, Global Mamas decided to move production of all of the beaded products in-house. This was a great opportunity for the women because for the first time they became eligible for employer-based health care and social security retirement.
When the decision was made to move the producers into the Global Mamas office, the office had two good size rooms and a nice covered porch. It more than met the needs of the seven women that we hired. It soon became apparent that we needed more Mamas to fulfill the orders that we were getting. The beaded products were becoming more popular and we could not keep up with the orders. The Krobo office started to hire more mamas and then we ran into a space problem. We needed a bigger office. In April 2011 a new office was identified and it is a perfect fit. The office is actually a large 3-bedroom house with a living room, kitchen, screened in porch, and garage for the grinding machine. The lease was signed on May 1st and the renovations began a few days later. On May 27, twenty-four mamas began their day working in their new office.
It is great to see the women happy to come to work in the morning, enjoying the comfortable working conditions and not having to worry about the weather. The new office gives Global Mamas room to grow and will allow us to hire more mamas as our order increase in the future.
___________________________