Each year in Ghana we welcome interns to our Cape Coast office to share their particular talents as they relate to the work we do. We're always inspired by their creativity and passion, and in return hope to share with them some insight into the impact and intricacies of our organization! This year we've asked these lovely ladies that have just arrived to share a little about themselves, in addition to their favorite garment from the new 2018 collection. AKWAABA (welcome) to Ali, Abby, and Erika!
Meet Abby: Summer 2018 Marketing Intern
I'm Abby, a rising junior from the University of Notre Dame. At school, I'm majoring in Marketing and Economics, as well as pursuing a minor in Collaborative Innovation. Global Mamas' fair trade business model is what first attracted me to their company, their mission of prosperity for every Mama making me fall in love. As the president of a women's hall with a community of 270 women, empowerment of women is very important to me, and working toward achieving that goal is something I try to accomplish in everything I do. Recently, I've become very interested in ethical supply chains within the apparel industry. Informed consumerism and transparent business operations are two qualities I would like my future career to include. Having been in Cape Coast for a little over one week, I've seen these qualities in every aspect of Global Mamas and it's something about the company for which my admiration has continued to grow.
For my new 2018 product pick I selected the Verona Dress in Fissure Black. While I am constantly fascinated by the elaborate patterns and colors that the Mamas batik, my personal style is more simple and minimalist. What I love most about this piece is that it's almost oxymoronic: the colors are simple but the batik gives a new level of intricacy to a striped pattern that I've never seen before. One other thing I love is the cut of this dress– I can't resist a good fit and flare. I'm always on the hunt for simple and unique garments to spice up my wardrobe, and this piece makes the perfect prey.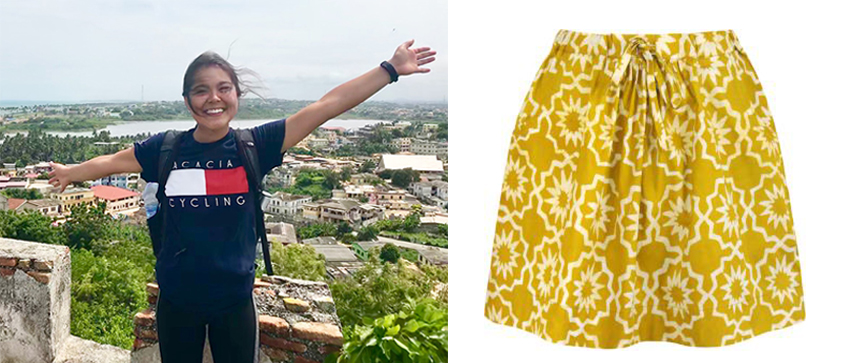 Meet Erika: Summer 2018 Business/Finance Intern
I'm Erika, a rising junior majoring in Management and Finance in the Kelley School of Business at Indiana University. In lieu of spending a semester abroad, I was looking for an opportunity to spend my summer interning at a company whose mission matched my values. As a self-supporting student, I am grateful to experience the independence and additional freedoms that result from being employed and financially secure. Global Mamas provides women in their community the incredible gift of prosperity, which is far more valuable than a simple salary. Being a Mama equals care that extends above and beyond a paycheck and provides an avenue for these women to learn other useful skills such as financial management, bookkeeping, or wellness. My admiration for Global Mamas grows with every new Mama that I meet, whether at the office or on a site visit. Their intelligence, creativity, and craftsmanship never cease to amaze me!
My favorite new Global Mamas product is the Coastal Skirt in Chroma Mustard. Whether I'm meeting friends to study together at a coffee shop or walk around the Farmer's Market on Saturday mornings, this skirt keeps my outfits cute and casual.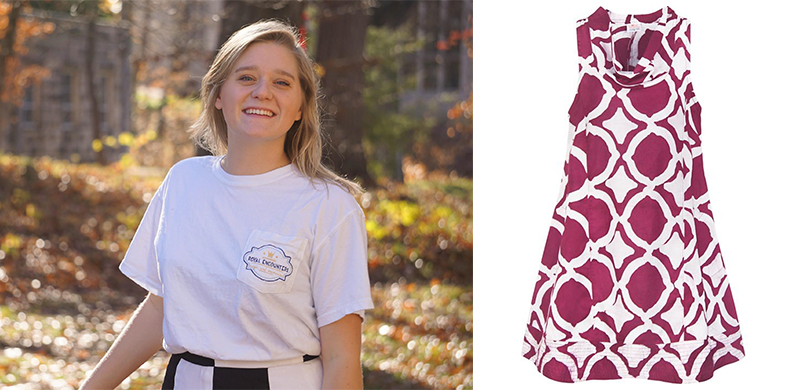 Meet Ali: Summer 2018 Marketing Intern
Greetings from sunny Cape Coast! My name is Ali Mefford, and I am one of the Global Mamas summer interns. While I am originally from Edwardsville, Illinois I now spend most of my time in Bloomington, Indiana attending Indiana University. Now entering my junior year, I have set my sights on pursuing a major in marketing and a minor in fashion design. I first heard about Global Mamas in my freshman year of college through the Alternative Breaks Program(ABP) and Global Mamas became instantly appealing to me as it connected both my love of sustainable and fair-trade fashion with my desire to make a positive impact on this world. This past year when I discovered an internship program IU offers with Global Mamas I applied as soon as the application became available. After undergoing a competitive interview process, I was selected to take be a part of this incredible opportunity and so far have been having the adventure of a lifetime!
For my new favorite product pick, I chose the Eli Dress in Fisheye Wine. I am a major sucker for all things that are either maroon or wine toned, so when I saw this dress it immediately became my favorite. Not only is the cut of this dress flattering on many body types, but it also pairs so well with many of our amazing accessories. From adding a wine colored twist headband for a really matched look, to making a bold statement with a Manye stacking bracelet, there are endless options for styling this dress.