We were thrilled to transition to certified organic and fair trade cotton in 2019, but it wasn't easy. The biggest challenge we continue to face is that the cotton absorbs the wax used in batik more deeply, making it harder to remove. Global Mamas staff spent weeks problem solving and eventually developed a new de-waxing process that works, but it is more time consuming. So our talented design team has taken this opportunity to explore new techniques for our Spring 2020 collection that use less wax. We are very proud to present their designs!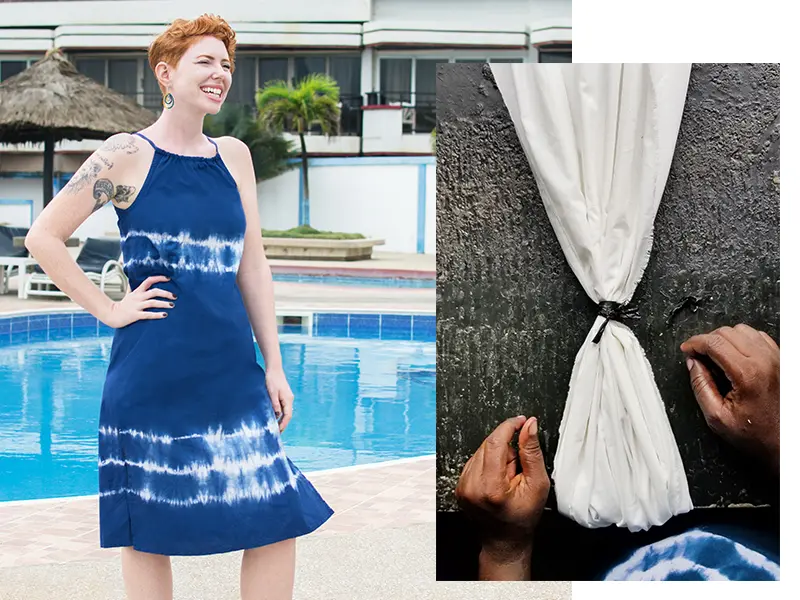 Exploring New Techniques for 2020
Our overarching goal in this sampling process was to reduce the amount of wax being applied to the fabric, while using techniques still applicable to batik artists:
Watercolor- Fabric is soaked in water, laid flat, and dye is directly applied on top of the cotton so that it disperses and creates a watercolor appearance.
Painting- Dry fabric is laid flat and dye is directly applied with a paint brush.
Marbling (what we call Iceberg)- Slightly damp fabric is laid flat, then scrunched Dye is applied directly, then cotton covered for an hour while the dye slowly disperses.
Tie & Dye- A resist dyeing technique in which fabric is folded or twisted then bound.
Spattered Wax Application– Instead of applying wax with a foam stamp (heavier application), a wooden broom is dipped into the wax and slapped down on the fabric.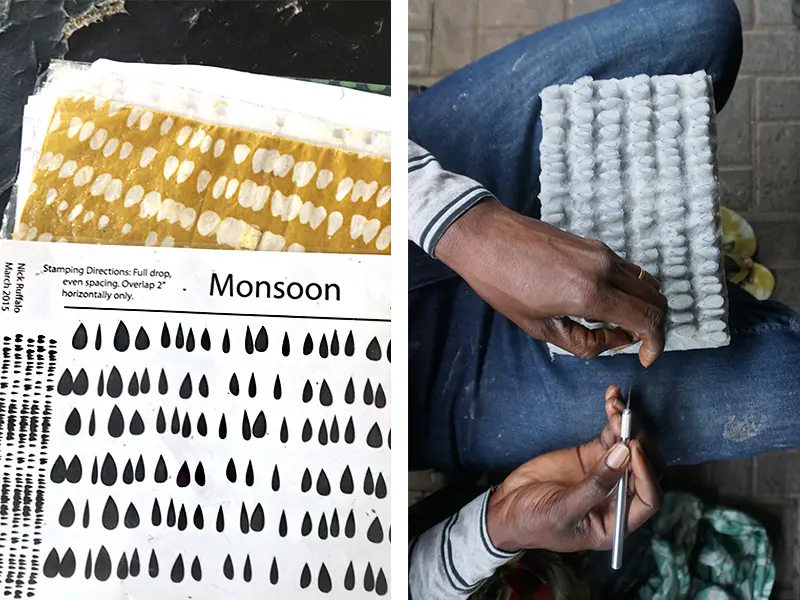 Creating Consistently With Our Unique Model
Global Mamas Cape Coast office alone partners with around 60 small women-run businesses in the surrounding community. From a profitability standpoint this isn't the most efficient model, but our mission is to support and sustain these small businesses and the financial independence of the women at their helm.
To achieve consistent results from one Mama's workshop to the next, Global Mamas' Design and Quality Control teams put a great deal of work into providing tools and techniques to support batikers and seamstresses in achieving our top quality standards. For our signature batiks, stencils are created so that foam stamps may be precisely replicated (see above), dye recipes are created and distributed, and instructions are provided on how to stamp using terms like "full drop" and "half drop" to communicate the overall repetition of the design.
While we love the subtle variability inherent to handcrafted goods, if a batik is so far outside the acceptable range set by our Quality Control team that it no longer looks like the same fabric in our catalog– it's an issue! As many of these new techniques rely more heavily on the artistic eye of the batiker, they may work for brands working with just one or two in-house producers, but they are much harder to train on across a broader group working in many locations. Keeping this in mind, Global Mamas designers Abi and Nick worked closely with batikers located near our Cape Coast office to test the feasibility of these new methods: carefully considering which options were truly viable with our unique production model that would ensure successful outcomes for the Mamas.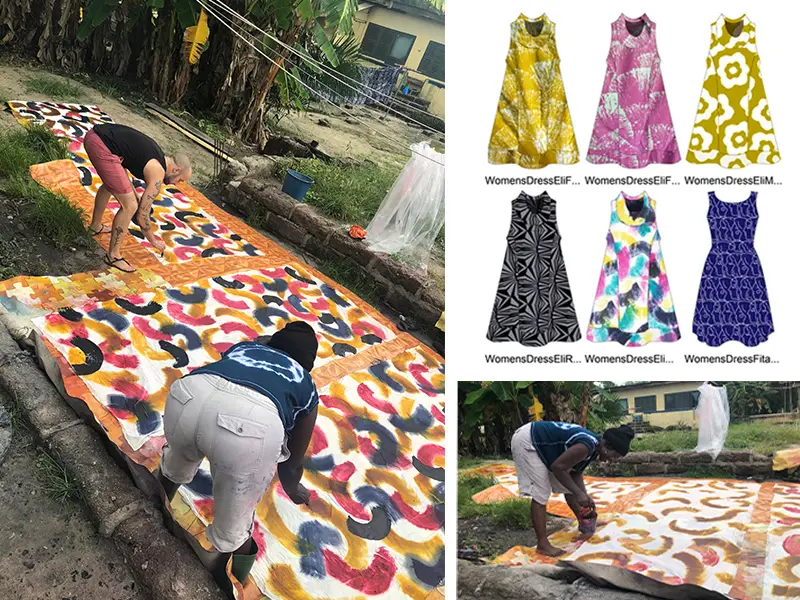 New Looks Coming for Spring/Summer 2020
We're pleased to report a range of these new fabric techniques DID make the cut for our 2020 collection, which is coming soon to stores across the globe. We look forward to sharing this new line of distinctive textiles to help you continue living life in full color!