Madison Oeff, intern
Our Global Mamas annual Design Competition took place throughout the month of June in Cape Coast, and it was a huge success. Sharing their personal style and talent, the Cape Coast Mamas could submit as many of their own designs as they had time to produce. At the end of the competition, there would be three categories of winners: an overall winner chosen by the design team, a People's Choice Award winner chosen by the public, and a creativity award.
Batiker Entries
The More the Merrier
The designs poured in. Purses, dresses, headbands, placemats, belts, oven mitts, rompers, and yards and yards of vivid batiks – the submissions received were fabulous. In our first Design Competition, only 8 Mamas submitted items. This year, we had 18 participants! In addition to the increase in participants, our total number of submissions skyrocketed; we had 64 items submitted in total. Seamstress Hannah Dodoo set the record by entering 11 of her designs into the competition. We're so pleased with the increase in entries and hope they continue to rise in years to come!
And the Award Goes to…
The first awards were given to the overall winners chosen by the design team. For the seamstresses, the design team was looking for new ideas in the areas of children's clothing, accessories, and household items. The seamstress overall winner was quality control member Elizabeth Acquah with her pink and orange children's hooded top.
Seamstress Elizabeth Acquah accepts her award
The focus for batikers was on prints that were authentically African. The batik overall winner was Elizabeth Ampiah with her diamond-shaped leaves pattern. These Mamas were given a cash prize and may be featured in our 2017 collection. When asked how she feels about being chosen as the winner, Elizabeth Acquah stood up and broke into a dance, saying, "I feel great!"
You Voted!
The next awards were chosen by our followers across the world. An online poll was launched where people were able to vote for their favorite product and batik pattern. These "People's Choice Award" winners were Elizabeth "Esi" Arkaah for her children's collared dress, and Cecelia Dick, for her orange and yellow interlocking chain pattern. These Mamas will have their designs featured in an online sale!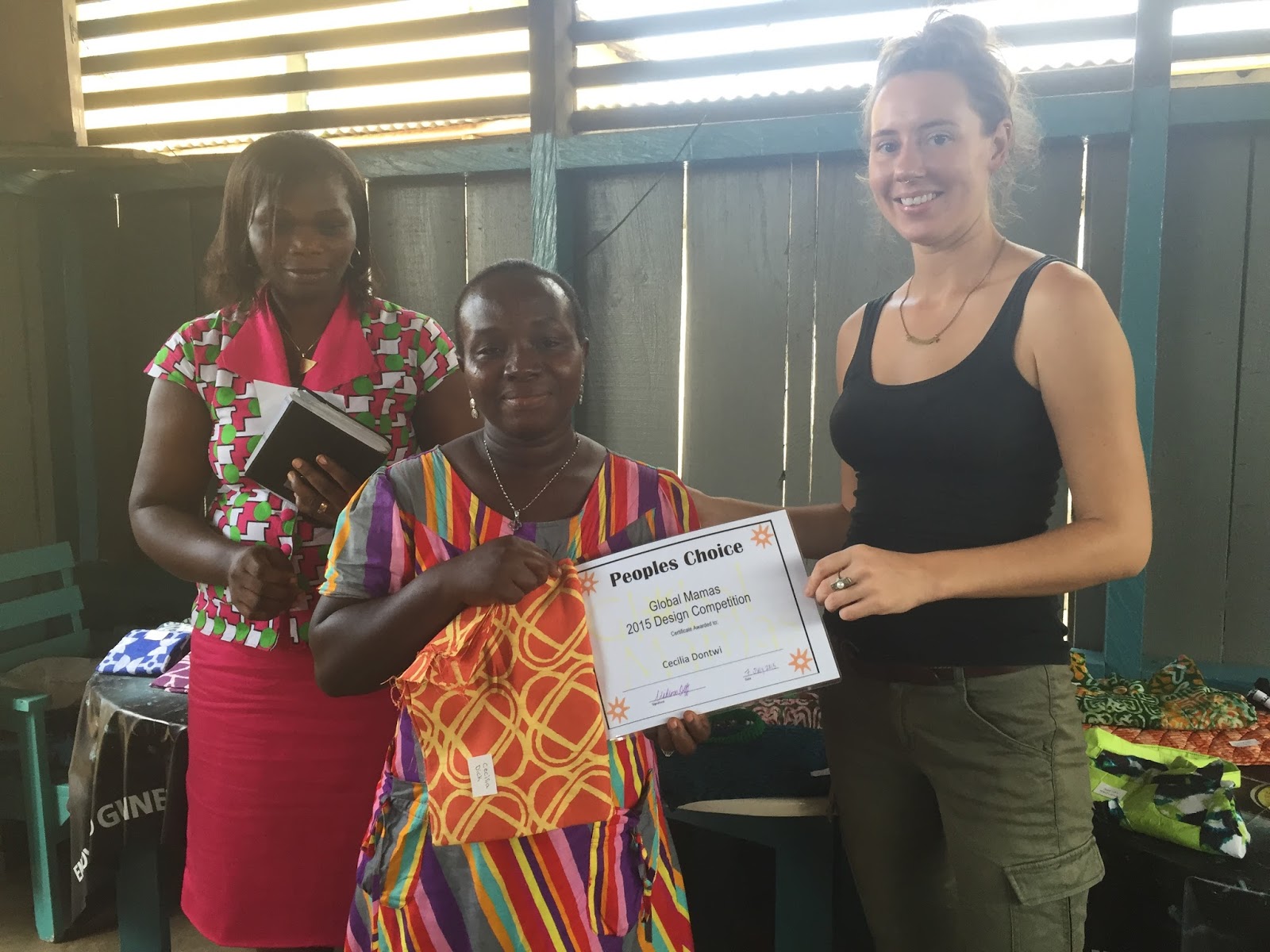 Most Creative
Finally, a third honorable mention award was given out for exceptional creativity. Martha Rhule received this award for her leopard print design, and Abigail Okang received this award for her children's flower headband. "It just came to me!" Abigail said. "The idea of a little baby wearing a cute flower headband."
Batiker Marthe Rhule's winning leopard print
Celebration for All
The culmination of the Design Competition was an awards ceremony for all of the participants. Everyone mingled and enjoyed refreshments and each other. Then, Cape Coast manager Patience Treve announced the winning submissions. In addition to other prizes, all winners were given 3 yards of their favorite Global Mamas fabric and will have their products sold in our Accra store. The awards ceremony celebrated not only the winning designs, but also the ingenuity of all of the Mamas. Patience put it perfectly at the end of the awards ceremony, "All of you are winners. Going through the effort to produce something for us that's totally your own makes you a winner."