By Women in Progress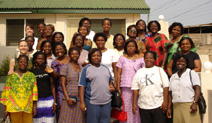 Women in Progress held their annual roundtable discussion on January 24, 2006. All 24 women business owners in the Global Mamas cooperative, in addition to WIP's staff and both founders, were present.
The meeting began with praise for all of the women and a complete rundown of all of WIP's successes in 2005. WIP currently helps 24 businesses with exporting fair trade products to the US, which increases wages for nearly 120 women and girls (including their employees and apprentices). Everyone was thrilled to hear that 2005 had seen US$125,000 in sales, of which US$50,000 was paid directly to the women in labor costs. In addition, two of WIP's main retailers include the Smithsonian Institute in Washington, D.C., and the San Diego Zoo in California, the most prominent zoo in the United States.
The forum also provided the opportunity to openly discuss any concerns and also to review the past year and draw attention to any products or processes that could be improved. While WIP currently pays 40% of its profits directly to the women in the Global Mamas cooperative, the directors introduced the topic of quality-based incentive compensation in order to hear the women's opinions on how to improve overall product quality. Both founders, Renae Adam and Kristin Johnson, truly take pride in open communication policy of the organization and encourage the women to have a voice in all matters. The women also discussed the strengths and weaknesses of WIP's current operations. Batikers are now better able to prepare the fabric for the seamstresses so that product development can run more efficiently as a whole. To further improve operations, the women will begin meeting monthly to discuss solutions to quality problems. This will create an environment of cooperation where the women can draw from one another's expertise.
___________________________