By Melanie Popowich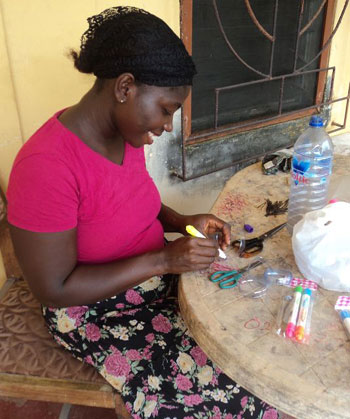 When our newest Global Mama, Ellen Eshun, gives Fante lessons to volunteers, she always starts by introducing herself as Abba atta Panyin. As she speaks you can see a small smile emerge from a normally serious face, and her chin lifts up a little. Ellen is a very proud first born twin, hence the atta Panyin. Born to Agnes and William on April 3rd 1980, she has always been surrounded by people. She is fourth born in a family of eight and at any time growing up could be found chatting with siblings, cousins or the workers that helped with the family farm in Brenu. To this day, the Eshun family still farms cassava, tomatoes and peppers. Ellen fondly remembers being responsible for cultivating tiger nuts. Along with her siblings and cousins, she was blessed to have the opportunity to attend elementary and secondary school. To pay for school fees and clothing, she sold soap to community members on the weekends. She often sold the soap on credit and collected the money the following weekend. Unfortunately, her sales weren't enough to support her through technical school or university and at 19 she turned in her uniform.
With drive to provide for herself, she worked in her older sister's provision store until she found herself pregnant at 21. She gave birth to Fredrick and then five years later Emmanuella was born. When Ellen talks about this period in her life she keeps her eyes to the ground as they were tough years and it is still painful for her to talk about. Shortly after Emmanuella was born she gathered up the strength to leave her abusive boyfriend and moved back home with her mother.
One fateful day, her mother met a woman looking for a house girl at the Global Mamas volunteer house in Elmina. Ellen jumped at the opportunity for a job and most importantly, the chance to earn a steady income and provide for her two children. December 11th, 2011 will mark Ellen's four-year anniversary, another accomplishment that she is extremely proud of. Ellen's work ethic and attention to detail are apparent when visiting the Elmina house. These attributes caught the attention of both Maria Vidal (Cape Coast General Manager at the time) and Global Mamas co-founder Renae Adams, and Ellen was asked to produce a few samples for a new and innovative product designed by volunteer Liz Lampman.
Ellen cuts strips out of old Voltic water bottles, paints them and then uses a heat gun to roll them into the shape of a bead. In the past two months she has produced over 2000 of these beautifully recycled beads. When she was asked to officially become a Global Mama, she was speechless. Not only will her products be sold all over the World helping her gain extra income, but she now has the opportunity to attend workshops and receive a wide range of business training from volunteers.
The Water Bead line is made from a mix of recycled plastic and recycled mixed beads and is available in a wrap necklace, bracelet and earrings. The line is also handmade by Ellen aka Abba atta Panyin a now self-reliant woman who provides for herself and her children all on her own!
Click here to read an article published in the Hudson Star Observer about volunteer and designer, Liz Lampman and producer Ellen Eshun.
___________________________