By Haley Rhoden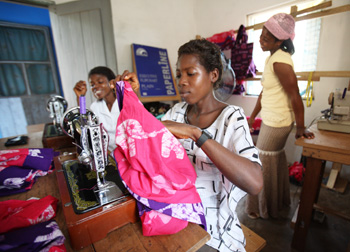 Lady Volta Batik in Ho, Ghana was established to give seamstresses and batikers in the Volta Region an opportunity to earn a fair wage creating Global Mamas clothing products. Global Mamas is constantly working to expand its fair trade business throughout the country, and the cooperative in Ho has become one of its more recent partners. With the help of its sister organization, Village Exchange Ghana in Ho, the cooperative has already employed a handful of women, providing them with a wage and work environment that they otherwise, most likely, wouldn't have received.
The cooperative tries to target young women with little or no education, since they are often the ones that experience the greatest amount of difficulty in finding work. The constant, year-round business from Global Mamas provides the workers with a steady, dependable income and also, a sense of pride in the fact that their work is going towards helping other young women like themselves. Julie Nguyen, the Peace Corps volunteer that currently works with the women says that "you can just see the positive attitude that this job opportunity gives these women", she continues, "the relationship with Global Mamas has been beneficial in that it has given us a continual stream of products to work on".
The expanded efforts of Global Mamas in the Volta Region are proving to be beneficial for all parties. As orders continue to grow for the organization, it is helpful to have the additional services of the qualified team of batikers at Lady Volta. The quality of products that is coming from the cooperative has been extraordinary and Global Mamas is happy to have them.
___________________________