Our annual Design Competition began in 2007 as a way to generate new product ideas. With so many talented makers involved in our organization we wanted to provide the opportunity to participate for any Mama or staff member interested in sharing their creative input. Each year winning designs are included in our catalog and the winner receives both recognition during our annual "Mama of the Year" awards in addition to a monetary prize.
Following the success of our 2007 competition, this event has become a tradition! In this year's Design Competition blog we wanted to focus on three winning Mamas from previous years that have their designs in our current collection.
Martha Rhule: Designer of the Unity Batik
Martha Rhule became a Global Mamas batikers in 2010 after a friend introduced her to our organization so that she could have greater financial stability. Although both a talented batiker AND seamstress, Martha decided to focus on developing her expertise as a batiker. Today Martha is an accomplished textile artist that has trained multiple apprentices while producing consistently high quality work. She has also created multiple bestselling batik designs.
Martha won the Batikers Award in our 2010 Design Competition for her Pebble pattern, then the 2017 Design Competition for her Unity pattern (pictured here). Martha says the Unity design was inspired by some brickwork she noticed while sitting one day at her sewing machine. The actual layout of the batik shifted as she played with sampling the new design. At first the pattern was more spread out, but as she stamped the logos closer and closer together she preferred the outcome. In our 2019 catalog Martha's Unity pattern is prominently displayed in a diverse range of product, from women's dresses to pillow covers.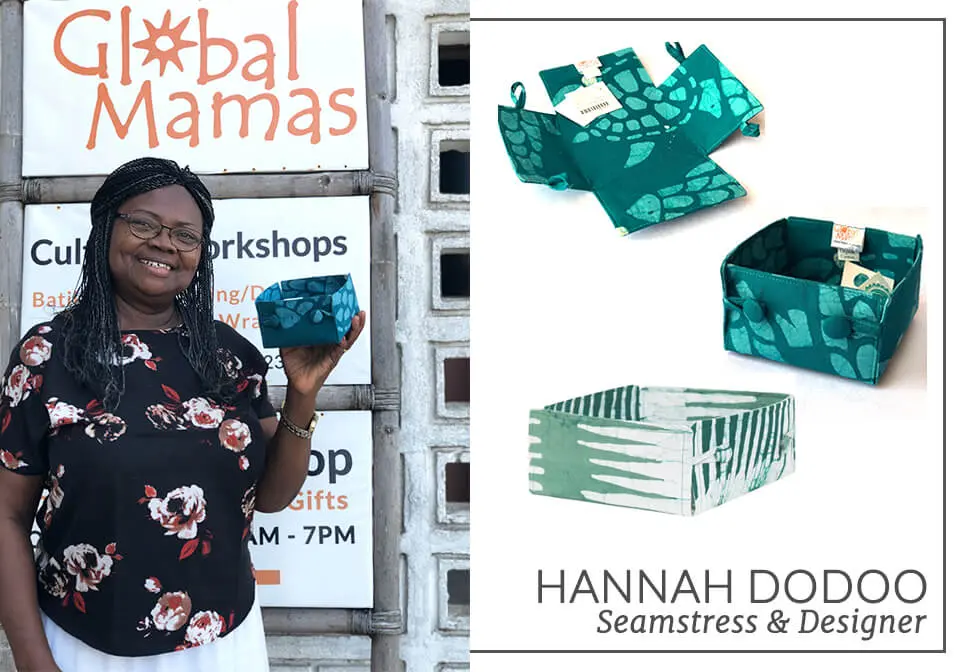 Hannah Dodoo, Designer of the Button Basket
One of Global Mamas' eight co-founding women, Hannah is an accomplished seamstress that draws inspiration from experiences abroad, including travel to the US and Germany where she learned to sew in 1976. Hannah won the Seamstress Award in 2016 for her Frontier Bag and won the 2015 Design Competition for her popular Button Baskets in our current catalog.
As a creative individual with a passion for design, Hannah constantly finds herself brainstorming new product ideas. With her 2015 contest submission Hannah recognized our catalog could use more home décor which is how she landed on her Button Basket design. Hannah's inspiration for the Frontier Bag evolved from her experience traveling and needing a secure way to carry and store her personal belongings.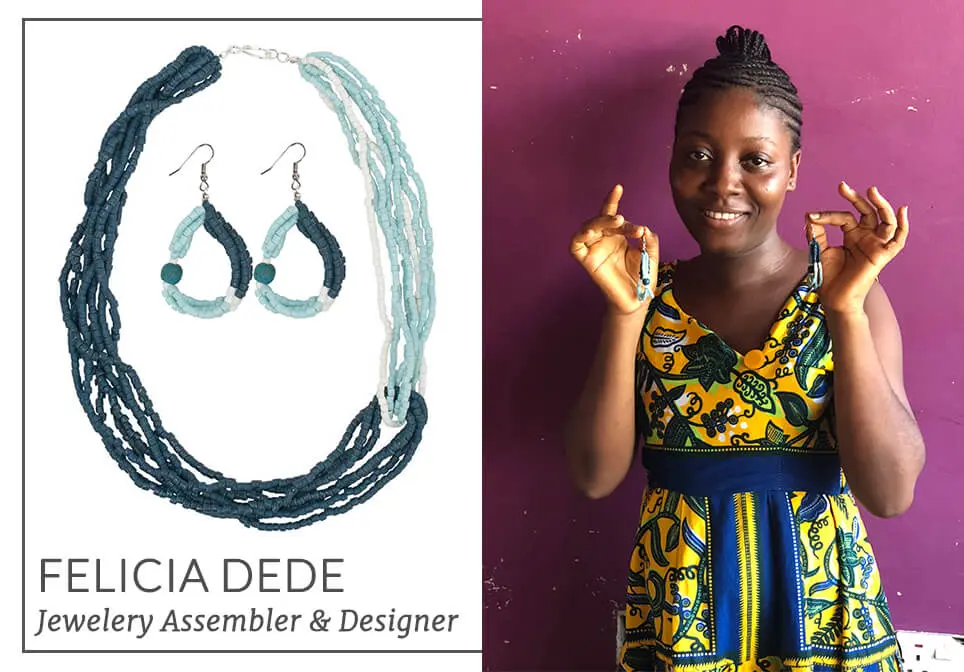 Felicia Dede: Designer of the Felicia Earrings
Felicia has worked as both a jewelry assembler and quality control 'champion' for the Global Mamas Odumase Krobo Office. This team works with local beadmakers to produce our range of recycled glass jewelry and ornaments. Before joining Global Mamas in 2013 Felicia was a teacher at primary school in Krobo but wasn't happy in the role. Having studied visual arts at technical school when she heard of an opportunity at Global Mamas from a neighbor she decided to pursue her creative interests.
Although batikers and seamstresses have participated in the annual Design Competition for some years, getting the jewelry assemblers and beadmakers involved at our Krobo location is a more recent endeavor that we hope to continue. Felicia's submission for the 2018 competition were these winning earrings that the design team paired with a coordinating necklace to be able to offer customers a matched set. Felicia says her inspiration for the earrings comes from one of her visual arts courses at school.
[SHOP FELICIA'S RECYCLED GLASS EARRINGS]
——–
2019 Design Competition submissions are due 6/28/19 and final decisions on who our award winners will be happen the following Friday. We can't wait to see all the creative ideas that will be shared this season!