By Emily Henke and Alice Grau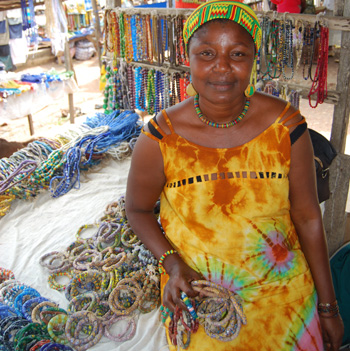 On May 22, 2009 Global Mamas kicked off the 2008 awards season at Odumase-Krobo to recognize outstanding members of the Global Mamas network. The O-K Annual Meeting took place at 1 pm at the Madizu Fair Trade Company. The meeting was well attended by bead makers, bead assemblers, and Global Mama volunteers and friends. Thomas Amuzu, MFTC manager, gave a brief recap of the last year and discussed topics concerning bead dyes and quality. The Odumase-Krobo Global Mama of the Year Award went to Lizzy Kumah for her outstanding quality, dependability, and dedication to the betterment of the project. This year we also decided to present an "Above and Beyond" award to Juliana Matey for her amazing work on educating other beading villages on the eco-friendly use of dyes, especially the brown and black dyes. Juliana has willingly taken her job a step further and demonstrates to others the importance of seeing the entire picture. The festivities were continued with light refreshments and a showcase of the groups' musical talent.
The following Friday, the 29th of May at 9 am the Global Mama of the Year Ceremony took place in the Cape Coast office. With many new volunteers present to bring up the energy, we were in for an exciting day. The meeting was opened by Patience Essibu, the locations Capacity Building Manager and then some highlights from the year were covered by Wisdom Tamakloe, the Production Manager and Alice Grau the General Manager. While some tasty European chocolates and Fan Ice treats circled the room, Patience presented the awards. For 2008, three individual were acknowledged for adding value to the group in special ways. Kate "Aba" Tay (Seamstress) was recognized for her "Top Quality", Georgina Afenyo (Batiker) for going "Above and Beyond" and Molly Djan (Seamstress) for being the "Most Reliable". Each of these women was given a certificate signed by the Executive Director and General Manager as well as a lovely necklace and brooch. After a beautiful solo from one of the quality control staff members, Patience presented the Cape Coast Global Mama of the Year Award was presented to Esther Gyepi-Garbrah (Seamstress). Esther was recognized for her dedication to the organization, her beautiful quality, her commitment to sharing her success with other women and always seeking ways to grow as a business woman; notably her recent start-up of an NGO in Elmina, Ghana. Esther was awarded with a signed certificate as well as materials to support the beginning of her NGO.
Overall it was a successful year for all of the Global Mamas sites throughout Ghana. After seeing women from all areas of the network step up in their various roles we are looking forward to the exciting prospects of 2009. Here's to another great year!
___________________________