By Gayle Pescud and Alice Grau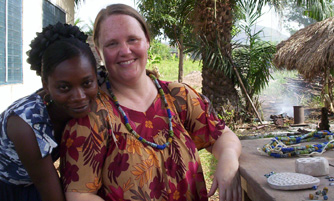 In early 2008 Sandra Crismon from Just Creations, a US customer, joined Global Mamas in Ghana to volunteer and assist in developing new bead products. Gayle Pescud interviewed Sandra via email.
Just Creations has always enjoyed the Global Mamas product and Sandra Crismon, has seen a fair share of the product during her time working with the organization. When Sandra discovered that Global Mamas was going to be launching a new line of recycled glass beads she became interested in volunteering to help with the upstart location in Krobo-Odumase. As a designer of glass bead products herself, she was excited for the opportunity not only to share her skills with GM, but also to learn about the recycled glass bead making traditions of Ghana.
As Education Coordinator at Just Creations, Sandra also notes that "part of my job is to go out and talk to the public in different forums about fair trade. Having gone to Ghana and met artisans working for Global Mamas has given me first-hand experience I can draw on in talking to the public about fair trade".
During her time as a volunteer, Sandra says she was given the freedom to create without constraints. She was happy to be part of one of the fundamental advantages for fair trade artisans, that is, design assistance being provided when needed. "I believe in that process and was glad to be a part of it.
One of the new products that Sandra helped create was the Spirit of Africa Jewelry set. She bought a bag charm that was introduced with the original line of GM jewelry because she loved the colors so much and turned them into a bracelet and earrings. She sent the photos to GM which inspired the creation of a complete set of jewelry in 2 color schemes. Sandra says that she is "always very proud when we sell one of the Spirit of Africa pieces".
Witnessing the amount of work that goes on behind the scenes in product development has given Sandra a greater appreciation of what goes into getting fair trade products to the US market. It has also encouraged Sandra in her work to educate the public about the challenges of getting fair trade products made. Sandra muses, "To us, boxes just appear with all these fantastic things that we sell! I now know how much incredibly hard work goes into getting products designed, getting all the materials for those products, and getting those products made and shipped to customers like us."
This was not Sandra's first visit to a developing country so she was prepared for some of the challenges of spending time in a developing country. For instance, the sanitation and living conditions are something she embraces as part of "our experience of the world, because you get a taste of how most of the world lives." She also says that an experience that takes you outside of developed countries can teach you how much one can take for granted. Also, the health precautions such as being careful about the water you drink and the way you prepare your food as well as getting shots and taking anti-malarial medication can be some of the more difficult parts of an experience volunteering for Global Mamas.
Overall, Sandra was very inspired by learning how Global Mamas was founded and how the founders have stayed true to their ideals. Sandra says, "Renae and Kristin are a testament to what dedicated individuals can do if they put their minds to it. I often emphasize this when I am talking to younger people who feel overwhelmed by the problems of the world and feel like they can't possibly make a difference."
___________________________