By Emma Wood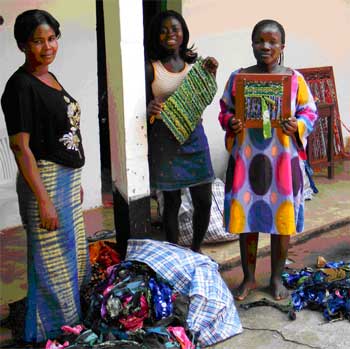 After two tro-tro rides and a taxi, anyone, no matter how well traveled, would be worn out; however, within a few minutes upon arriving at Ajumako-Ampiah – a small village on the outskirts of Ajumako – the community's friendly and energetic atmosphere instills itself upon us, and we begin to revive. Sarah, Stella and Joyce, the three full-time weavers, immediately come to greet us with a warm "akwaaba" and shy smiles. They take our unwieldy bags, heavy with rags, despite our objections and lead us to their workspace – the porch of a large, magenta house with green shutters. The owner has been kind enough to lend this porch, along with a room farther inside, to the girls for two years, until their business has grown enough to pay rent.
This charming site constitutes WIP's latest outreach project. At only two-and-a-half-months-old, it is still in its early stages of development, but the women are already grateful for the work. After the nonprofit organization Team Ghana approached WIP last February, WIP's founders, Renae Adam and Kristin Johnson, decided to look into the option of having the women of Ajumako-Ampiah to create items out of current Global Mamas scrap fabric left over from the sewing of batik apparel and accessories in Cape Coast. Team Ghana chose the location and the community representatives identified six female producers to start the project based on their leadership, sewing and English skills.
Although weaving is not a skill indigenous to the area, it is not difficult to teach and creates a means for WIP to recycle the many pieces of scrap fabric. Renae Adam spent several days in the village herself to acquaint the women with Global Mamas as well as to teach them how to weave the rags into a variety of products including placemats, coasters, baskets, doormats and rugs. The products are offered in the new Global Mamas 2008 wholesale catalog. Finished products are bought by Global Mamas on an accept/reject basis, providing the incentive to the women to perform quality control on site. This reduces waste and helps the business to become not only sustainable, but able to grow more quickly.
WIP's long term goal, like at the Cape Coast location, is to hand the business entirely over to the producers. According to Adam, Ajumako-Ampiah is the "first step into the franchise model of Global Mamas" and notes that "if this [project] is successful, this is a model we can use for future groups."
Since the project was launched, the women have received their first orders and fallen into a rhythmic work schedule. While they're still perfecting their technique, they seem to enjoy the work, giggling and talking softly among themselves as they knot the bright fabrics.
The thought of their infectious smiles, along with the ice cold water sachets they give us on our way out, almost makes the return trip bearable.
___________________________