By Pam Wyrowski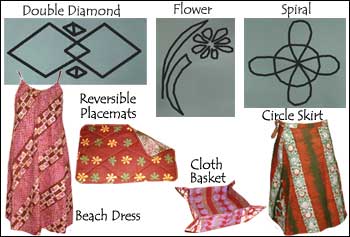 In August, Global Mamas orchestrated its first annual Design Dontest for its seamstresses, batikers and bead designers in order to introduce new products in the 2008 wholesale catalog. At the outset of the contest, the Global Mamas gathered for an informative meeting to learn about which Global Mamas products were best sellers in the US, UK and Australian markets. They then set off to design their own garments, batik textile designs and jewelry. Many women were incredibly excited about the contest as it was the first time they had the chance to offer their suggestions for the Global Mamas catalog.
The Global Mamas were given two weeks to submit their entries. The contest was a success with a number of entries: 1) seamstress: Esther Gyepi-Garbrah, Lydia Wright, and Hannah Dodoo; 2) batikers: Eli Ampiah, Emma Myers, Joyce Aboagye; and 3) bead designer Gladys Adimer. A panel of judges, including WIP's founders, local Ghanaian workers, WIP volunteers and various retail customers, then evaluated the entries. The judges were thrilled with the quality of the competing entries and they chose at least one entry from each Global Mama and awarded each competitor with a new electric iron.
In conjunction with the 2007 Design Contest, Global Mamas also completed its first customer opinion survey to gain insight into potential jewelry pieces for the 2008 wholesale catalog. WIP volunteers narrowed down the list to the best 15 jewelry pieces and created an online survey to gather feedback from select retail customers. Global Mamas received valuable input from customers that helped to narrow down the offerings for the catalog and improve various pieces by slight design alterations.
With the addition of the design contest and the customer online survey, Global Mamas made important strides this past summer in trying to satisfy their retail customers as well as connect the local Global Mamas with their US customers. Global Mamas is proud of the steps taken and the product improvements that were made through the institution of these two projects.
___________________________