By Melanie Popowich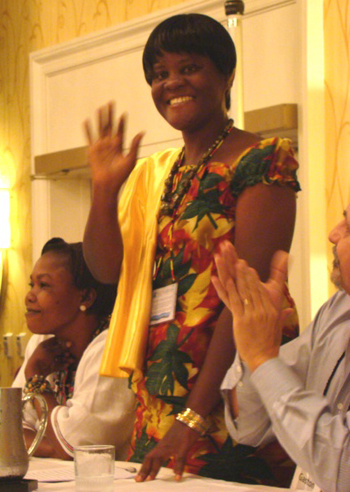 Esther Gyepi-Garbrah is no ordinary seamstress- she is an exceptional woman with an exceptional story. She was invited to speak at the Fair Trade Federation annual conference held in Quincy, Massachusetts this September. Despite many obstacles, Esther has become one of the most successful Global Mamas and is one of the most deserved women to be selected to speak at such a remarkable event.
Esther began her career as a seamstress with no materials of her own; she was equipped with only a borrowed machine and worked out of her bedroom. Because money was hard to come by, Esther soon applied for a loan. Unfortunately, she was quickly swept up in the vicious cycle of paying off only the interest rate for her loan and fell victim to a loan default and declaring bankruptcy. Esther recalls this as one of the most trying times in her life, as she was "running after the wind." Her dreams of managing a successful shop of her own were fading.
When Esther's dreams seemed unattainable, Renae Adam, the founder of Global Mamas, made a proposition that would alter Esther's life forever. The proposal was simple: make ten dresses instead of one. Esther managed to complete the order and she was immediately compensated. For the first time in Esther's life, there was money in her pocket and she felt the freedom of financial independence. In time, Esther cemented her relationship with Global Mamas and continued to complete orders, which allowed her enough revenue to pay back her loan. Her store, My Redeemer Liveth Fashion, has thrived and she has even started a very successful apprentice program. Esther does not simply teach her apprentices, but she also equips them with a machine once they graduate from her program. She believes that because she had such a hard start, she feels compelled to make it easier for the others. She learned the value of a support system through Global Mamas and makes a concerted effort to provide the same support to her employees.
Esther is a woman whose deep faith has compelled her to give back, especially in the wake of success. Her motto is simple, "anytime I have more, I have to give." The death of her niece, Grace, prompted Esther to start her own NGO. It has officially been registered by the Ghanaian government and its mission is to provide free vocational training for seamstresses and batikers in the most deprived areas of Ghana, primarily the villages. She identifies with the struggles of the village people and believes that they face far greater limitations when it comes to schooling and jobs. One day, she hopes to build factories that will employ and teach skills to many of these women and men.
From the 10th through the 12th of September, Esther brought her story and experience to the Fair Trade Futures Conference. She and co-founder Kristin Johnson were featured in a seminar on "Navigating Relationships with Producers Over Time" during which they were well received with supportive feedback from current customers. Esther and Kristin also had the opportunity to provide insight on some of the audiences tougher questions such as how to negotiate pay with producers and how to ensure that producers are well represented in the companies decisions.
The highlight of Esther's weekend came Sunday morning when she joined three other producers on the main stage as living examples of "What does Fair Trade Seek to Achieve?". Esther shared her moving story with a room full of hundreds of people. Afterwards she had the opportunity to answer questions from the audience as well as speak with individuals who sought her out in person. Esther had conversations with customers, students, other prod
___________________________