By Genny Cortinovis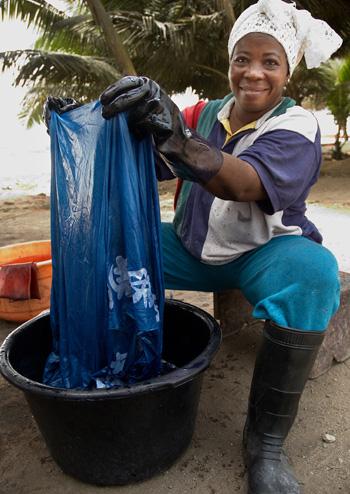 The story goes the Belanda Hitam, Malay for Black Dutchman, brought batik to West Africa in the mid-nineteenth century after serving as indentured soldiers for the Dutch in Indonesia. Returning home from 15-year conscriptions, legend says the men brought back trunks of fine Javanese batik, covered in opulent whisper-thin patterns that captured the imagination of their friends and relatives. It's a very neat story, but unfortunately, as any scholar will tell you, textile history is one sticky wicket. Of the 3080 recruits from 1831-1872, only a handful returned to West Africa (many married Javanese women), and those that did make it back, usually returned empty-handed; the recruits were not paid until they reached their final port, which would have made souvenir shopping pretty difficult.
Batik is older than history, with traces even laced in the wrappings of Egyptian mummies. Most people think of Java when they hear batik, and indeed the word derives from several Malay words, but nations as diverse as Japan and Sri Lanka have had their own, sometimes isolated, traditions of the process. Batiks were as good as gold for much of history, and were enthusiastically traded among Asian neighbors as early as the seventh century. Europeans entered the mix much later, but they became the major pushers of "woven cargoes" from the seventeenth century on, and some colonial powers, most notably the Dutch (during their Golden Age), had a heavy hand in industrializing the technique.
Of course, this doesn't quite explain how, or when, batik got to Africa. Dutch Scholar Ineke van Kessel suggests the fabrics came from India to West Africa by land, not sea, over the ancient trans-Saharan routes. Local populations like the Yoruba in Nigeria incorporated aspects of the wax printing into their tradition textiles, and little by little the trend caught on. When the Dutch and English began trolling the coast of West Africa in the seventeenth century, they brought their wax (wax batiks) and non-wax (roller prints) fabrics, targeting a local population already poised for their consumption. With time, they began tailoring their European-produced prints to refined African tastes, tweaking designs down to each region and port.
Batik, in its original handcrafted form, and its derivative roller print (often confusingly called real Dutch wax print) are ubiquitous and highly cherished across West Africa today. Prints range from abstract geometry to figurative images, and beyond. For many men and women, the patterns are a form of expression and even communication, announcing everything from their marital status and mood, to their political and religious beliefs. Up until the 1960s most wax prints were still produced in Europe, but in the post-colonial era, that all changed. Ghana boasts three of the finest wax print manufacturers in Africa: Woodin, GTP (sister of Real Holland Wax Print), and ATL (sister of ABC textiles in Manchester). Unfortunately, legal and illegal Chinese and Nigerian copies have flooded the markets of late, and many, especially GTP, have seriously suffered.
Global Mamas carries on the long tradition of handcrafted batik, and in many ways, our hybrid design philosophy is apropos to batik's complicated history. Many of our volunteers bring ideas from home, and then collaborate with our local batikers to create a finished product. The resulting designs are timeless and multi-national, incorporating ideas and styles from Java all the way to Jersey.
___________________________