By Heather Boyd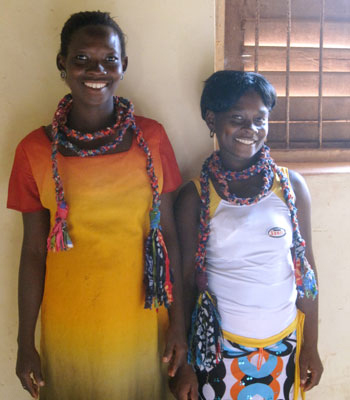 The economy of Ajumako is mainly agricultural and before Global Mamas many of the women were employed through that sector and were not making a steady income. The Ampiah-Ajumako Business Center opened in January 2008 with 3 workers and has now grown to employ 11 women. The women of Ajumako create items out of Global Mamas' scraps by weaving left over pieces of fabric, allowing Global Mamas to recycle scraps while making exciting and colorful products.
After successfully producing the Woven Trivets for two years, the women of Ajumako were looking for a new challenge. Jordan Croft and Sarah List, design interns, traveled to Ajumako over the summer of 2010 with new product ideas for 2011 in-tow. They trained the women on new items such as braided necklaces and accessories, as well as woven dog leashes. Jordan reported that "the women got really excited about the new products and their eyes lit up". After the women were taught how to make the products they became silent, concentrating on taking their time and perfecting their technique. The silence was only broken by the women taking turns singing. Once the women understood the construction of the necklace they took initiative and expanded the design into bracelets and earrings. The women of Ajumako are industrious and were exciting focused on the new product designs.
When the women of Ajumako dream for their future, they envision continuing to work with Global Mamas. Cecilia stated that she wants to continue to work with GM "to do something for my future". Sarah wants to keep working so that she will "make enough money to complete my building, take care of my children, and add machines [to the business]". For their community, the majority of the women pray for a hospital; Florence hopes that one day there will be a medical facility, so they do not have to send for someone to come to the village.
The women of Ampiah-Ajumako are very thankful to the customers who purchase from Global Mamas and acknowledge that without customers they would not be able to sell their products nor provide for themselves and their families. But, they also laugh and request "more work!" Esi-Joyce stated that "you [the customer] have done well!" Selina also mentioned that "I am now able to take care of my children, thank you".
Since the opening of the center the women have come a long way and at Global Mamas, we hope that these new products will act as a stepping stone for the women in achieving their dreams for themselves and their community.
___________________________