By Leah Brickhouse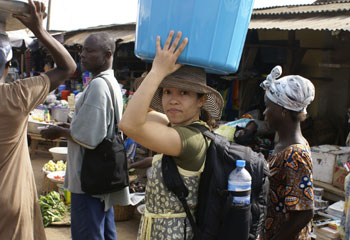 Sweden sent us off to Africa with one of the coldest days in Gothenborg, -10C. Ghana welcomed us with open arms, to a balmy evening of 29C. That is how the adventure started for us – Tomas, the Fair Trade Educator / Photographer, and I, the Fair Trade Agent for Global Mamas in the "north pole", aka Scandinavia.
My first encounter with Global Mamas was at a Christmas market in Washington, D.C. four years ago. I fell in love with the colorful batiks, the women´s stories, and the mission of Global Mamas. After moving to Sweden, I started Sol Sisters – a socially responsible business focusing on fair trade, organic, and locally made products. Of course, when I moved to Scandinavia I brought Global Mamas with me and started promoting and selling their products. So, after a few years of involvement with Global Mamas, I thought it was time to travel and meet everyone in Ghana.
The fair trade movement has picked up a lot of momentum over the past two years of living here in Sweden. You can find fair trade products in all grocery stores and there is strong consumer push for more fair trade clothing in other stores. Tomas´ job is to educate people on what "Fair Trade" is, what it means for the producers, and why it is important to purchase fair trade products. He travels around Sweden presenting fair trade concepts at schools, unions, work places, and clubs. While he focuses on FLO (Fair Trade Labeling Organization) products, his interest in coming to Ghana was to gain experience with fair trade producers and organizations involved with fair trade around the world.
Our reception in Ghana was wonderful! The people were very warm and friendly. The weather was perfect – hot and sunny. Just what we needed after coming from the dark, cold winter of Sweden. I loved the fact that there where free range animals in the cities – sheep, goats, chickens, dogs, cats, pigs and more. Now, I know what happened to the chicken that crossed the road, she ended up in my dinner. The food was fresh and locally produced. One morning in the Volta region, near the waterfalls at Wli, we had a breakfast of fresh pineapple and bananas from the garden, and organic coffee from the village at the top of the waterfalls. The access to fresh, locally produced foods in Ghana was a lot easier and cheaper, than in Sweden.
The majority of the population tavels by shared public transportation in the form of buses, cars, shared taxis, tro tros (converted trucks and buses), bush taxi´s, shared motorcycles, and shared bicycles. We often had to wait for a bus, taxi, or tro tro to fill up before it would leave. There were often no set departure schedules and time was never an issue. You just seemed to get to where you were headed "on time". Travel appeared to be stress-free with little or no need to arrive at a specific time – life just seemed to work out as it was supposed to.
During our 15 days in Ghana we traveled to Accra, Cape Coast, Elmina, Edumafa, Mankassem, Krobo, Hohoe, Wli, Ho, and the famous Akosombo Dam. We interviewed many of the members of the network in Cape Coast, Krobo and Accra, and we were lucky to see the birth of a new production site in Edumafa. My first time entering the Global Mamas office, meeting with the staff and eventually the members of the cooperative, was an emotional experience. I was moved to tears of joy and relief, at finally being able to meet the real people I had been in contact with, and about whom I had read stories and sold their products over the past few years. The pictures and voices were now alive, and these individuals have inspired me even more.
___________________________