By Melanie Popowich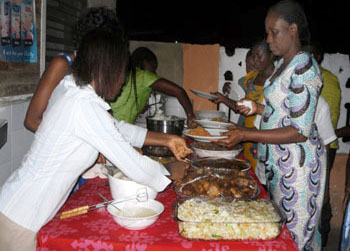 The much anticipated Global Mamas of the Year event was held this past March. It was such a pleasure to organize this event, but also a huge learning experience. No matter how many events you plan, each is so different and has to be handled carefully, especially with the laid back Ghanaian culture. Along the way, I learned that patience is key and if you want people to arrive at 6PM, you have to tell them to arrive at 5PM. (Similarly, if they tell you that the cost is 65 cedis, budget for at least 75).
The event was hosted at Elimax Spot outside of Elmina. Considering that Elimax owner, Eli, typically has five customers for dinner, hosting 60 people was a first for her! We quickly learned the art of improvising as we realized an hour before the women were expected to arrive that there was a serious shortage of tables and chairs. Fortunately, after a quick scramble, we were able to borrow chairs from the church across the street. Tables were a bit harder to come by and we became scavengers– using every available, partially functioning table we could find. We managed to find enough and drape them with the colorful Global Mamas table cloths. As the sun set, we lit over 100 candles and their soft glow only helped to accentuate the beautiful colors. It would be an understatement to say the restaurant looked amazing.
Staff members and a group of five drummers, led by Global Mamas night security man Appiah, warmly welcomed the women as they began to trickle in around six. The program commenced just after 7PM as grace was said before Eli's feast was served. Everyone enjoyed both the food and the company around the table as the drums played in the background. The women joined in to dance and sing – it was priceless!
Renae Adam, co-founder of Global Mamas, ushered the transition from dinner to the awards ceremony as she got everyone's attention by speaking a bit of Fante. The crowd hushed and the awards presentation began. The winners announced were as follows:
Initiative Award: Monica Eku (Batiker)
Innovation Award: Hannah Dodoo (Seamstress)
Leadership Award: Alice Korsah (Seamstress)
Staff Member of the Year Award: Wisdom Tamakloe
Global Mama of the Year Award: Georgina Abra Afenyo (Batiker)
After each name was announced the crowd went wild as they cheered loudly and clapped for each of the recipients. Georgina, the newly crowned Global Mama of the Year, said a few words that were filled with such gratitude. This brief description of the night does not sufficiently convey how memorable the night was to the staff and Mamas alike. It is most certainly a night that I will never forget.
___________________________