By Elizabeth Murphy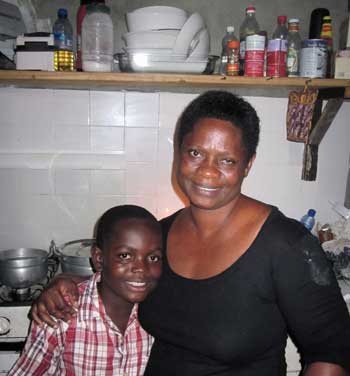 Elizabeth "Eli" Kpotorfe is not a seamstress nor is she a batiker, but she is certainly one of the most esteemed members in the Global Mamas community. In a more unconventional way, she has asserted herself as a "Mama" through her cooking. Global Mamas volunteers from Cape Coast have been frequenting EliMax's Spot for six years now and for good reason. Eli has recently been featured in the Global Mama's cookbook, The Spice of Life, which includes an assortment of traditional Ghanaian dishes. Since working with Global Mamas, Eli has served a very diverse group of volunteers from Japan to Spain to the United States and, yet, her dishes universally satisfy each and every customer.
A native of the Volta region, Eli started cooking at a very young age. In time, she pursued her passion by working at small restaurants and bars to perfect her culinary skills. Many times, Eli found herself repeatedly cheated and unpaid and by 1992 she moved to Cape Coast where she sought work from her uncle's friend. After two years, Eli made the decision to start her own small kiosk stand near the Elmina Beach Resort. However, soon after opening the stand, the government insisted that she had to obtain a license in order for her shop to remain open. With the help of a friend, she was able to attain the permit and it was then when she purchased the surrounding land. She invested everything she had into building her own restaurant and eating area that would be able to seat customers.
Her association with Global Mamas came about by chance. David Hollis, husband to Global Mamas co-founder Renae Adam, frequented EliMax Spot while attending a conference in Elmina in early 2003. Renae and Eli were introduced when setting up the WIP volunteer house just down the road. Eli admits to this day how much she treasures her friendship with Renae saying, "You can dream about so many things, but if you don't have anyone to push you, to support you, you cannot go forward. Renae did this for me. She gave me confidence." WIP also believed Eli's restaurant would be an ideal venue for the volunteers to grab dinner after a long days work. And so, the trend began, and Eli officially began cooking for the volunteers.
Not only has Eli played a pivotal role in feeding the Cape Coast volunteers, but she has also been instrumental in helping the greater Global Mamas organization. She is responsible for introducing Wisdom Tamakloe, the current production manager and recently crowned 'Staff Member of the Year 2009', to Gayle Pescud, the former General Manager in Cape Coast. It was Gayle who would later offer Wisdom a position with the company. Moreover, Eli also hosted the Global Mama's of the Year event at her restaurant where she served 60 people and helped facilitate one of the most memorable nights for Global Mamas.
Eli's recipes have also been published in the Global Mamas cookbook "The Spice of Ghana Life", which has been a hit among customers. From traditional meals like palava to more Western themed meals like grilled cheese, Eli has managed to add her own spin on the dishes as she combines local ingredients with her own special touch. The dishes are made each night strictly from her memorization. She offers a very reasonable price for all the meals – in fact it often leaves volunteers baffled as the quality rivals that of any high end restaurant in the United States.
The comprehensive skill set offered to the Global Mamas batikers and seamstresses is similarly offered to Eli. Over the years, a number of volunteers have had the opportunity to work with her restaurant business. Just this past summer Kelly Pierson, an intern, worke
___________________________