By Elizabeth Murphy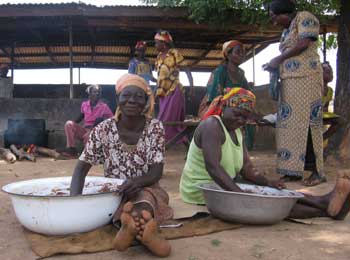 When it comes to personal care, women want what is best. Every year the United States spends over 8 billon dollars on women's cosmetics and the figure continues to grow each year. This massive consumption speaks to the universal desire of women to take care of their skin and body. Consumers are beginning to understand the importance of using natural products, as it is healthier for the body. Global Mamas, recognizing the need for authentic, organic personal care products, saw an opportunity and chose to explore this new territory.
Northern Ghana is rich in both resources and opportunities. Women-based shea nut cooperatives are common in this region due to the abundant wild karite trees, which are the critical component to shea butter production. Many Africans refer to shea butter as "liquid gold". In addition to containing antioxidants, vitamin E and minerals that work to moisturize and restore the natural beauty of skin, the shea butter also holds natural UV protection and reduces the appearance of wrinkles and stretch marks.
Poverty and market fluctuations, however, had been preventing these women from taking part in the actual transactions. These women tended to be among the poorest in the world. Global Mama's identified the state of the economy and decided to implement a poverty reduction strategy to overhaul the situation. The organization planned to assert itself as a quality producer of shea butter products while simultaneously helping to improve the livelihood of the women.
Global Mamas formed advantageous partnerships with Naasakle Ltd and the West African Trade Hub. Both would provide direct access to export markets in North America for women's cooperatives in the Northern Region of Ghana, while also helping to manage the training in production, quality control, and marketing initiatives. Global Mamas hopes that once the business model has been successfully replicated, the Global Mamas Shea Butter Export Program will be expanded to other shea butter producers in West Africa. In the meantime, over 500 women's lives have been positively impacted by the presence of Global Mamas in the Northern Region.
Global Mamas Slippery Slope Shea Butter is offered in several scents such as tropical, lavender and vanilla. Global Mamas Dandy Lion Black Soap is made with shea butter and cocoa pod ashes that give it a natural cleansing power, universally beneficial for all skin types. The line of shea soap, called Global Mamas Trunk Scrub, is also made without chemicals, preservatives, or color additives to uphold the tenet of producing quality products in a sustainable way. Global Mamas is excited about its new skin care line and is working hard to create superior shea butter products while bettering the lives of the women.
___________________________