Global Mamas is the brand name for apparel and accessories produced by many small business women in Ghana through the facilitation of Women in Progress (WIP). In addition to looking for export markets abroad to generate income for women in Ghana, WIP also is focusing closer to home to develop international markets.
Tourism in Ghana is on the rise and it represents provides another lucrative avenue, closer to home, for generating sales. On its first venture, WIP partnered with one small woman-owned business, Eli-Emma Batik, in August to sell goods at the Cape Coast castle. During the first week in September, WIP also opened its own Global Mamas store at the well-known Kingsway location in Cape Coast. The store is sharing space with the popular restaurant Cape Cafe, which is recognized by several tourist guidebooks (such as Lonely Planet and the Brandt Guide.) Each woman batiking or sewing products for the store has also shown her commitment by volunteering in the store monthly.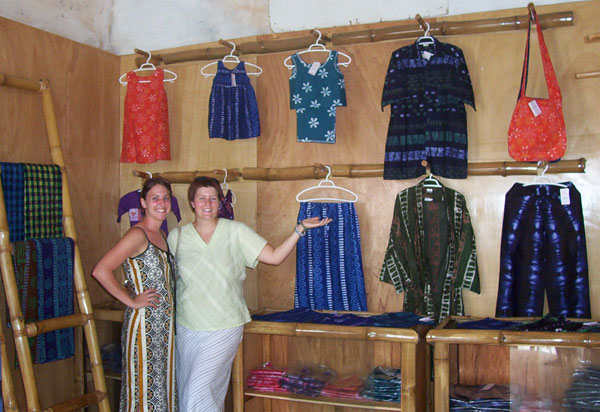 Other exciting partnerships have also developed outside of Cape Coast. Wild Gecko in Accra has placed several orders for batik apparel this summer and has also generated orders for Global Mamas products from US retailers. Novica.com, an affiliate of National Geographic that helps artisans in developing nations, has also agreed to sell Global Mamas products on their website. The site should be launching early fall 2004. WIP is thankful to everyone's hard work in making Global Mamas a reality!