By Stephanie McCulley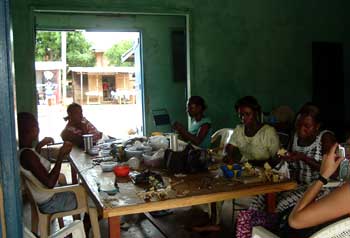 In August 2006, Global Mamas expanded to Odumase-Krobo in the Eastern Region to begin producing marketing fair-trade, recycled glass Ghanaian beads and beaded products. With a $16,000 grant from the British High Commission, Global Mamas was able to pay for the Co-operative's start-up costs. And, with only three beads makers and three bead designers, the Global Mamas Krobo Bead Co-operative was born.
With the continually increasing order levels for beaded products made by the Krobo Global Mamas Co-operative and the new wholesale bead market, seven additional bead makers joined as members. The hand-made, recycled beads will soon be available in a variety of colors and styles and will be featured in the wholesale bead catalogue expected to be finished by the end of October. "By extending our offering to an entirely new wholesale market, bead stores who will buy handcrafted beads in bulk, we can help a lot more people through the project", says Renae Adam, WIP's Executive Director.
A new assembly center was also launched and has grown to 10 young ladies doing the bead product designs. The Fair Trade Center is run by co-founders Thomas Amazu and Gladys Adimer and their goal is to empower young women in the area through income generation opportunities. Adam adds, "By partnering with the Fair Trade Center, we can be sure the Krobo Global Mamas Bead Co-op will be able to handle the rapid growth of orders for our beaded products."
The fair-trade, recycled glass beads being produced in the Krobo area of Ghana require both skill and patience. To learn more about the traditional bead-making process, please visit the "Handcrafting" section at Global Mamas.
___________________________