"How Much is Your Foreign Staff Paid?"
This post was inspired by inquiries we receive periodically, wondering how we operate as an international NGO and how our fair trade values are implemented across the globe. Recently we were asked how the wages of the staff in Ghana compare to those paid to the international staff on our team. This is a great question – especially for a brand that strives for fairness and transparency. As many of you know, we operate a little differently from other brands in that we are a Ghanaian based producer organization which also has our own international distribution channel in North America. This means we directly employ people in Ghana and the United States, which definitely makes our compensation practices more complex as we strive for fairness.
With appropriate compensation being one of the core fair trade values, we spend more time than most conventional fashion brands taking the time to establish what actually constitutes a fair wage. We also treat our compensation practices as a work in progress that we continually strive to improve. Over the years we have created a pay structure which takes into account cost of living by location, skillset and responsibility level, as well as the education and experience that an employee brings to their role. We are proud of our somewhat complex, fair-pay scale, which has been reviewed by an external auditor as part of our Guaranteed Fair Trade membership with the World Fair Trade Organization (WFTO).
Cost of Living
In order to evaluate compensation practices in an international organization it is important to ensure we are comparing apples to apples. At Global Mamas this means that cost of living by location plays a major role in determining how wages are adjusted across locations – both around the world, as well as within the various communities in which we work around Ghana. When we evaluate for cost of living we take into consideration everything from the cost of food and transportation, to school expenses and rent. We also proactively track inflation with the Government of Ghana to make regular inflationary increases that ensure that our wages keep up with price increases due to inflation.
Refer to the table below for a few examples that puts cost of living in perspective between one of our locations in Ghana and our location in the US (2020/2021):
| | | |
| --- | --- | --- |
| | Cape Coast | Minneapolis |
| 1lb of Rice | $0.84 | $2.49 |
| Fast Food Meal for One Person | $1.74 | ~$7.50 |
| Public Transit (shared, round trip) | $.50 | $5.00 |
| Monthly Apartment Rental (1 Bedroom) | $44 | $965 |
| Home Ownership | $40,000 | $270,800 |
| 1-Year College Expenses (education is a key investment of the Mamas) | <$500 | ~$21,219 |
As you can see from the examples above, the cost of living between the United States and Ghana is significantly different. You might be surprised to learn that the cost of living also varies considerably within Ghana as well. To account for this we've created a cost of living multiplier that allows us to adjust compensation for the same role and experience level based on the very different cost of living in Accra, the capital of Ghana, vs. living in Odumase, the small town where our bead production office is located. Currently, the multipliers are x1 for Odumase, x1.1 for Cape Coast, and x1.5 for Accra.
Global Comparison
Once we have a clear base for what goes into establishing our wages the question becomes, how do we compare compensation across a global organization to ensure fairness and to account for differences in cost of living? To achieve this we compared Global Mamas wages against an estimate of a living wage for both Ghana and the United States. As a fair trade organization, Global Mamas strives to pay living wages as this means employees and producers can afford to at least meet their basic living needs. The Global Living Wage Coalition defines a living wage as, "Remuneration received for a standard work week by a worker in a particular place sufficient to afford a decent standard of living for the worker and her or his family. Elements of a decent standard of living include food, water, housing, education, health care, transport, clothing, and other essential needs, including provision for unexpected events." We also included the federal minimum wages for each country to demonstrate how a living wage compares to a minimum wage.
In 2019 the living wage for an individual in the United States was $16.54/hour or about $2,900/month. The 2019 living wage in Ghana for an individual ranged between 485 – 900 Ghana GH₵ per month depending on location. For this analysis we used the higher end wage of 900 GH₵, which equated to $173 in 2019. The table below shows that Global Mamas staff in Ghana earn about 2-3 times more than their counterparts in the United States as a percentage of living wages across a variety of roles and experience levels.
| | | | |
| --- | --- | --- | --- |
| | Average Monthly Wage | As % of Living Wage | As % Minimum Wage |
| Cape Coast Supervisor | $310 | 179% | 503% |
| US Based Supervisor | $2,704 | 94% | 215% |
| Cape Coast Middle Manager | $511 | 295% | 831% |
| US Based Middle Manager | $3,200 | 112% | 255% |
| Cape Coast Director Level | $822 | 475% | 1336% |
| US Based Director Level | $4,690 | 164% | 373% |
Global Mamas Ghana currently has three international employees working on our team of 90+ direct staff. International staff working in Ghana are paid more than their Ghanaian counterparts, though far less than what they would earn working in our US office, so we consider ourselves fortunate we can host them in Ghana at a significantly reduced rate. Although day-to-day living expenses are comparable, international employees in Ghana still carry financial obligations in their home country such as student loans, significant travel expenses to see their families, paying into the retirement systems, and maintaining costly health insurance. At first glance paying all staff the same flat rate might make sense, but for members of our team who straddle the cost of living between both countries we landed on a hybrid option as the most equitable solution. When taking into consideration a cost of living average between both countries, the salaries of these employees as a percent of living wage falls between 66%-302% and is below their equivalent Ghanaian counterparts at every level.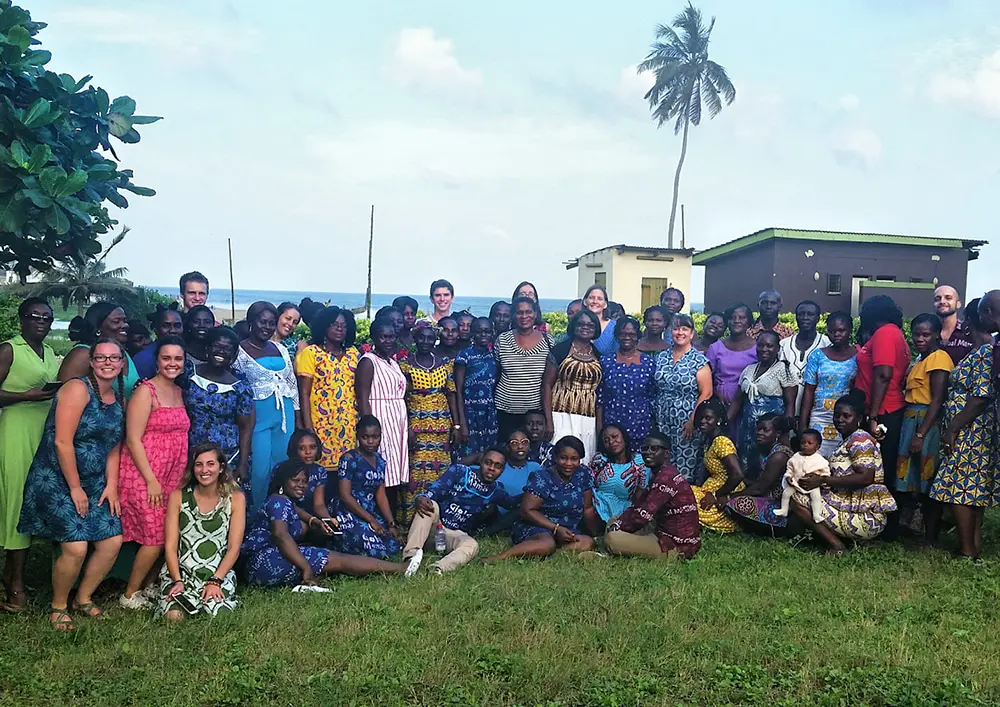 Founders Comparison
Global Mamas strives for the women of our entire community to earn living wages high enough to allow them to realize their dreams. Although our U.S. team has higher salaries, the cost of living differences mean that achieving financial milestones can be a nearer term goal for their Ghanaian counterparts. For example Emma Myers, one of our Ghanaian co-founders, was able to retire two years ago after putting her three children through private school and then college. Batiking with Global Mamas for over 15 years, she saved enough money to purchase land and build a house for her family just outside Cape Coast, which allowed her the financial security she needed to retire. In comparison, Kristin Johnson, one of our American co-founders, is working towards home ownership, but still has 15 years left on her mortgage. She has not yet started saving for her 12 year old's college education. She also has not been able to save any significant amount for retirement. In her own words, Kristin has a lot of saving to do before following in the footsteps of Emma.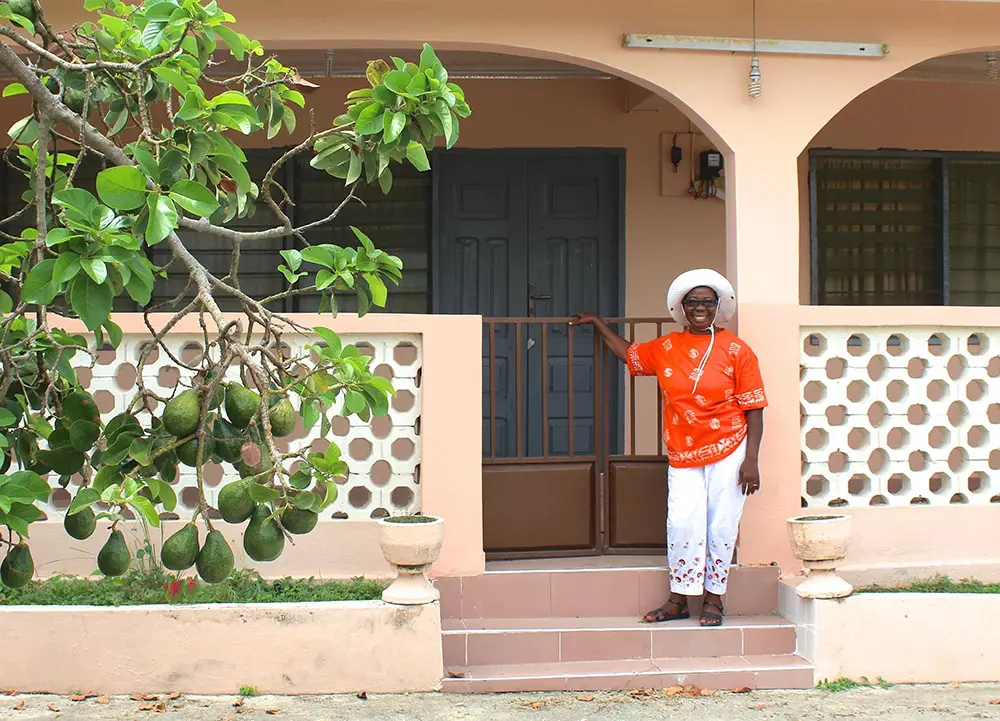 We want to close by saying that every member of our global team – in every role, and at every location – works incredibly hard to achieve our mission of creating prosperity for women in Ghana. We are a mission-driven nonprofit, powered by passionate people who are highly motivated by seeing each other succeed. If this is your first time thinking through all that is factored into fair compensation across an international NGO, we hope this has provided some insight. If you'd like to become more involved with holding brands accountable for fairly compensating workers and staff we invite you to checkout the Pay Up Fashion Campaign.