We're proud. Excited, delighted AND thrilled to be taking our collection to the next level this spring by using organic (through GOTS) and fair trade (though FLO) certified cotton for our textile goods. Our new fabric is free of toxins, has a higher thread count, and silkier hand– but more importantly it dovetails perfectly with our desire to be fully invested in fair-trade values across our entire supply chain. From individual bead to necklace, shea nut to butter, and now from cotton boll to finished garment, we not only know "who made your clothes," but we have third party verification recognizing that at every level the people we partner with are happy, healthy, and making a fair living wage.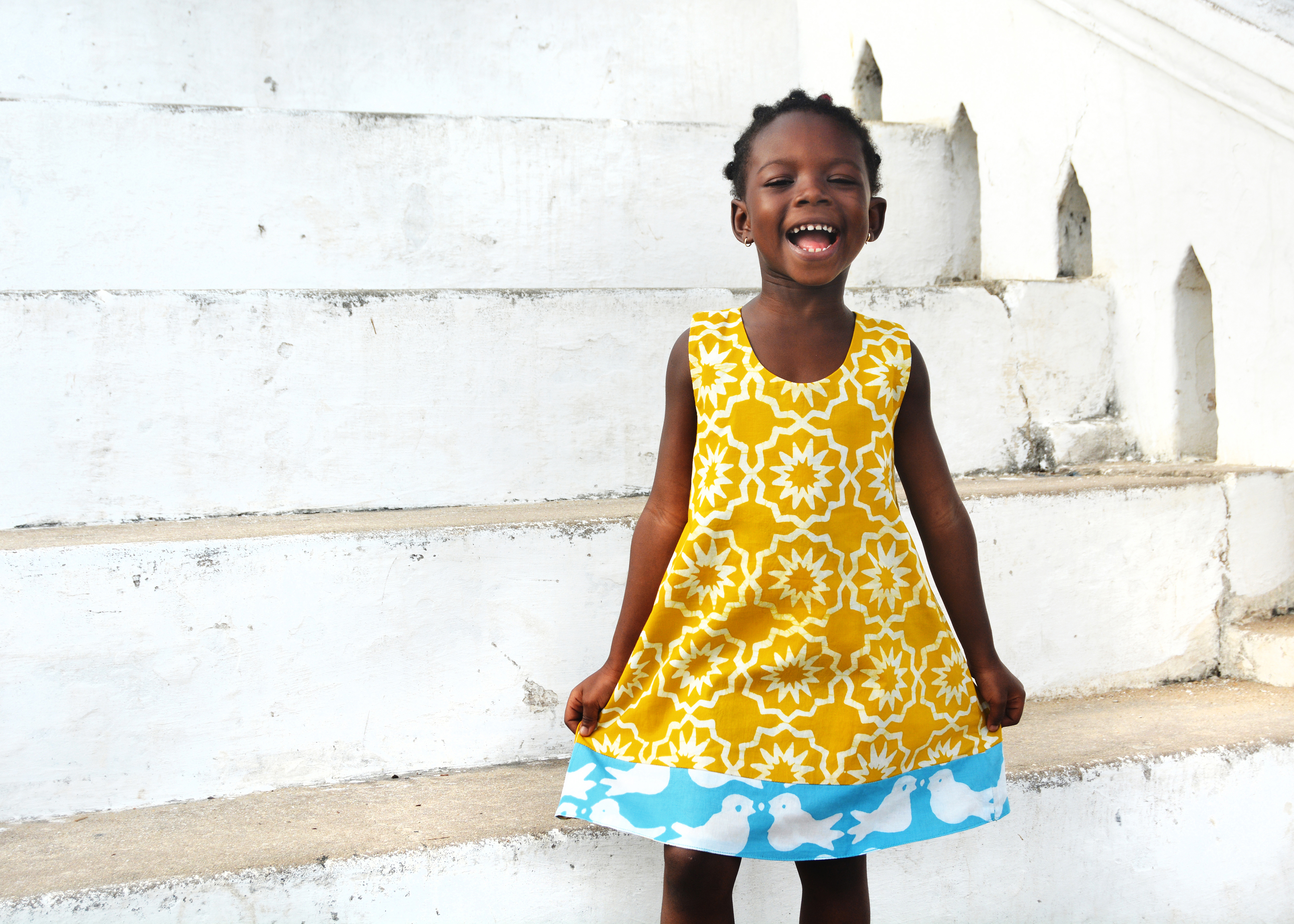 What Took So Long?
Knowing the indisputable environmental and social benefits of working with organic cotton, we've been dreaming and watching for the right supplier for literally… years. Our creative director, Alice, shares that she started looking for organic alternatives at least 8 years ago when we were having quality and supply issues with our then in-country cotton provider. At that time very few companies had the transparency, quality, price point, and organic status we were looking for. Others couldn't be bothered working with an NGO of our size.
Over the years, Alice had all but exhausted our contacts trying to find suppliers in Africa. Friends at the West Africa Trade Hub connected us with weavers in Burkina Faso and Mali, and while their fabric was a unique hand-woven cloth, the texture of the fabric wasn't suitable for our garments. A connection in East Africa suggested a supplier in Kenya, but their quality wasn't the right fit for us. More recently our current knits supplier in Kenya recommended a Tanzanian producer that ended up being one of the options we pursued, however that producer had recently dropped their organic certification. At this point Alice started looking further afield at European and USA based mills, but there just weren't options that met our criteria.
So What Changed in 2018?
This past year the local wax print factory supplying us with their cotton yardage went out of business– a devastating loss to the country's textile industry. This elevated our search for a new calico supplier from an ongoing project, to a critical necessity. In recent years, with growing social demand for organic fabrics, more companies have invested in converting from conventional to organic practices and this time around Alice had better luck (and new contacts to pick the brains of), narrowing it down to three finalists. While the dream has always been to find an African supplier, the one African company that met our specifications we learned had recently moved away from their organic certifier (which in conversations with our European wholesale partners we determined was of the utmost importance).
Out of the final two options, we chose a family run company called Silk'n Fab, based in India. They were GOTS and FLO certified, lovely to work with, and though our material costs would double, even with shipping fees, the increase would be within our search parameters. After so many years of research and careful consideration, we determined this was without question our best option. Decision made, we're beyond thrilled to be partnering with a company that values transparency and integrity as much as we do.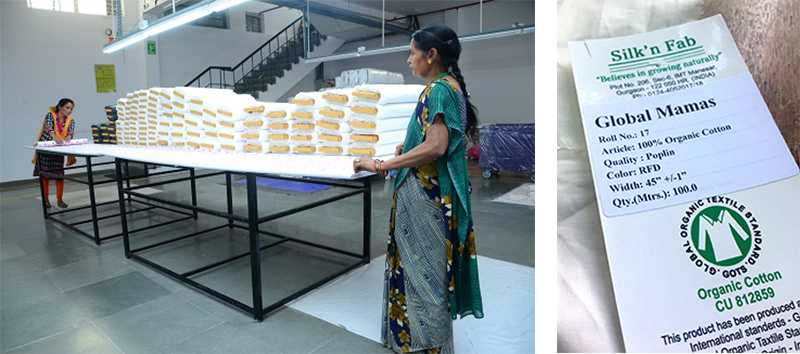 Making it Happen
The past few months have been all about sampling and shipping and logistics. Silk'n Fab produces a wide variety of fabrics but we wanted to start with a fabric similar to our existing material so it wouldn't feel like too much of a change for our customer. The design team had to test how the organic fabric with a higher thread count would take our dyes—requiring us to tweak dying times and dye quantities to produce the same color. Becoming our own importer, the leadership team dove into deciphering the intricacies of duty taxes—one of the inhibitors that for years had contributed to us focusing on using in-country suppliers. On the financial front we also had to make adjustments, going from buying cotton on-demand, to purchasing 30,000 meters in bulk (which we hope will last for the next six months!) Our most recent challenge was shipping, as this was Silk'n Fab's first time transporting to Africa. This precious cargo inadvertently landed on the slow boat, stopping at every port on its way up from South Africa, and almost tripling the intended length of its journey while we waited anxiously to start production! When it finally arrived there was a collective sigh of relief…and at least one happy dance.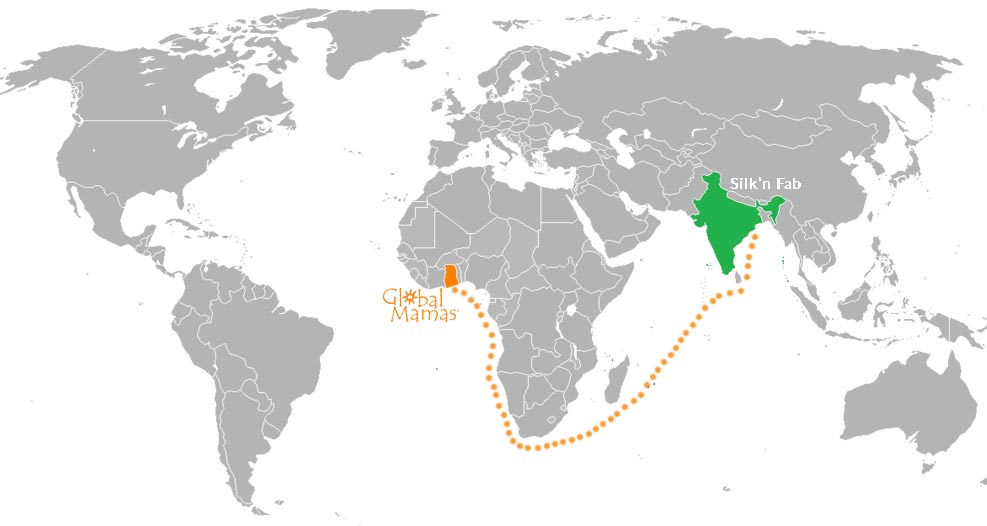 With the first season of our organic collection in production as we write, we still have to pinch ourselves from time to time that this is finally happening. In 2018 all new garments, accessories and housewares will be produced from organic cotton, with the exception of our upcycled line of accessories and housewares which will more slowly make the transition as we continue using up nonorganic scraps. We can't wait to hear your feedback on the new product this spring and will be sharing more about our new partners in India and the benefits of organic cotton with the New Year!