By Firoozeh Mofakhami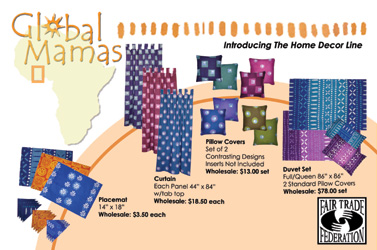 In January 2006, WIP participated in the Chicago Bi-Annual Home Décor and Gift Show, taking a defining step to exponentially increase sales in the U.S. market through the new home décor line. This Chicago trade show is one of the top five most important shows in the U.S. and has enabled WIP to gain a strong foothold in the Midwest region. During her stay with WIP, British interior designer Catherine Deane developed products made for home decorating from the different batiked fabrics. Included in this line are curtains, pillows, tablecloths, napkins, oven mitts, and duvet sets.
Though the home décor line was perfected on paper, the actual products had not yet been developed. However, the Ghanaian women along with the directors in both the Ghana and the U.S. office approached the challenge with a no fear attitude and the resolve to work incredibly hard to produce the line and ship it to Chicago-all within two weeks of the trade show!
Former WIP volunteer Amanda Sage, who continues contributing her time and energy to WIP in the U.S., set up the booth and prepared to spread the WIP story. The show was a huge success-Amanda noticed that the buyers "find admiration in the organization, and for some of them, it is their first exposure to fair trade. I was thrilled by the reaction of so many people who were just aghast by the quality, price point, and the story behind it all."
Fueled by the success of the Chicago trade show, WIP looks forward to attending trade shows in London and Paris (where there is a considerable fair trade market) this March.
___________________________