By Alice Grau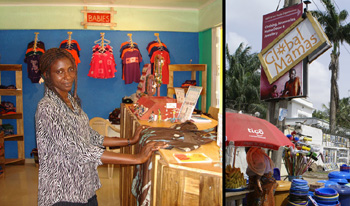 On August 1, 2008 Global Mamas launched a new store in the Osu area of Accra. The store represents the creative talent and dedication of Matthew Sturm and Megan Collins who designed and launched the store in less than one month. It is due to their 12 hour work days and the help of some of the other summer volunteers that Global Mamas can offer this exciting new retail option to its customers.
Location was the key factor in preparing to launch the new store. Since tourists are the number one customer of Global Mamas products inside of Ghana, it was important to be located in Osu, a tourist hub. As a potential customer is walking in the area they are very likely to pass by the store and once they step inside, the amazing products can sell themselves. Renae Adam, Executive Director of Global Mamas says that she is hoping to "introduce the high quality of Global Mamas products to tourists in Ghana so that they spread the word when they go back home to their various countries and find new export opportunities for the organization".
With the richly colored walls and spot lighting that is reminiscent of a high-end boutique, the store has a very warm atmosphere. Customers can easily find themselves buried in the racks for an hour trying to find just the right gift or keepsake to take home. One of the most exciting aspects of the store is that a customer can find many one-of-a-kind options. "It is really rewarding to see tourists come in to the store and get so excited about the designs and products of Global Mamas", say Rosemary Odoom the sales person at the store.
Another opportunity that the Accra store presents is an outlet for imperfect merchandise that cannot be exported. As Global Mamas has grown, so too have the number of cast-off products. It is wonderful to have the opportunity to sell these products locally so that the organization can earn something back toward the cost of producing the items.
___________________________