Alice Grau, Creative Director
Photo Credit: Nick Ruffalo, Designer
Each of our collections originates from trend research– anticipating how everything from high-fashion to streetwear trends will influence the clothes our customers might wish to buy in future seasons. We love getting creative with the shape, color, and prints of our product to interpret up and coming styles with our own bold, West African twist.
Once our in-house designers and volunteers have developed a series of patterns we'd like to test for an upcoming season, we reach out to batikers near our Cape Coast office who are interested in helping produce samples. Mamas helping with samples receive a slightly higher price per yard for the added effort of going back and forth testing a new stamp, dye recipe, and layout.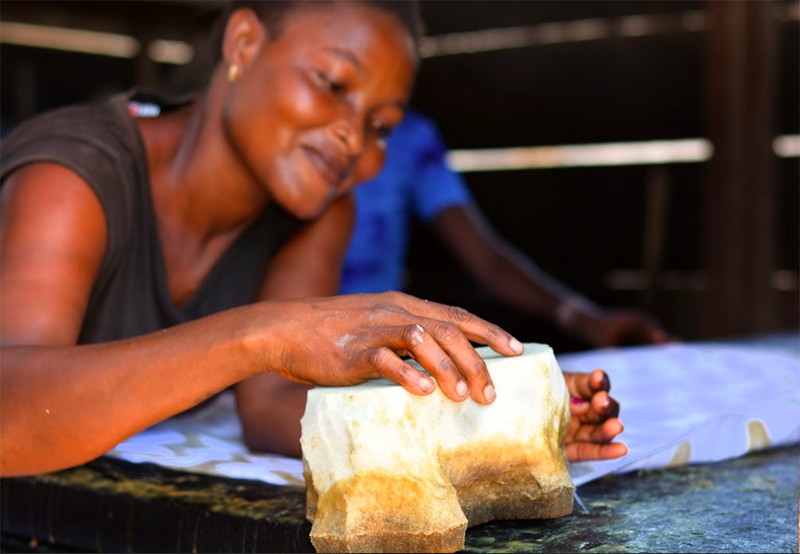 The stamp is traced from a master copy then carved by the Mama from a piece of foam (we actually use chunks of foam mattresses, commonly sold in Ghana). The pattern is transferred to the cotton by dipping the stamp into hot wax and placing it repeatedly on the fabric following the designer's spacing specifications, communicated via hand drawings or digital renderings.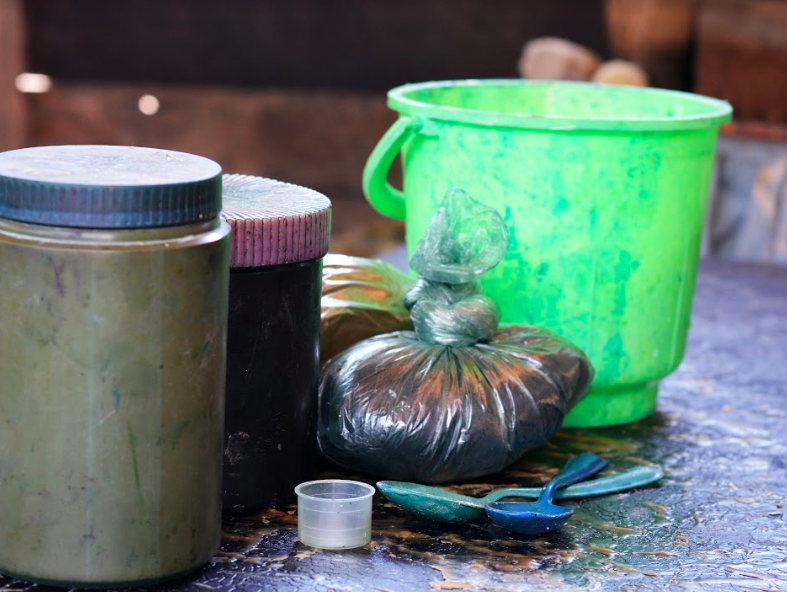 Once a pattern is established we use the palette of dyes available in local markets (mostly primary and secondary colors) to begin sampling color. This is a delicate matter that can take many attempts and for consistent results requires the precision of a scientist. Sometimes our designers develop a recipe using basic color theory, but at other times we stumble upon an "accident" color we love and have to work backwards to figure out how it was made! The dyes are mixed with caustic soda and sodium hydrosulphite to dissolve them to the point where they can be absorbed by the cotton fabric. Because of the chemicals involved in the process the Mamas wear masks and gloves at the appropriate steps.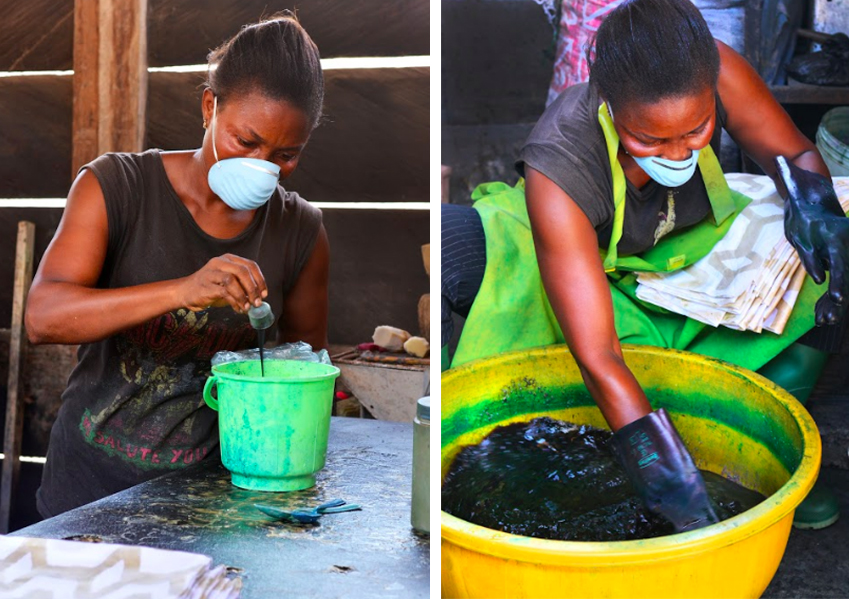 Sometimes batikers fold their fabric into a square to submerge it in the bucket, but here you can see Mary swirling the length of fabric into the dye bath. This prevents fold lines of lighter color where the fabric may not be consistently exposed to the dye. If a batik is brought in with irregular spacing or unsightly dye lines the quality control team deems it class 2 or 3 (as opposed to export quality: class 1). In both sampling and regular product, attention to this kind of detail is required to meet our quality standards. Although fabric may not make class 1, class 2 and 3 textiles are still used in various products. One of the best tools we have to make lower classes of fabric usable is to "overdye" them in a darker color which will cover any mistakes. This improved fabric can then be used for one-of-a-kind products in our Accra store.
Here a fabric sample dries on the line and you can see the color transformation from the wet material at the top, to the dry material turning a bright apple green at the bottom. An added challenge of vat dyes are that they don't show their true color in the actual dye bath (like indigo that starts out looking yellow and then shifts to blue once it's been removed from the dye). With each of these dyes there is a significant visual shift in color when the material is exposed to air. This means accuracy is vital in measuring the dry dyes into the bucket.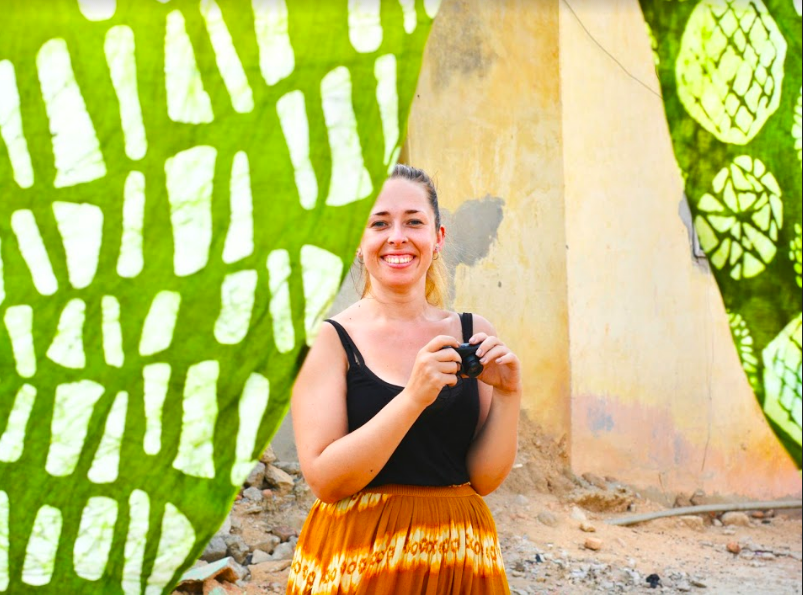 Here Becky, a design volunteer that spent time with us in Ghana earlier this year, admires fabric produced using two of her stamp designs. Although we sampled both patterns in our colorway for summer we decided to hold one print for our Fall collection.
Once the fabric has been batiked to the designers' specifications, the finished yardage is assigned to a local Global Mamas seamstress to be stitched into the desired product. Babs, our technical designer, will go over the product and review the pattern (in white above) with the Mama before sending it off with the freshly batiked cotton.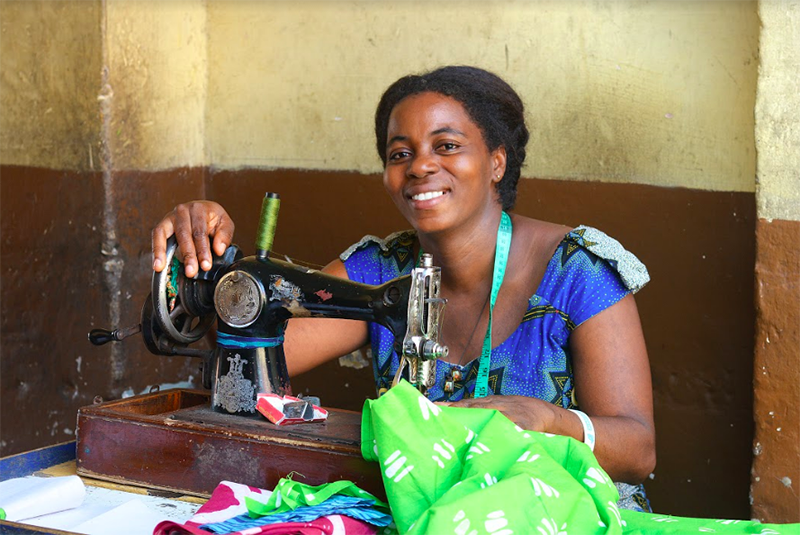 Here Jennifer is working on a sample for summer. Waiting on samples to come back to the office is always exciting as different prints in different products can have a surprising effect. Sometimes we decide to hold off on designs for later collections, while at other times we love one fabric so much we want to sample it in multiple colorways. Sometimes we realize we still haven't gotten it *quite* right and more blank cotton is sent out into the world to try something altogether new.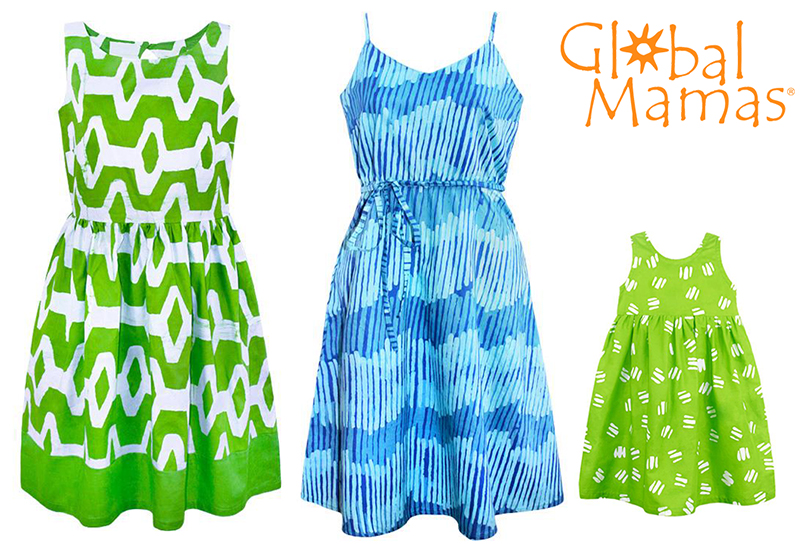 As any maker will know, our process is one of artistry, craft, science, and a little bit of luck! After months of planning and preparations it is always with pride that we share each new collection coming from the talented hands of the Mamas. These dresses are just a few of the bold and beautiful items you will find included in our Summer 2017 collection. New items for Summer: Arriving Online June 20th!