By Sarah Parish (Volunteer, United Kingdom)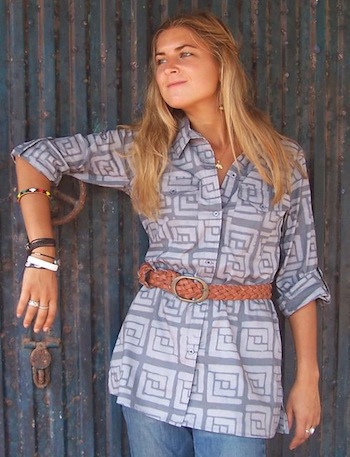 The Global Mamas slogan 'Love Your Product, Know Your Producer, Change Her Life' is firmly embodied in every sketch, stamp, and stitch from the initial design idea to the finished product. Every completed order showcases the skills of the designers, batikers and seamstresses who make up the close-knit team here at Global Mamas, but it is not a process undertaken lightly nor without a flurry of creativity and precision.
Earlier in the year, a group of visiting interns from America took on the task of identifying the brand's most popular styles, Colors and patterns based on current sales data. Combining this information with an instinctive insight into upcoming trends, staff designers Jessica Galasso (Ghana) and Alice Grau (US) worked tirelessly alongside interns and volunteers brainstorming what will become the 'must have' items of the 2012 Global Mamas catalog. The interns and designers identified 'Pyramid' with its crisp lines and sharp angular edges as a potential customer favourite. The interns also suggested moving away from monochromatic color contrasts and instead embraced the idea of using vibrant colors together. As a result we are particularly excited to see the reaction to 'Cityscape' a popular print from last year, designed by intern turned employee Nick Ruffalo (US), appearing with a striking new 'Mustard' colorway.
After sales research and trending predictions are complete, a rigorous process of sampling old favorites and new batik patterns, with classic and fresh product designs is carried out making sure only the best styles make it to our valued customer. Of course, these products cannot make it to the retail floor without establishing costing and pricing. Global Mamas takes great pride in our Fair Trade status, so Cape Coast General Manager Melanie Popowich sits down with all of the Mamas to negotiate a fair price for their work, from the cost of thread per item to the level of sewing expertise required to create a flawless end result.
With all of the nitty-gritty details ironed out, it is time to start producing the first US order. An on-going stream of orders means the office is always alive with the hustle and bustle of activity. Endless yards of white fabric that represent the potential for creativity, and on a more serious note a livelihood for the Mamas, are carried off to be transformed from an idea generated months prior to merchandise ready to be used and loved by its owner.
The first stage of production is batiking, where the fabric is hand stamped and dyed with meticulous care and attention, which is what makes a Global Mamas product so special. Visitors can experience this process for themselves at one of our batiking workshops and it is always noted afterwards that the accuracy and detail necessary in both stamping and dyeing is much harder to master than it looks! At Global Mamas we are not satisfied with anything but the highest quality items, and it is the responsibility of the enthusiastic and thorough quality checkers working in house to stringently check each and every dyed fabric for color and pattern consistency before it reaches the seamstresses.
While it is a huge relief when the batiked fabric matches the sample, fabric that does not meet our high standards is not wasted, rather transformed from its original purpose into something equally impressive. Some fabric is used to make off the rack products to be sold in our flagship store in Accra, where demand is increasing at an exciting pace; or the fabric could be found in the lining of a bag; or cut into squares to make an explosion of color on
___________________________