By Heather Boyd and Melanie Popowich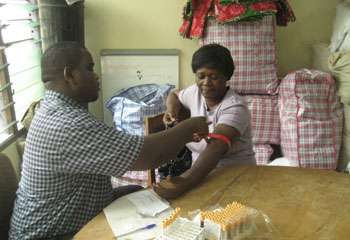 Through the use of Global Mamas' annual surveys and interviews we became aware that health issues are a constant concern among the women. In response, Global Mamas decided to put together a Health Workshop presented by Dr. Justice Arthur, from the Cape Coast District Hospital. More than 30 women attended this workshop.
During the workshop, the Global Mamas were informed about the main illnesses that affect women, their risk factors and the importance of early detection. The women were told important facts, such as that 80% of the new cases of cervical cancer occur in developing countries; therefore the women were informed of prevention, symptoms, as well as how cervical cancer is diagnosed. Dr. Arthur also shared valuable information with the women, such as when and how to perform a self-breast examine, and what signs to look for during the exam; he also informed the women that it is crucial to visit a physician or qualified health care provider as soon as possible because early detection and diagnosis are crucial.
Throughout the presentation the women were very participative and asked many questions. After the workshop the women reported to Patience (the Capacity Building and Marketing Manager) that the workshop "enlightened them on how to manage their health".
About a month after Dr. Justice Arthur's workshop a team of medical staff from Planned Parenthood Association of Ghana came to Global Mamas' office in Cape Coast, and administered exams, screenings and vaccinations. Many women took advantage of this opportunity to understand and find out about the state of their health.
___________________________