By Andrea Schwartz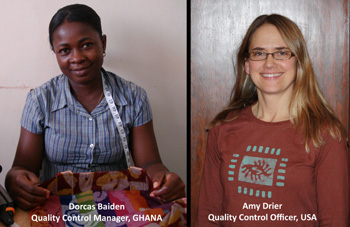 Profile: Dorcas Baiden, Quality Control Manager with Global Mamas in Ghana
Andrea interviewed Dorcas Baiden, Quality Control Manager, about her role, a typical day, and what she enjoys most at Global Mamas. Dorcas taught pattern making, sewing, handicrafts, and batiking at a vocational school in Tema before joining Global Mamas in 2006.
"My day typically involves checking quality, preparing patterns, helping with office activities, and making sure staff are working on quality control issues. And if a Global Mama is finding something difficult, like a new pattern, I'll go and help them work it out in their workshop. It's very rewarding working directly with the Global Mamas.
I do this is because, if we don't get good quality products, we cannot send the shipment and it's a waste of time and money. If the quality is good, the Global Mamas are also paid on time and are happy. If it's bad, it delays everything. We are always working on it.
Global Mamas is a great network to belong to. We all know how to sew but in different ways and we are constantly learning from one another and teaching each other new techniques- it's a give and take, a collaborative environment.
I personally enjoy getting the quality to be perfect. It makes everyone happy when the quality is good. And I like paying attention to detail which is why I think I got the job. But it can be hard at times because we are always busy! Getting our work done on time is the challenge. The deadlines are tough sometimes.
I am proud that sometimes we get an order and we don't think that we can get it done on time, but we always try and do our best—there is a good sense of teamwork in our office in Cape Coast.
In future, I want to finish my education and become a poular, well-known designer: I love to sew!"
Profile: Amy Drier, Quality Control Officer with Global Mamas in the USA
Andrea interviewed Amy, by email, about her role on the receiving side of the shipment, and how it all comes together.
My connection to Global Mamas started about thirteen years ago. I had the opportunity to visit Kristin Johnson, co-founder of Global Mamas, while she was in the Peace Corps in Ghana back in 1995 and fell in love with the people and their beautiful country. The Global Mamas Women, as well as all the people involved in WIP, are an inspiration to me to be a strong and independent person.
I work for Global Mamas three days a week and my job consists of quality control and filling orders for wholesale clients which include hundreds of stores across the United States and a good handful of International clients. When we receive the large shipments from Ghana we unpack the entire shipment, and lay out the items for organization and inspecting. We inspect every piece of batik that comes through our office and our high standards have created continuous growth for Global Mamas.
This is how quality inspection works: When a shipment arrives, we inspect what seems like mountains of reversible dresses, piles of tote bags, and a virtual mountain range of dresses and shirts. I hold up my first article of batik and the "story" begins. I'm impressed with the meticulously packed boxes that come across the globe, arriving with unbroken fragile beaded goods and neatly packed clothes.
While inspecting, I think of the women who figured out how many yards of cloth were needed and who to send it to for batiking. I think of the women who batik the yards and yards of cloth and the women who cut and sew the cloth into something to show the world. Th
___________________________