Portion of speech made by Kristin Johnson honoring Emma Myers, Global Mamas Co-Founder
During our time together you are NOT going to hear a story of how charity changed lives. Instead, you are going to hear how a group of African women came together to create their own success – in spite of the many challenges faced along the way. We are not going to focus on the poverty that African women face every single day. Instead we are going to share stories of empowerment, determination, and dreams realized.
There is one key value that has been mightily important to the success of Global Mamas – and that is our combined determination to succeed. And there is no other Mama that exemplifies our determination to succeed more than Emma Myers. Emma is an incredibly talented textile designer and co-founder of Global Mamas. She exemplifies the word determination. Against all odds Emma has combined her determination with her talent as an artist to realize her dreams.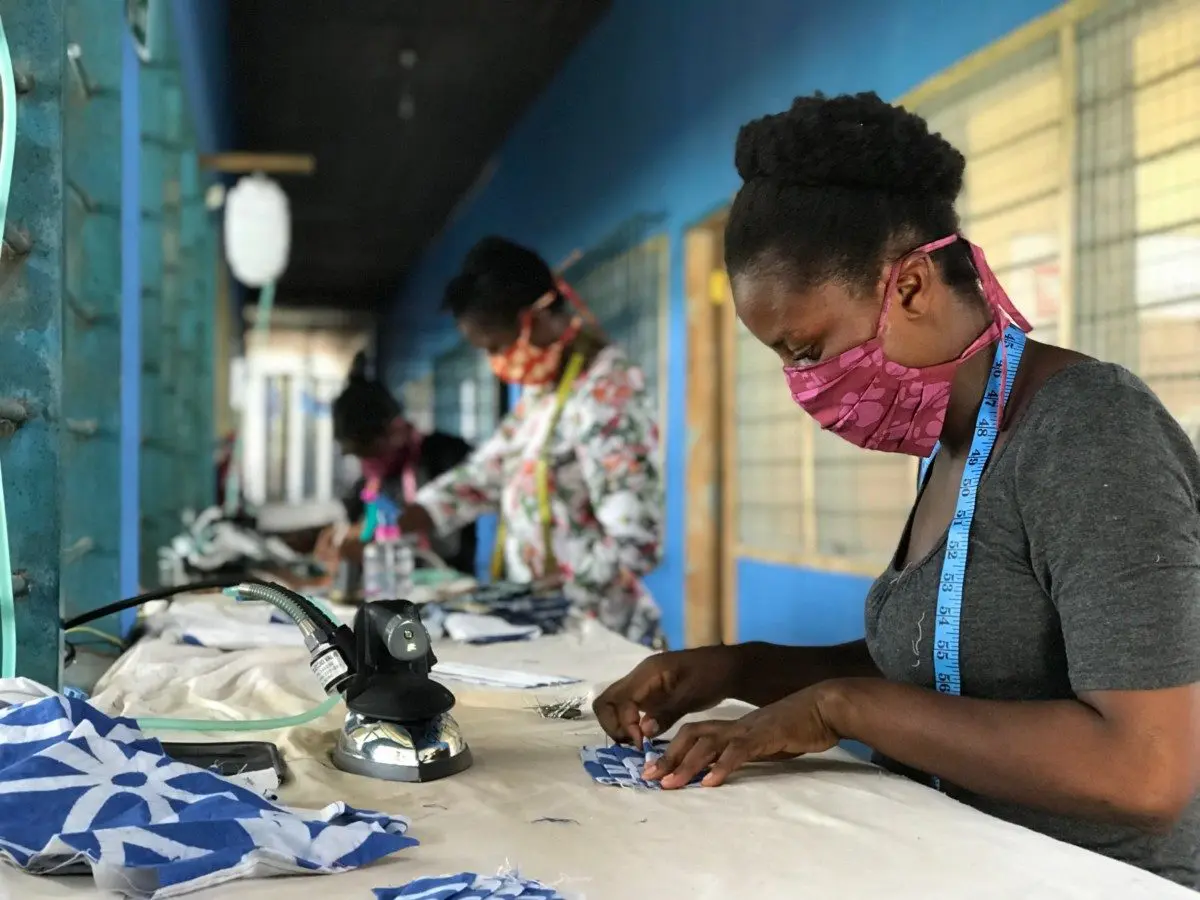 Emma and I have been working together for over 20 years. I have been a witness to her transformation from a struggling textile designer with barely enough income to provide her family with its basic needs to a successful business woman who has raised three college graduates. She has faced many obstacles along the way, but she never gave up. And she taught me never to give up. And that is why she is my hero.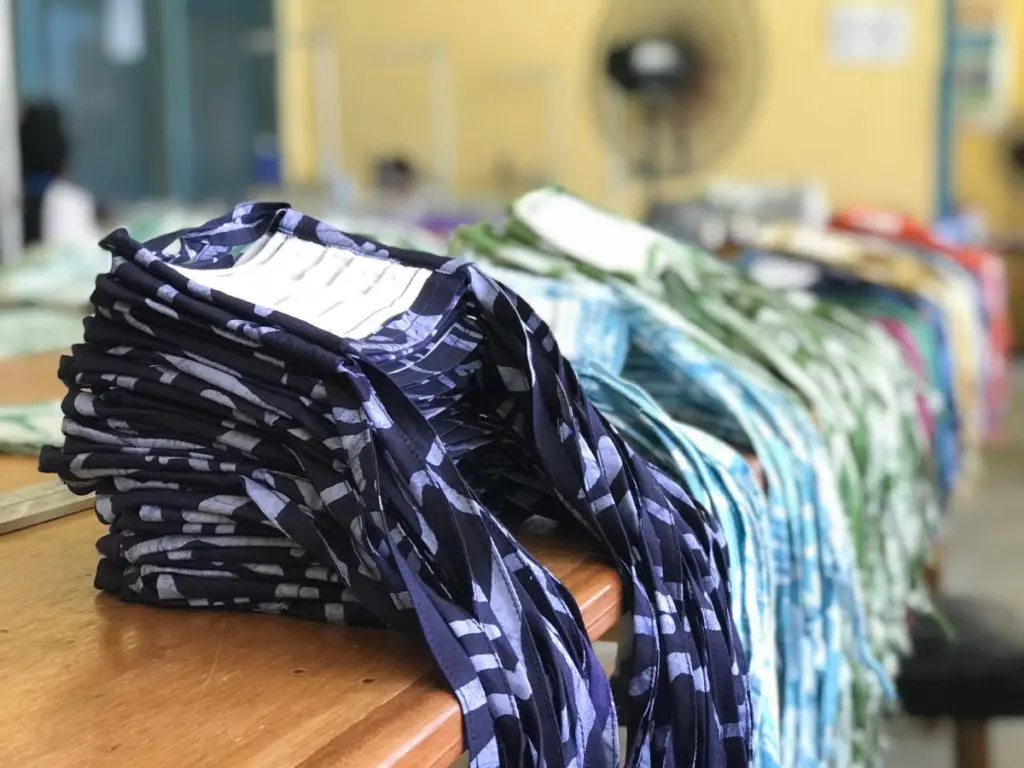 Front Row: Kristin Emma and Dede
This is a picture of Emma and I from 1993. When I met Emma she was a talented batiker, but she was struggling to make a living at her craft. One of my Peace Corps projects was to set up a women's center that included a batik training program that would provide young women who had dropped out of the formal school system with a trade. Emma was hired to be the batik teacher and that is when she and I began a life long journey of partnership.
Over the next two years Emma and I grew the women's center into a thriving hub of activity. I managed the business side of the batik school, while Emma trained dozens of young women in the art of batik.
I want to give you an appreciation for what life was like for Emma when I first met her, so you can understand the immense respect I have to her and her determination. Each day Emma would come to work with joy in her heart excited to share her skills. But batik is back-breaking work mainly conducted over an open fire in a country where the average temperature is above 80 degrees.
Though Emma was working full time, cultural norms and her own dignity meant that she was still responsible for managing her home. She lived in two rooms with her family of five. Each day she would cook all of her meals from scratch over a coal pot, (which is like a small barbeque). Laundry was done by hand and since running water was unreliable, water often had to be fetched from a community spout down the street. Her youngest child Dede would often accompany her to work because she didn't have options for child care.
And then, on the weekends Emma would begin batiking again in her apartment building's shared courtyard in order to earn something extra for her family. That is until her landlord threatened her with eviction if she continued to work there.
Emma never complained to me about her situation. Instead she constantly demonstrated her determination to change it. She expected a lot from me, but she never expected a hand out. She has three children and every day she dreamed for a future that offered them more than what she had growing up as the daughter of a fisherman.
Through her talent and determination, Emma accomplished everything she set out to do.
It was after Emma helped to start Global Mamas that things really began to change. Once Emma could rely on the steady orders provided by Global Mamas, the first thing she did was build a workshop where she could operate on her own terms without the fear of eviction. This was such a smart move as it paved the way for her future success.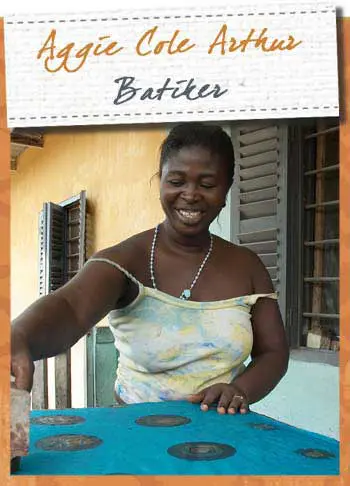 Over the years Emma's # 1 investment has been in her children. She sent them to the best junior high and high schools she could find. And she didn't let them stop there. She sent all three of her children for a college education. In fact, when Emma's oldest child Lorenzo graduated from Cape Coast University he was the first one in Emma's entire extended family to earn a college degree. Emma's daughter, Dede, (who was often at work with Emma and I when she was a young girl) has now graduated with a degree in nursing.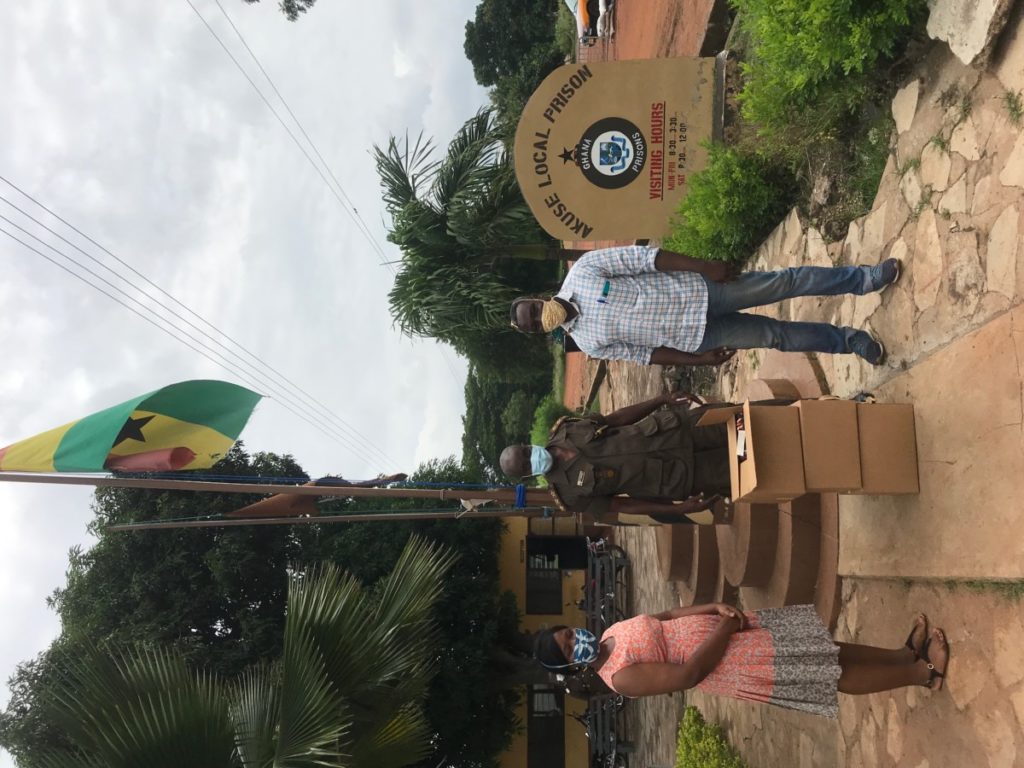 To secure her future, Emma and her husband Robert purchased land and began building a home Ghanaian style. By this I literally mean brick by brick. Long term financing like mortgages are not available in Ghana, so to build a home you have to finance it yourself. You also can't save in the bank until you have enough money because the local currency devalues quickly. So when you have extra money you buy cement, make the cement blocks and add another layer to your foundation. Eventually you add the roof, the plumbing and the electricity. And then finally you finish it with windows, flooring and paint. If you travel through Ghana you will see unfinished building foundations everywhere you look. To actually finish a home is a tremendous achievement. Below is a picture of Emma standing in front the beautiful, pink house that she built for her family.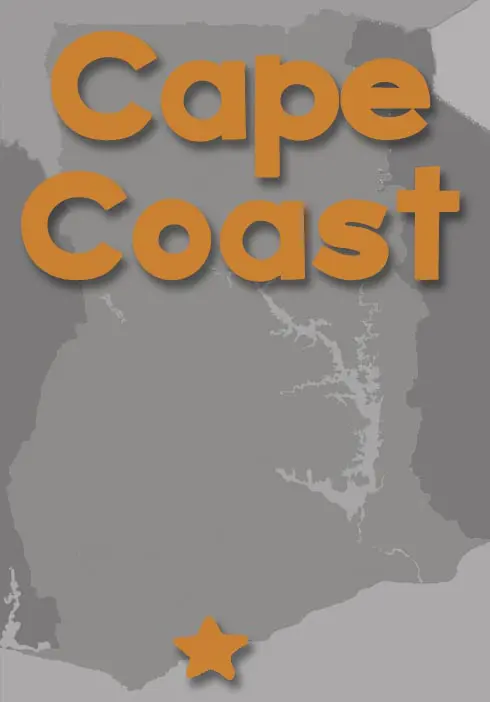 As if that isn't enough, Emma has been a mentor to hundreds of other women learning the artistry of batik. Below is photo is of Louisa Esi Dadzie, one of Emma's apprentices. Thanks to Emma's training, Louisa is now a full-fledged business owner managing Global Mamas orders of her own.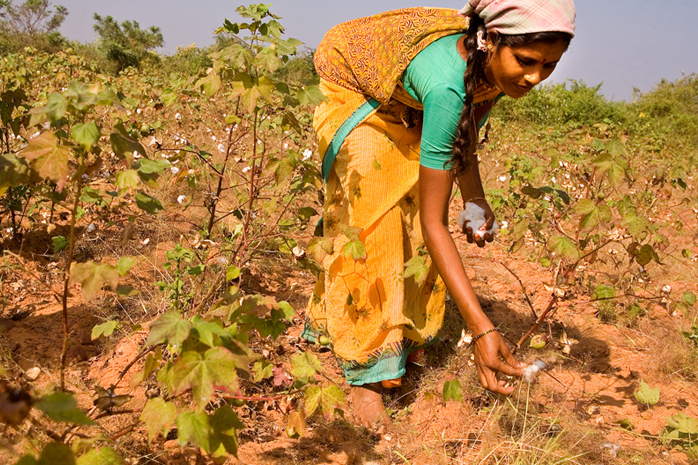 Will you please join me in acknowledging Emma for not only realizing her dreams, but paving the way for 400 other women to do so as well.
Emma is my personal hero. She exemplifies the amazing qualities of the Ghanaian women who inspire me every day. Looking back over 20 years now and imagining myself moving to Ghana as a Peace Corps volunteer hoping to make a difference, I am instead so grateful for all I have learned, especially from Emma. It is your determination to succeed that has not only changed my life, but enables Global Mamas to prosper.