Amanda Bartolini and Emma Shearman, interns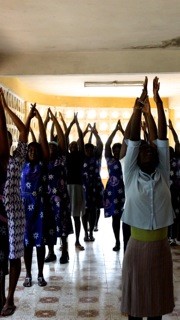 At the end of 2013, we asked Mamas for feedback on how we could further help them achieve prosperity. They were especially enthusiastic of learning more about their health, which is an important part of our definition of prosperity. After bringing health education intern Adrienne last spring, we brought an introduction to yoga to the Krobo and Cape Coast Mamas this summer. Canadian volunteer Jane Good, a yoga instructor, taught the Mamas how to relieve the physical stress of the repetitive motions they make while batiking, sewing, or assembling beaded products. Jane's specialty is Kripalu, a style of yoga that focuses on moving at one's own pace. It is a gentle practice with a compassionate approach and emphasis on meditation and physical healing.
Upon arriving in Cape Coast, Jane found that yoga was new to the women there. To simplify the learning process, Jane created a 12-posture routine based on the Mamas' unique needs. She started by introducing the idea at a large meeting in the Cape Coast office and was pleased by the Mamas' enthusiasm. Jane also travelled to the Mamas' individual workshops and homes while continuing to work with groups of Mamas at the Cape Coast office.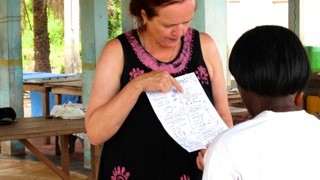 In order to leave a long-term tool to help Mamas alleviate discomfort from repetitive strain, Jane and her niece Emma created a video that can be used by Mamas in the future. To create the video, Emma and Jane visited Krobo to film the bead assemblers and quality control staff performing the different yoga poses they'd learned.
The video, set to Bob Marley songs, includes written and voice instruction. In addition to the video, Jane created a worksheet with drawings and written instructions for each pose shown in the video.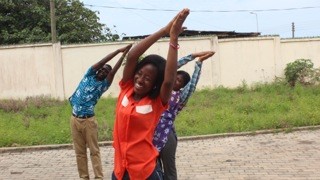 The Mamas who participated in the yoga routines have assured Jane that they practice every day and are feeling better. Jane taught the Mamas her philosophy of seeing yoga as a gift that you give yourself and left the Mamas with the advice to "take care of their bodies the same way they take care of their families and workshops."