Paige Affinito, Intern
With an average annual growth rate of 66%, Global Mamas faces the rare challenge that demand has outstripped production. Because our production falls short and orders go unfilled, expansion in sales has slowed organization's overall pace of growth. To address this problem, Global Mamas initiated plans for a new production facility with the potential to increase current production output by 54%. The vision for the Fair Trade Zone (FTZ) is to revive the Ghanaian textile industry by employing 200 women full-time in a comfortable, beautiful production center that cultivates an atmosphere of learning, healthy living, and team work.
In Summer 2013, an international team of architecture students led by Architecture Sans Frontières (Architecture Without Borders) United Kingdom, a nonprofit focused on making international development issues integral to architecture, worked with Global Mamas, gathering ideas and potential designs for the FTZ. Volunteers Adjoa Akowuah, Emily Wright, Kofi Ofosu-Ennin, and Lisanne de Beun traveled between our Ashaiman and Cape Coast sites observing the workspaces, solicited feedback from seamstresses and batikers, and researching materials that could be used to build the eco-conscious and self-sustaining production center.
Soon, simple cardboard cutouts and ink sketches began to resemble the ideas and hopes behind the Fair Trade Zone. For example, a major concern for thebatikers is the size of their workspace and the fact that they have nowhere to change into their work clothes. The architects were sure to open up this space in their design and include a changing room.
In October, the team was ready to present all their hard work and final conceptual design. With a space specifically made for a childcare center, the center fosters comfortable working environments for mothers. Separate batiking and sewing areas ensure the potent fumes from dyes will not disturb seamstresses. Recycled waste and local, sustainable materials serve as the foundations for the nearly self-sufficient site.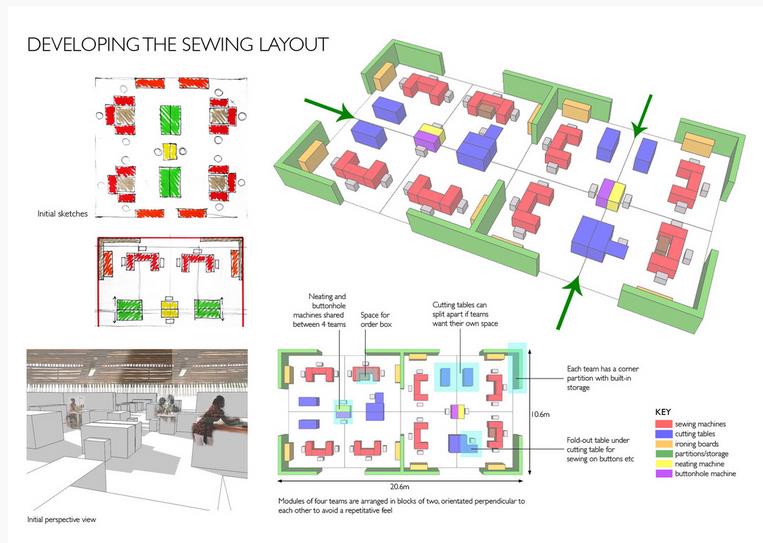 We now have the details and initial design behind the project, but there is still much to do before lifting the Fair Trade Zone from paper into reality. Next, Global Mamas must draw up a budget and detailed costing plans for all elements of the design. Before this can be done; however, we must face the constraints of buying land in Ghana. The organization is just now beginning to look for a temporary location to rent from the Ghanaian Ministry of Trade and is looking to purchase land in the Ashaiman/Tema area to make transit easy for employees that area already based at our current Ashaiman location.