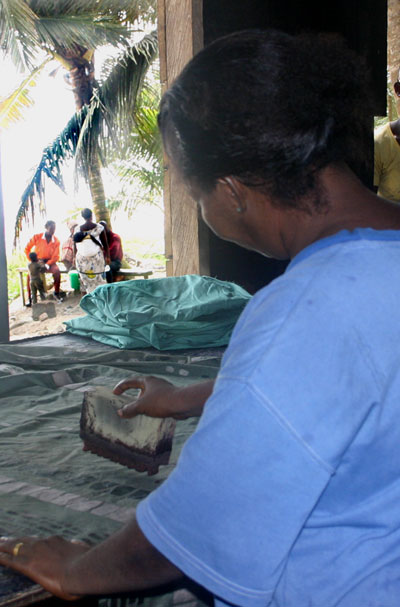 In February, Global Mamas batikers Elizabeth Ampiah and Emma Myers moved their Eli-Emma Batik and Tye-Dye business to a spectacular new beachside location just steps from the Cape Coast Castle. With the increased profits they earned as part of Women in Progress, Eli-Emma financed and orchestrated their move from a small, out-of-the-way location to a space in the heart of Cape Coast.
The facility includes a showroom, indoor workspace, storage and restroom facilities for visitors. Elizabeth and Emma expect their prime location to attract more tourists to their batik workshops and will allow them to produce larger orders and hire more employees.
Elizabeth and Emma financed the move with profits earned from their work for Global Mamas. Together with their husbands, they found the new space, negotiated the contract and organized the entire move.
The Eli-Emma expansion is an important example of how, with the help of Women in Progress, women are taking the initiative to to grow their businesses and change their lives.