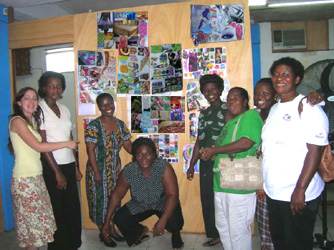 Women in Progress volunteers, Catherine Deane, Natalie Sturman and Gayle Pescud, created a series of design workshops for Global Mamas: Ideas Development, and Color Theory. The aim was to show the women how to gain inspiration from their surroundings and turn this into a completed design and to ultimately advance their own design and color skills. Each workshop was held twice a week for three weeks.
Natalie conducted the Ideas Development Workshop to show the basic method of creating new designs. The women learned how to create mood boards, a source of inspiration and style development, with pictures cut from magazines. The women sat together and clipped images, which appealed to them and arranged them on a poster. The effect was colorful and creative. There was much excited chatter when the women pinned their boards to the WIP office walls. Every board displayed a unique style, a sure sense of color, and an eye for design. The women were animated as they chatted about one another's selection and placement of images.
Gayle facilitated the Color Theory Workshop. She discussed the properties of color and how the mixture of different primary colors can create different secondary colors. This concept is extremely important to the batikers as they mix dyes to generate the exact color that is required for Global Mamas batik cloth. The women also learned about complementary relationships and harmonious color schemes, which is also an important concept as Global Mamas expands its product line. Global Mama, Gifty Saah, was further trained to carry out future trainings with new women entering the cooperative.
___________________________