By Emilie Kimball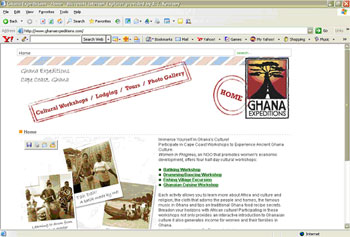 In May, WIP volunteers Sarah Austen, Sarah Casanolia, and Kiley O'Brien helped to set up and organize a website which would promote four cultural workshops run by the Ghanaian women members of WIP. The workshops include learning to Batik, learning the Kpatsa dance and the use of the "talking drums," learning how to prepare traditional Ghanaian cuisine, and a glimpse of a Ghanaian fishing village and insight into a fisherman's way of life.
Sarah Casanolia visited several hotels in the Cape Coast and Elmina area as well as in Accra, in order to introduce WIP's expeditions to a broader crowd to attract more attention. She left posters explaining what Ghana Expeditions had to offer in exchange for advertising the hotel on the new website. Sarah Austen and Kiley O'Brien focused on designing and writing interesting content to put on the website to interest the tourist masses.
Participation in these traditional African workshops generates income for the local women and helps tourists expand their knowledge of many aspects of the Ghanaian culture. These workshops last about a half a day (3-4 hours) and are run by motivated women such as Antoinette who leads the drumming and dance workshop. In 1999 she received the Art and Critics and Reviewers Award which is given out by the National Theatre in Accra.
Sarah Austen, Sarah Casanolia, and Kiley O'Brien created the website to generate more awareness of the Ghana Expeditions aspect of the WIP program. Check out the website now at http://www.ghanaexpeditions.com
___________________________