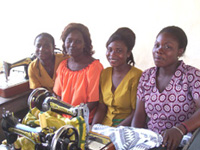 Wright's husband is currently living in Nigeria. Left alone and with the responsibility of caring for three young children, Lydia is working hard to earn enough income to support herself and her family. Lydia has found it difficult to make ends meet year-round because her orders peak during the holiday seasons, but she has very little work the rest of the year. A lack of steady work also forced Lydia to terminate her apprenticeship program, which meant letting go three apprentices. Since joining Global Mamas only a short time ago, Lydia is excited to have already:
Found constant work that allows her to earn increased income throughout the year.
Increased her revenue 150% due to orders from Global Mamas.
Expanded her business and moved to bring on additional employees.
Opened an account with Progressive Women's Credit Union and saved 5% of earnings for future business investments.
Purchased a new hand-powered sewing machine.
Paid her daughter's admission fees of 950,000 cedis (~$105).
___________________________