By Megan Collins and Emily Henke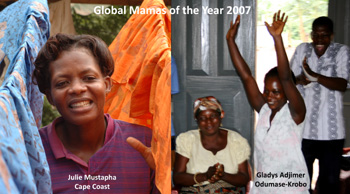 Julie has been batiking for nine years and became a member of Global Mamas three years ago. She went to batiking school in 1999 for six months while raising three children. Julie prides herself as being a mother first and a batiker second. Batiking allows her to work from home while her children are at school. When she has extra time, Julie creates her own designs and sells the fabric in the local market. Her goal for the future is to acquire more workers in order to expand her business. Julie recently spoke about her work with Global Mamas at the UN Conference on Trade and Development in Accra during the fashion forum session. Julie was voted Global Mama of the Year – Cape Coast by her colleagues because she continuously produces high quality cloth, in large quantities, and on time. "Working with Julie is a pleasure; we know we can rely on her to produce high quality work every time, she keeps good records and she's always laughing" said WIP's quality control manager Dorcas Baiden. For going above and beyond in her efforts, Julie was astonished to learn she had won a microwave oven.
Krobo Global Mama of the Year: Gladys Adjimer
The first annual Global Mama of the Year Award for Odumase Krobo was held on 10 June 2008 at the Madizu Fair Trade Company. The meeting was well attended by bead makers, bead sellers, bead assemblers of Madizu Fair Trade Company, and Global Mamas volunteers/employees. Renae Adam, co-founder of Global Mamas, gave the history of the organization as well as giving amazing statistics for the growth of the Global Mamas beaded products. All were enthusiastic hearing their accomplishments and excited to expand on these in the next months. A phenomenal response from all was welcomed as they pledged to take on the challenges they face as they learn more about the market they have entered. Last, but certainly not least, the Odumase-Krobo Global Mama of the Year was announced. All would agree that Gladys Adjimer, co-manager of the Madizu Fair Trade Company, was very deserving of the award. Gladys has worked extremely hard and has gone above and beyond for the Madizu Fair Trade Company and the women they employ. Gracefully accepting the award and offering an acceptance speech, Gladys was all smiles to take away a new set of pots and pans for her kitchen.
___________________________