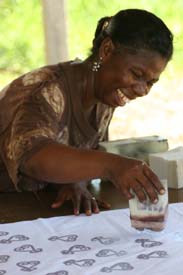 Gifty Saah started her career as a teacher, but lost her job when her family was evicted from their home in1997. When her family (husband and two children) found a new residence, she was unable to find a suitable job, so she began rejuvenating used t-shirts with bright batik and tie-dye designs for tourists. Gifty loves batiking because she can produce original, artistic goods and, given the opportunity, creativity flows from her heart. She launched "Giftex Impex" and operated her business in the back of a woman's house in exchange for training her children in batiking. However, after five years her family was evicted again and her husband also lost his job. They were forced to live in substandard living conditions and she worried about the environment's effect on her children. She did not give up and began door-to-door sales to find more reliable customers at restaurants and hotels. The income from these smaller local sales was still not enough to support her family to her expectations. As a member of Progressive Women's Credit Union, Gifty found Global Mamas and has:
Increased revenue nearly 10 times as a result of batiking cloth for Global Mamas apparel.
Kept careful records so she can follow through on a plan she created for growing her business.
Saved over 40% of her profits that she will use for future business expansion.
Learned computer basics Quickbooks so she can manage her orders, inventory, cashflow, vendors, bills & supplies
Was able to receive a loan through the Pelican Group to help her purchase additional materials in advance of new contracts and client orders.
Brought on 1 full-time worker and 3 new apprentices.
Redeemed an old debt of 5M cedis (~$556).
Paid for utilities that were previously shut off.
Paid the school fees of her three children that had previously been sacked from school due to nonpayment.
Paid advance on part of a community house that is satisfactory for her children.
___________________________