HYACINTH FIBER | HYACINTH PAPER | HYACINTH WEAVING


Creating Woven Hyacinth Products
Unlike papermaking, woven hyacinth products require thoroughly dried stems. Each week co-ops based in five communities along the Volta River harvest the fresh hyacinth weed. Both fresh and dried hyacinth are delivered to the Global Mamas production team in Kpong where harvesters are paid the agreed upon price in addition to a 5% premium that goes towards community projects.
All hyacinth is harvested from the river with 10-18″ stems. Co-op members trim off roots and leaves which are saved for compost, then rinse the stems free of dirt. In a flat area with direct sun the stems are spread to dry then carefully rotated every 2-4 hours to ensure they dry evenly. Proper prepared hyacinth should be golden brown without green patches, mold, or cracking which would cause discoloration or structural problems during production. In our Fair Trade Zone in Kpong dried bundles are stored in a well-ventilated place away from moisture. Now the fibers are ready to be woven!
TWINING + ROPEMAKING | HAND PLAITING | LOOM WEAVING


Twining + Ropemaking
Lengths of dried hyacinth are twisted by hand to form tight 'ropes'.
Hyacinth stems are typically less than 18" long.
To create longer sections of rope pieces are expertly twisted together.
Since hyacinth rope is a very pliable fiber it may be used in a variety of textile techniques.
We are currently using the rope in our woven trivets.
Tools We Use
Squared looms are used to weave the hyacinth rope into woven trivets.
Tips We've Learned
Hyacinth rope can be combined with batik fabric and beads to attain a variety of designs.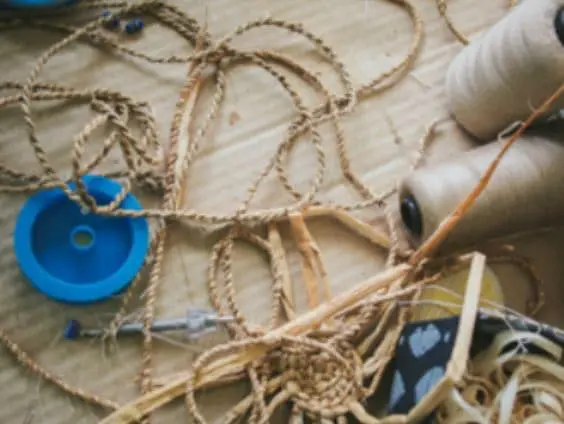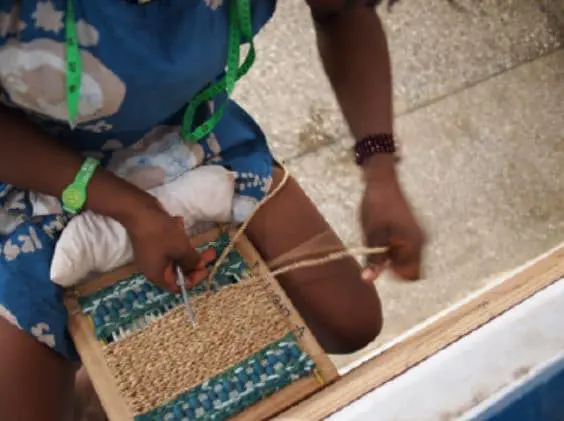 Hand Plaiting
Dried individual hyacinth stems are fed through a machine which flattens them (we use a pasta maker!)
Stems emerge as flat, pliable fibers ready to be plaited.
Individual vertical fibers are pinned to foam blocks which allow us to create tight woven structures.
Horizontal fibers are woven over and under the pinned vertical fibers.
We are able to create plaited pieces only as high and wide as each individual hyacinth stem- usually 14"x 14."
When plaiting is completed we twine the edge with scrap batik fabric.
To finish the edges the plaiting is machine stitched.
Completed woven 'textiles' are taken to the sewing department to be precisely cut and sewn into a new product.
An example of how we're using the plaited pieces are our hyacinth coasters.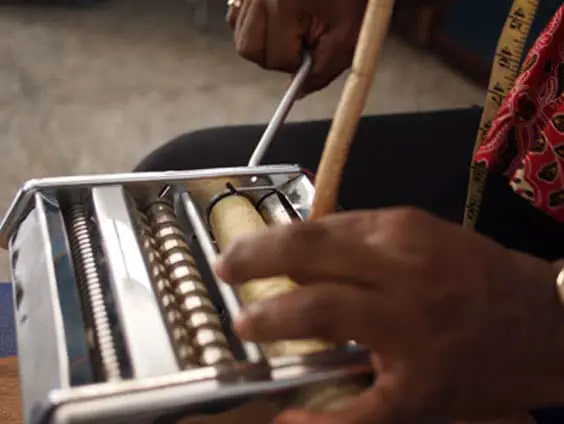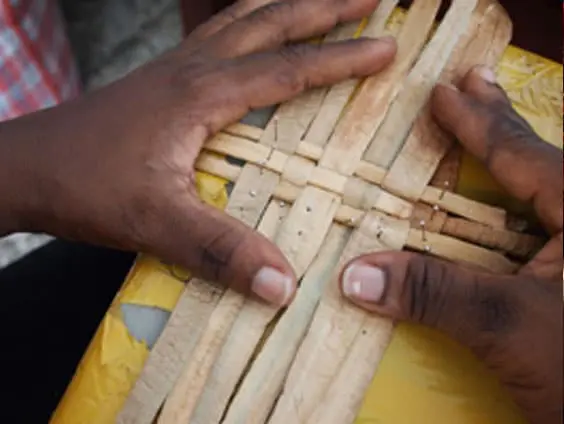 Loom Weaving
Our wovens are created on modified traditional kente looms. These foot treadle looms use a system of warp and weft interlacements with patterns that have been co-designed with a local kente weaving expert.
Tension on the warp is held in place by large rocks or concrete blocks, at least 20 meters behind the loom. This unique method of creating warp tension is unique to West African weaving and this style of loom.
The warp is a traditional, locally sourced cotton thread. Hundreds of warp ends are threaded through a series of heddles that determine the pattern of the woven cloth.
Our team uses a combination of water hyacinth, batik fabric scraps, and thread to create unique surfaces, patterns, and textures. The water hyacinth is an ideal as a weft material as it may be used with varying thickness.
Completed textiles are removed from the loom and segments are used as accents for home goods such as our table runners.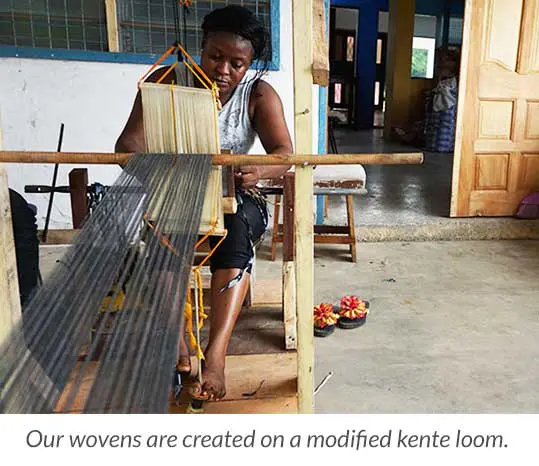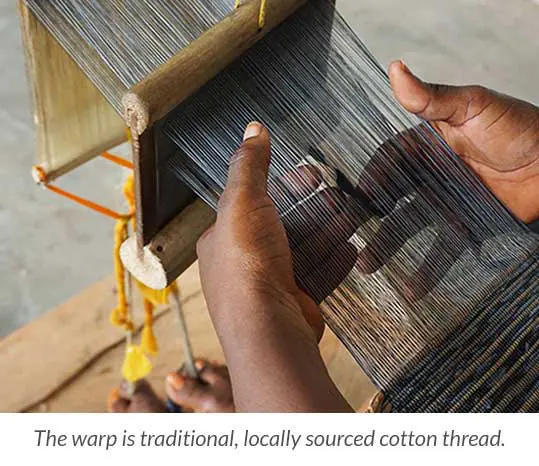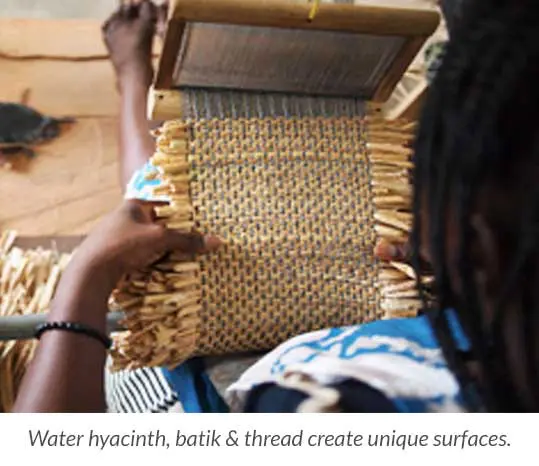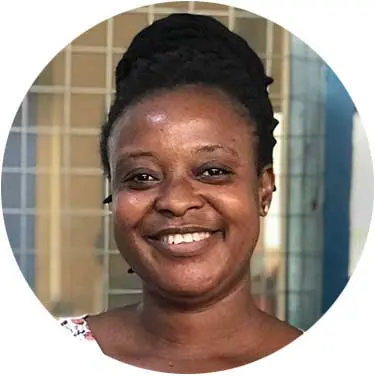 Hyacinth Mamas
Abigail Atter has been a Global Mama since 2015. Last year Abigail was promoted to Weaving Trainer as she took on a team of novice weavers and taught them to work with water hyacinth fibers. Abigail also helped to design new products made from the hyacinth fibers. Since working with Global Mamas Abigail has been able to rent her own apartment and support her daughter's education. She hopes that one day her daughter will become a lawyer. Abigail is a great leader and is highly respected by everyone she works with!
"I love working with Global Mamas because the work environment is a happy one. Everyone is always kind and cheerful."