By Alice Grau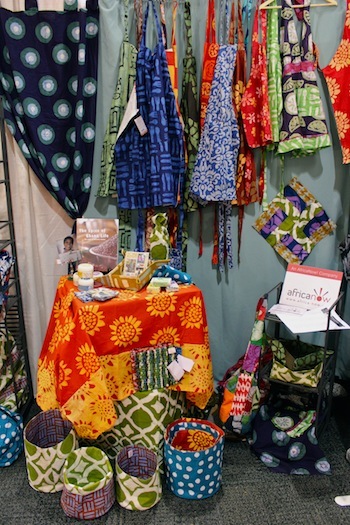 The end of January has become a routinely exciting time of year for me! Our new catalog is wrapped up and in our hands and it is time to go to the New York International Gift Fair (NYIGF) to share the new catalog and the vibrant products that fill it with shoppers from around the world. It is both exhausting and invigorating to promote our products that are alive with the stories of the volunteers and producers that are behind each product's long journey to New York. They are stories that are meant to be shared and passed on, and that is my purpose at NYIGF, to share the stories and sell the product so that the consumer can enjoy the product and feel personally connected to the producer.
This show was my fourth experience at the NYIGF and I have realized that our growth at this show is a perfect reflection of the ways the organization in general has grown over the last few years. My first show was January of 2010 and Global Mamas was just one of many African exhibitors housed in the AfricaNOW booth. Though we were grateful to share space with our wonderful friends, the space was limited and it proved hard to find us amidst the crowd. Merchandising our varied products in the space was very challenging. Needless to say, despite my enthusiasm, having just returned from Ghana, sales at my first show were minimal.
For the next show in August of the same year, we decided to move out on our own. We applied for funding from the West Africa Trade Hub to host our own booth and applied for admission into to the coveted "Hand Made" section of NYIGF. We were fortunate enough to be accepted for both.
We moved "up" into a 5×5 booth of our very own in the Hand Made Global Design division and saw a direct increase in sales as well as access to a new collection of customers who target hand made products. In 2011 we took another great leap and invested in a 5×20 booth, which is where we still reside. This move was the best yet, improving sales and increasing customer exposure each show. However, this January we saw the most exciting growth yet!
We saw a 44% increase in sales from the previous January, attracted 30 new customers and saw increased sales numbers per orders as well. Customers who have been with us for years were suddenly placing orders double their historical size. Every day I walked away from the booth full of joy knowing that we were ensuring the sustainability of this organization and the livelihood of the producers.
I believe these sales are a direct reflection of the increased investments that the organization made in itself and the women throughout 2011. Our staff size increased significantly, most notably hiring our first full-time designer and promoting a staff member to Director of Operations in Ghana as well as a full-time customer service representative in the US. Volunteers put countless hours into creating and teaching workshops dedicated to empowering the producers to be stronger artisans and craftspeople. And, the women in the Global Mamas network worked resolutely to apply their learned skills to create a better product for their customers.
___________________________