By Kristen Gallagher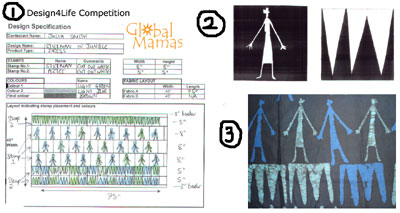 The power of the Internet, once again, has served Global Mamas well in communicating its mission. Tabeisa, and UK-based not-for-profit consortium, discovered Global Mamas online and was so impressed with the success of the co-operative that it decided to sponsor Global Mamas in helping it expand into the UK market. Tabiesa The expansion has the women of Global Mamas feeling optimistic and confident about the future of their sales and success.
Tabeisa, in partnership with the Ethical Fashion Forum, teamed up this fall to host the Design4Life competition, which aimed to bring ethical fashion design onto the streets. The competition, funded by the EU and the UK Department for Education and Skills, challenged fashion students, graduates, and designers based in the UK, Ireland, and Africa to design a cotton dress that fit the trends of European style. Nearing 100 entries, the various designs submitted were of high-quality and encompassed original batiks with unique style. London-based retailer, TopShop, was notified and was so excited about the fair trade fashion project that they agreed to sell the dresses of the winning designers.
The selection process for the winning garments was difficult for the panel of judges. The winning designers were Annegret Affolderback, a 31 year-old graduate from Middlesex University, and Julia Smith, 23 year-old graduate from the London College of Fashion. Tabeisa sponsored Smith and Affolderback to come to Cape Coast for two weeks in December to work with the batikers and seamstresses on putting into production the new winning garments. Although there were challenges to overcome, such as lack of supplies, and the overbearing heat, the two designers had a successful visit and Global Mamas is preparing for its first shipment to the UK marketplace.
___________________________